Last night Ben and I went on a date that began with dinner at Uno Chicago Grill. I had never been there before but remember reading something about it in Women's Health a while back.
While we were waiting for a table a hostess brought us warm apple cider to enjoy. Love small touches like this! And it was cold so I really appreciated it!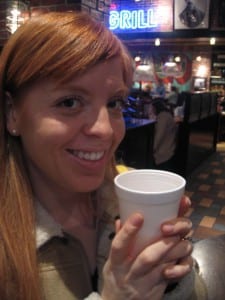 The first thing I spotted on the menu was one of their seasonal items – Kabocha Pumpkin Soup. I completely freaked out with excitement. After seeing Kabocha on numerous blogs, but being too lazy to buy and cook one myself I was super jazzed to be able to try this soup.
I was a little sad it wasn't served in a kabocha bowl, but that's okay. It was good, a little heavy on the cranberries (there was a huge lump of them on the bottom too), but good. I loved the notes of cinnamon and spices and it was hearty without being heavy. Love.
Ben ordered an appetizer of cheese, cream and butter dip. Oh, I mean "SHRIMP & CRAB FUN-DOO A creamy blend of shrimp, crab and Parmesan topped with tomatoes. Served with toasted garlic baguette slices. Sized to share." I had a few bites because it was there and the first thing they brought us, but I should have stayed away since it was basically a bowl of butter and I had a lot of food coming.
My entree was "HARVEST VEGETABLE ON A FIVE-GRAIN CRUST Our housemade salsa, cherry tomatoes roasted with garlic, basil and olive oil, peppers, sun-dried tomatoes, spinach, broccoli and caramelized onions finished with Cheddar and mozzarella."
It was really good and topped with tons of veggies. I have decided "sun dried tomatoes are nature's pepperoni" 🙂 I made that up while eating it, you can quote me on that one.
After dinner we watched The Men Who Stare at Goats. Don't go see it. It was just okay and not worth the $11.00 per ticket. I don't care if you love George Clooney, just trust me.
On the way to the car we passed by the Cheesecake Factory and someone with red-hair suggested getting a piece of cheesecake for dessert. I figured we would just share one piece, but we ended up getting 2 pieces because we don't want to feel left out as most Americans slide further into obesity.
I wanted the Pumpkin Cheesecake because I love pumpkin and am really a sucker for anything labeled "seasonal" or "limited time". But they were out! So I got the Pumpkin Pecan Cheesecake. I ate it, but turns out I don't really like pecan pie. Actually it turns out I don't really enjoy cheesecake at all. But I love "fancy cheesecake" that has a lot of thick chocolate crust or hard chocolate layer, but doesn't actually taste like cheesecake (see below).
Ben got the  Kahlua Cocoa Cheesecake and I liked that one better because it has chocolate and I am sucker for anything involving "chocolate".
And that my friends, is why I had an awesome run this morning. Next time you're gearing up for a 18 miler pig out at Unos and then grab a few pieces of pie. Hey, you don't have to take my word for it, but it's pretty much a fact.