Hello and Happy Wednesday 🙂
I started my day with a 6 mile run. I don't think I gave myself enough recovery time after this weekend's long run because I can't seem to shake the soreness in my quads. Tomorrow is a rest day. Deal.
In honor of Waffle Wednesday I made Waffles topped with Pumpkin Crème.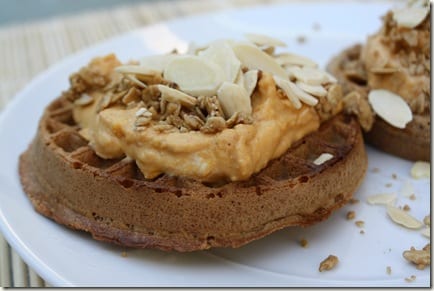 Pumpkin Crème Recipe:
~1/4 to 1/3c Pumpkin
~1/4 to 1/3c Greek yogurt
1 Packet Stevia or
1 1/2 tsp. sugar
Pumpkin Pie spice to taste
Mix together, then heat in microwave for about a minute. Spread on top of waffles or pancakes. *I didn't measure the pumpkin or greek yogurt, hence the estimate.
I topped my waffles with the Pumpkin Crème, granola and almonds. I also ended up adding a bit of syrup because I like it sweet 🙂
Don't know what to top your waffle with…


www.nataliedee.com
Let me make it easy for ya, Pumpkin Creme 🙂
Question: What day of the week is your "Rest Day"? Does it change week to week?
Mine is pretty much always Thursday and Sunday.