After the great success of Liam's weight loss story, I decided to make Weight Loss Wednesdays a regular feature on RER. If you have a weight loss success story you'd like to share please email me at [email protected].
Lisa's Weight Loss Story
Lisa Before: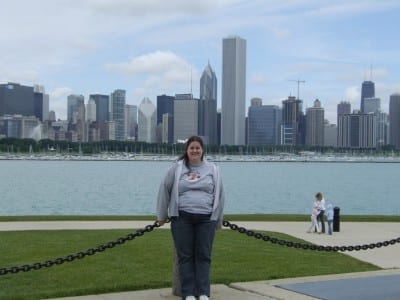 Pounds Lost:  110 pounds

How long did it take?   About a year and a half.

Where are you from? Originally from Seattle, now I live in Portland


Occupation?   Office assistant for parole and probation
What was the motivating factor that got you started on your weight loss journey? Was it one thing or a series of events?
It was a series of events that happened pretty close together. I developed high blood pressure and during a yearly physical, my doctor told me I was pre-diabetic. The idea of being diabetic freaked me out so much that something clicked in my brain and I knew I had to do something seriously.
I'd been struggling to lose weight for about a year with no success. I didn't address my food issues and simply started a half-assed exercise program. I joined Curves and actually gained weight!
Overall, my health was not good. Besides the pre-diabetes and high blood pressure, I was in constant pain. My feet hurt all the time. My hips ached, my back hurt. My chest was too large for my body size (5 foot 5 inches): I was a 42 FF bra size. My legs always ached. I was constantly getting colds and bronchitis. I just wasn't healthy.
What do you think was the one most important change you made? How did it help? Can you keep this up for life?
I think the most important change I made was a combination of two things. I learned what real food is (unprocessed, healthy, fuel for my body) and what I should be eating to be healthy. Trust me; it's not an entire pizza! The second most important change was discovering that exercise was not torture. I can definitely keep up the exercise routine for the rest of my life. I always feel so much better after exercising. My body can't sit still anymore!
I made the goal to lose 50 pounds. I knew I needed to lose 100 but that number frightened me! So I decided baby steps were better. I reached my first landmark of losing 50 pounds in June 2007. Exactly 1 week before I was in my brother's wedding. That was an awesome feeling!
On January 19, 2008 I reached my goal of losing 75 pounds! I weighed 175 for the first time in probably 10 years. I was sooo happy! And what an awesome birthday present to myself! (And my best friend Rachel was there with me when I stepped on her scale!) Since I reached my goal of weighing 175, I decided I could totally get to 150.
How did you change your eating habits?
After my "revelation" to get healthy, I decided to count my calories for one day. I made no changes to my eating habits and just wrote down everything I ate. I looked up the calories online and wrote it all down. I was absolutely shocked at what I was putting into my mouth. I had no concept of serving sizes. I was probably eating 3 servings of food instead of 1 serving. I made poor choices for snacks. I ate too many sweets. I decided to limit my calories to 2000 a day.
This began my calorie counting. It was hard at first. I realized that trying to eat under 2000 calories was difficult to do, and it really wasn't that much food. I tried to eat fruits and vegetables as my snacks, and eat healthy foods for Breakfast, Lunch, and Dinner. I found myself reading every label and deciding if I wanted to eat those calories. It was all about sacrificing and substituting.
My weaknesses are sugar (ice cream, cookies, cheesecake) and pizza. I decided to completely cut out pizza from my diet. I knew I could not just have 1 slice and a salad for dinner. If there was pizza in my house, I would eat the entire pizza without any regard to health or fitness. As for the sugar, I started substituting the yummy treats I was obsessed with for lower calorie alternatives: frozen yogurt, Snackwell's cookies that were about 50 calories each, Rice Krispie Treats for 90 calories. Those were my desserts.
How did you change your exercise habits?
The only form of exercise I got at 250 pounds was occasionally going to Curves. This did nothing for me. I realized that I needed to find an exercise program I could stick to, and enjoy. I knew two things about myself: 1) I had to LIKE what I was doing if I was going to stick to it and 2) If I was joining a gym, I knew it had to be close to home or I would never go.
I remembered how much I loved swimming as a kid and teenager, so I started going to the nearby community pool. I swam laps for my exercise. I absolutely loved it! I looked forward to it too! I realized that exercising could be fun.
Swimming was hard when I first started. I was so out of shape that I had to stop after each lap to rest and I felt like my heart was going to explode. But now, almost 4 years later, I still swim three times a week. I can swim a mile and a half in about 40 minutes without stopping!
Recently I began a running program as well. I competed in my first 5k race in October (Run Like Hell) and did so much better than I thought I would; especially since I had the flu for a week before the run. The numbers:
Division Rank: 47/122
Gender Rank: 168/518
Overall Rank: 292/746
I am now addicted to running too. I have an 8k coming up next month. And my big run for this year is going to be in August: The Hood to Coast Relay race! The relay race goes from Mt. Hood near Portland to the coast! I'm also doing the Reach the Beach bike ride in May. I will be riding my bike 55 miles! Next year my goal will be a full marathon or perhaps a triathlon.
How do you plan to maintain these healthy habits?
I have fallen in love with running and exercising. This is something that I hope to keep up for the rest of my life. I love hiking and swimming and I walk on my "off" days. I never thought I would enjoy racing but that is something that helps me train and stay consistent with my exercise program.
I have daily temptations. There are always bagels or donuts at work. My friends like to go to happy hour. My boyfriend loves pizza and could eat it at every meal. I crave the delicious coffee drink I used to get all the time…White Chocolate Mocha with caramel syrup, whipped cream, and chocolate shavings. But I don't give in to that 900 calorie dessert drink! It's all about choices.
Do you have any tips for RER readers who want to lose weight?
"How did you do it?"
This is the question that people always ask me when they find out I lost 40% of my body weight. 40%. In actual numbers, that's over 100 pounds. 100 pounds is a 12 year old boy. I lost the equivalent of a preteen boy.
The crestfallen look on their face when they find out the "how" never changes. They want me to give them the magic spell, the magic beans, the pill they can pop, the diet they can do for one month. They're never satisfied with my actual response.
"I lost the weight with healthy eating and exercise."
It took me almost two years to lose over one hundred pounds. It was a journey I knew I had to take. It was a journey that was harder to start than to do, honestly. It took me 27 years to wake up to the change I needed to make.
My advice for others trying to lose weight would be the following:
Find an exercise that you enjoy doing and DO IT! Walking, swimming, biking, yoga. Who cares? If you love it and you're moving your body, you'll see results.
Pay attention to what you eat.
Whatever you choose to do, be consistent. Stick with it. Don't stop if it isn't working. I hit so many plateaus in my weight loss but I knew that I would be back to losing weight if I kept at it!
I hope this will motivate some people:
I lost 100 pounds in 2 years.
I went from a size 24W pants to a size 6 pants.
My bra size was a 42FF when I started. I'm now a 34D.
My body has been transformed to muscle instead of fat.
I'm no longer embarrassed to get into a swimsuit.
I probably added about 20 years to my life.
I now spend my weekends going for intense, long hikes and I love it!
I now swim a mile and a half 3x a week. In fact, I've gotten so much better at swimming that some guy at the pool asked me last week if I was a competitive swimmer!
I'm happy and for the first time in my life, I love my body.
If I can do it, anyone can!
*************************************************************************
Congratulations Lisa and thanks so much for sharing your story with RER readers! She just started a blog too – you can check it out here.
If you have a weight loss success story you'd like to share please email me at [email protected].