I was NOT looking forward to my walk home this afternoon. It was rainy and cold outside and I had a 3.4 mile walk ahead of me. Boo. I really had no choice but to do it, but if I had a way to weasel out of it, I would have. I had an umbrella, but my hands were freezing!
My car will be here in about 2 weeks and now that it's getting cold I can't wait!!
My afternoon snackage was cereal with nuts and grapes. I am loving the idea of eating cereal as a snack since it's too cold in the morning for it.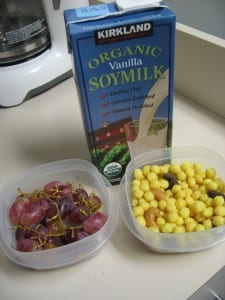 I was genuinely hungry when I got home (thanks for nothing frozen meal!) so I ate some carrots and crackers with hummus. No pic 🙁
Dinner had to include protien if I ever wanted to stop eating so I made an egg scramble and a sweet potato on the side.
Dessert was a few graham cookies and a piece of pumpkin pie. I am going to turn into a pumpkin soon!
I just flossed so I'm gonna try and close the kitchen for the rest of the evening. There is a good thing and a bad thing about "Closing the Kitchen". The good thing is I cannot easily snack. The bad thing is I can't be in the kitchen to make lunches. No, I cannot just brush my teeth and make lunches without snacking (and if you think it's that easy you probably don't have a history with disordered eating to the point where therapy is neccesary). So, I will try and get up early to do it tomorrow!
This time tomorrow I will be on my way to CA!!! So excited! Oh, and of course I will be blogging as usual since I'm just home and not in a foreign land 😉