PILE on the MILES Day 17 – POST RUN
What do you do after a run? Do you have a set routine after you finish a long run?? Do you eat the same thing? Do the same stretches??
It's PILE on the MILES Day 17 and today's theme is POST-RUN. I'm sharing what I ate after running the Wine and Dine Half Marathon recently. This race is made for RUN EAT REPEAT-ing!
If you're not familiar – the Run Disney Wine and Dine Half Marathon Weekend is one of the organization's long time race weekends. It's scheduled during the Food and Wine Festival at Epcot and the post-race party is actually in the theme park.
The Epcot theme park is very unique (beyond the iconic geodesic dome). It has international pavilions featuring countries from all around the world. Each area is designed to look like the country featured and offers food and merchandise that represent the area.
And they make it next level with their annual Food and Wine Festival that features limited time food and drink options.
PLUS – the Wine and Dine Half Marathon Post Race party is in the Epcot Theme Park so it's the perfect opportunity to Run and Eat.
But, it's at night so it's not an ideal situation for food photos… so I made a short video with some of the food we had at Epcot. And I snapped pics throughout the weekend of what I was eating before and after the run (below).
What I ate – Wine and Dine Half Marathon Post Race Party
I didn't get pictures or video of everything we ate at the Post-Race Party at Epcot. But here are the things I remember or was able to get a halfway decent picture or video.
The Impossible Burger Slider at Earth Eats hosted by Impossible
Kenyan Coffee BBQ Beef with Corn Mealie Pap at the Kenya Outpost
Crispy BBQ Pork Rinds and Pimento Cheese at The Swanky Saucy Swine
Soy-Glazed Sticky Ribs at The Swanky Saucy Swine
The S'mores Whoopie Pie-lon at Flavors from Fire
Four Virtues Bourbon Barrel Zinfandel at Flavors from Fire
Lobster Chowder with bacon, corn and potatoes from Lobster Landing
Steenburg Sparkling Sauvignon Blanc from Lobster Landing
Maple Popcorn from Canada World Showcase
Cinnamon Apple Cider from Apple Seed Orchard
Evil Elixir (the signature cocktail of the post-race party) – we got this at the Appleseed Orchard and hung out there for a while.
It was dark by the time we started to walk around the World Showcase for dinner and it was surprisingly crowded. The post-race party didn't officially start until 9pm-ish, before that there were general admission park visitors AND race party attendees. So, I tried to get a quick picture or video under the light of whatever booth we were at and then get out of the way. Even though I didn't get all the pics I can say that everything we ate was delicious. I was so happy I found and tried the best drinks in EPCOT.
I was going to note what I recommend and what I'd pass on next time but – I really liked everything. Wait – if I had to be picky I'd recommend everything except the pork rinds just because the texture isn't my jam. But the pimento cheese dip they come with is good! So, just BYOC if you don't like pork rinds (BYOC = bring your own chips). I don't know if it's a Mexican thing or what but my family had chiccarones (pork rinds) all the time when I was a kid and I remember them being tasteless and hard. These were smaller and more flavorful, but I can't get the memory out of my head.
WINE & DINE HALF MARATHON WEEKEND – WHAT I ATE
Traveling to Orlando for the race… I got Panera during the short layover. They were 'sold out' of all salads and most of the soups so I went with my 5th choice. I was a lil disappointed because I was craving their Chicken and Apple Salad and a whole grain baguette, but I'm also not going to kick a carb out of bed.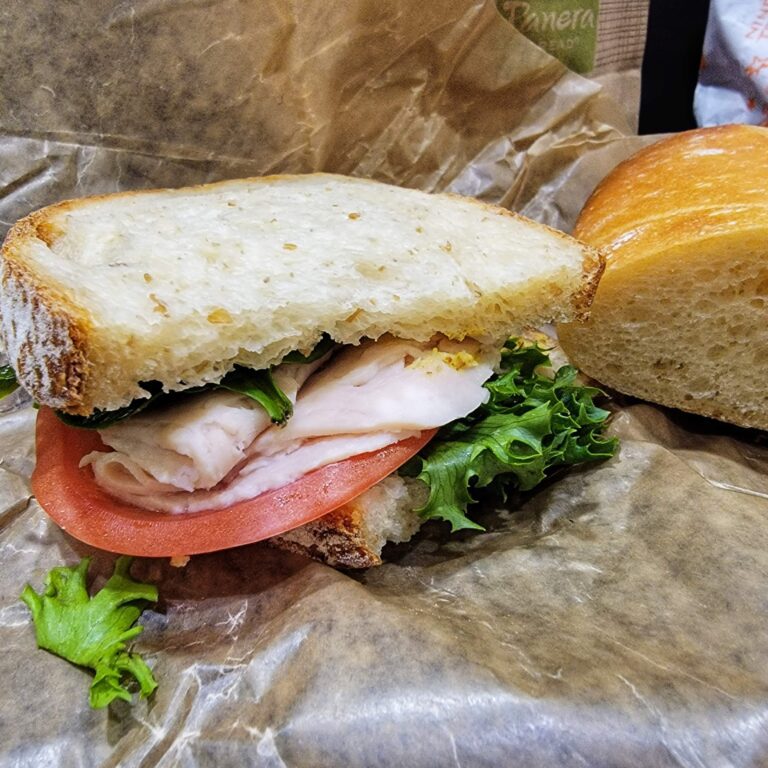 Traveling to Orlando… my travel buddy got Pinkberry with Nutella and I stole some bites. I didn't know Nutella was a toppings option?! Have you had this?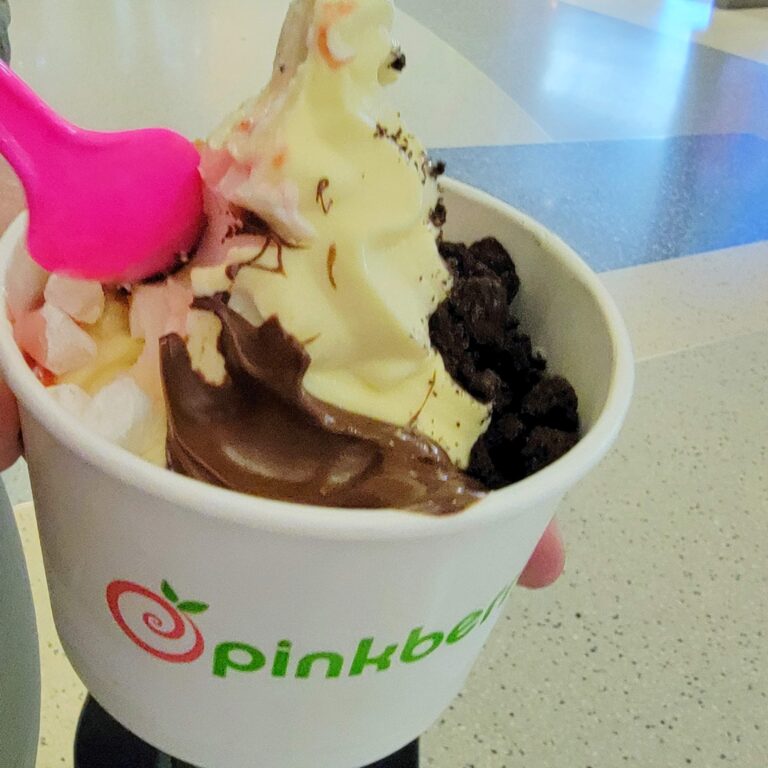 We got into Orlando pretty late local time and I was wide awake and hungry. We stopped at Wawa for food because it was open and there weren't a lot of options. I also got a piece of cornbread and TONS of snacks and drinks to have in the room over the weekend. No pics of the snacks and drinks – it was mostly junk.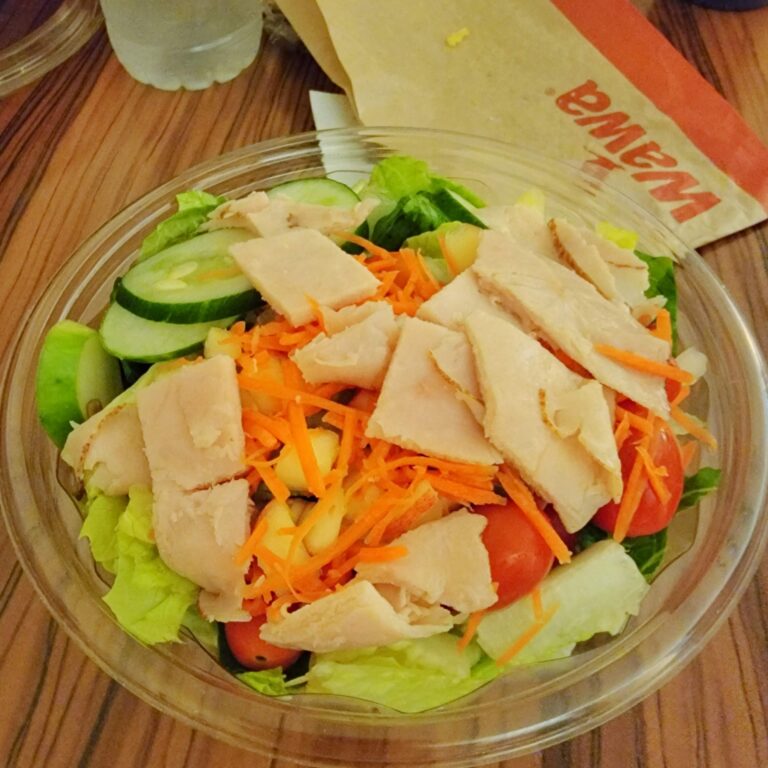 Breakfast Day 1 – the hotel had a very impressive breakfast buffet that was included in the stay. I expected a loaf of bread and broken toaster, but was pleasantly surprised with the spread. They had Mickey waffles, eggs, sausage, muffins, bagels, cereal, milk, yogurt, fruit, coffee and tea.
I also spotted a lil table with salsa, cheese and spinach… I figured it was for the eggs and added it to my plate. It was pretty busy when I was getting breakfast so it was funny to see this area without anyone near it. More for me!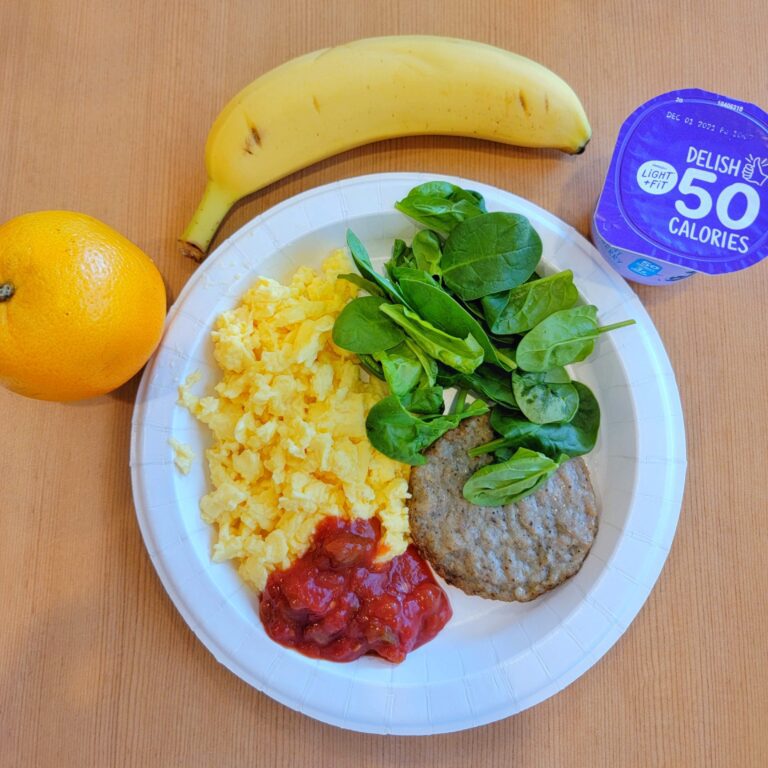 We went to the race expo after breakfast. More on that later. You can also see my trip to the expo in 15 seconds in a short clip here – Run Eat Repeat Instagram Run Disney Expo video
After the expo we went to Panera so I could finally get my Chicken and Apple Salad craving satisfied. It was just like I remembered. And the tomato soup was soooooo good!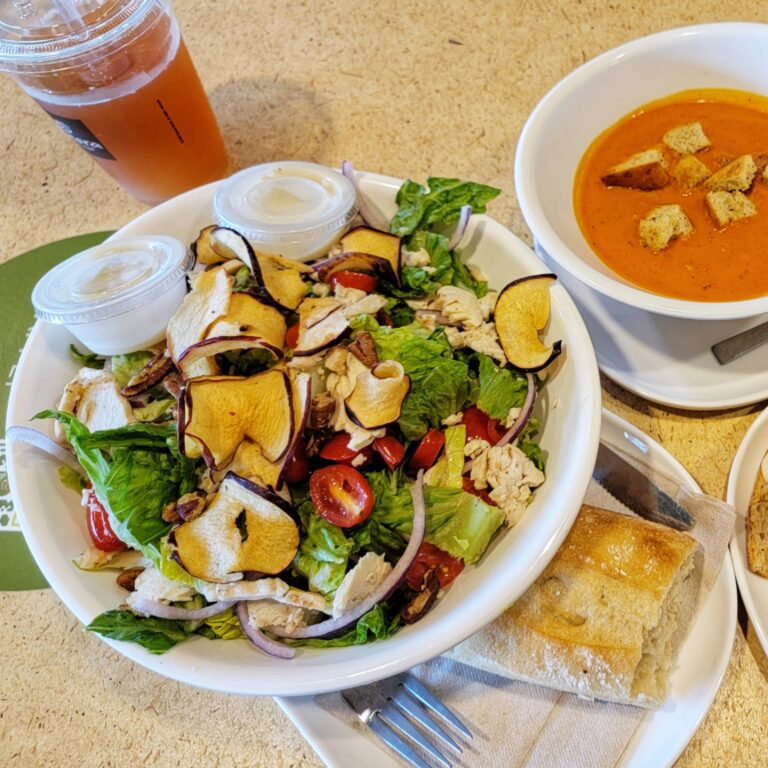 At some point I got Moe's Mexican Food (it's not a chain in SoCal, so I don't remember the full name). They gave us A LOT of chips – wait, I mean A LOT of BROKEN chips. But, I like the broken ones so I was cool with it.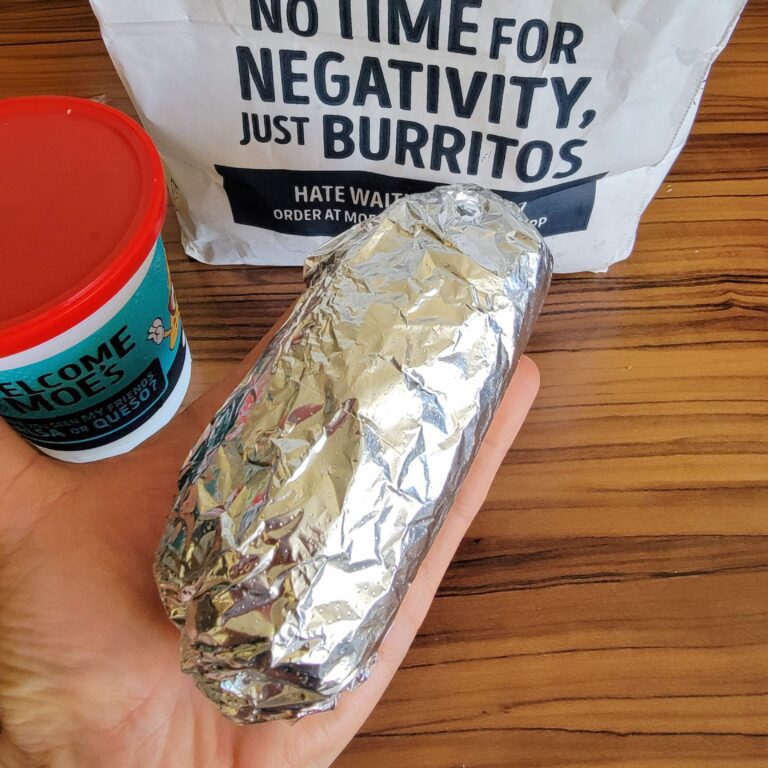 After the race you get a box of food, a banana, water and a sports drink. This is very well organized and a lot better than being handed a bunch of random things right after you finished a race. I have BIG hands but can't hold a banana, granola bar and a water bottle PLUS take a post-race selfie. And I was FREEZING so it was hard for me to hold anything in the first place.
Anyway. Here's what was in the post-race food box: big goldfish grahams (loved), nuts, chips, cheese, hand wipe + a banana, water and powerade.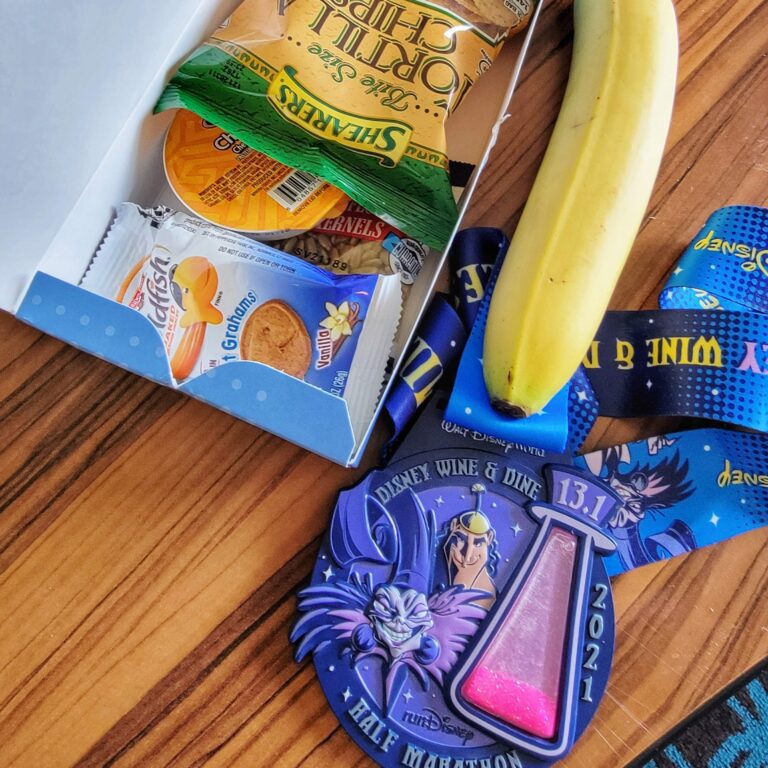 The race started SO EARLY it was a very rough 3am wake-up call. But the good thing about the early start time is I was finished and back at the hotel with plenty of time to hit up the breakfast buffet. Boom.
I had to have Mickey Mouse waffles to celebrate Run Disney races being back! I've missed so many people, events and things over the past year – and I'm super grateful that I was able to run this race and see friendly faces running again. God bless.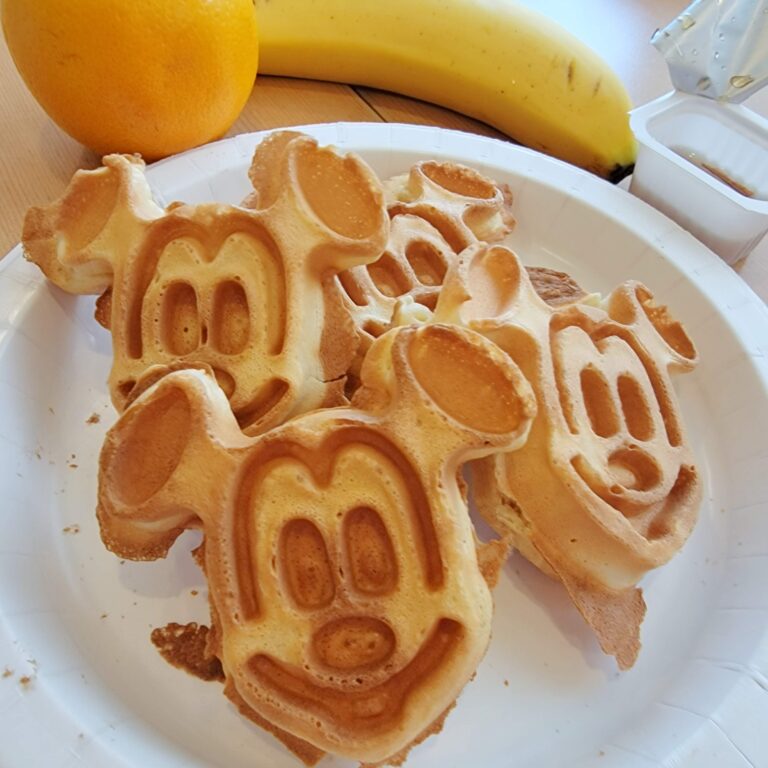 Note: This wasn't EVERYTHING I ate during race weekend. There's always tons of snacks in RER-land. I'm just surprised I didn't snap a pic of what I ate before the race. Rookie mistake!
I'm a lil rusty with this whole food blogging thing. I thought it was just like riding a bike – but maybe it's more like eating a bike?
Anyway. Check back soon for the race recap and more!
And we're about halfway through the PILE on the MILES Challenge – but it's still OPEN and FREE. Click the link below to join us!