Sponsored
Hello! How's it going?
I had a busy morning and have to rush out to my brother's Christmas concert in 10 minutes. Lunch was the usual random salad mix with an apple and half a Quest bar for dessert. (TJ's egg white salad on top.)
I'm excited to share this interview opportunity I had with Alison Sweeney.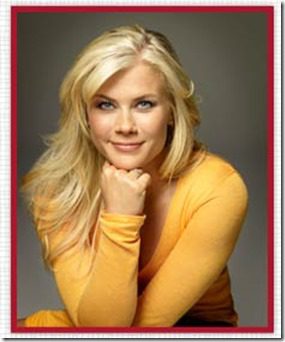 (photo credit: Robert Trachtenburg)
She is the host of the Biggest Loser and works with Oroweat on their Feed Your Better campaign.
Sweeney was on soap operas before BL and I remember seeing something about her weight in a magazine one time. It's so hard to be normal weight in Hollywood and under the microscope – I can't imagine! She lost the weight and now works closely with the contestants losing it on the show. I find all of this fascinating so of course I had to ask her what she's learned from the show and what does she eat?!
RER:  What is a typical week of workouts for you right now?
Sweeney: I love mixing it up. I'm running to enjoy being outside, hiking with my family, and doing a bunch of strength training work. Soon I'll be back on the ski slopes and can't wait to add that to my workout routine.
RER: What did you eat yesterday for breakfast, lunch, dinner, and snacks?
Sweeney: I'm pretty predictable. Every day I have some oatmeal with cinnamon, agave, and blueberries.
For lunch I had grilled chicken with veggies & quinoa. 
For a mid-afternoon snack I had apple slices with almond butter.
For dinner I marinated shrimp that Dave (my husband) grilled over a mixed green salad with apples, avocado and a fig balsamic dressing.
My go-to snack on the go is a handful of almonds.
RER: What is the best thing you learned from working with the Biggest Loser trainers and contestants?
Sweeney: I'm constantly inspired by the contestants and trainers to push myself beyond what I think I can do and to consistently challenge myself. If the contestants can run a marathon, so should I and the same with triathlons, weight training, etc.
RER: What's your favorite sandwich?
Sweeney: I'm a big fan of a grilled chicken sandwich on Oroweat bread with hummus (instead of mayonnaise) loaded with avocado, cucumber, carrots and lettuce. It's so fulfilling and has such a great crunch.
Thank you Alison Sweeney!
I just did my easy/lazy side braid and now I need to jam out to get to the Christmas concert. I'll see you guys later!
Question: In case I can shout out a request during the concert to embarrass my brother – what holiday song should I request?
Disclaimer: This post is part of my Breadbassadorship with Oroweat. All opinions are my own.