I started my day with a 16 mile training run. I felt pretty good until the last two (and ended up slowing at that point).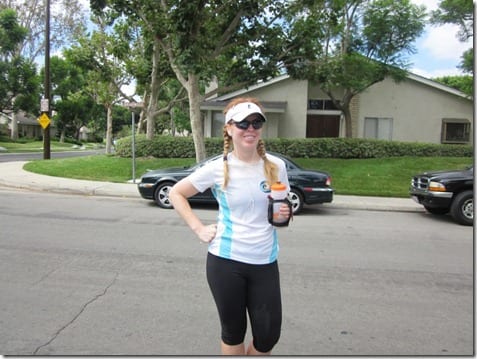 16 miles in – Average pace 8:51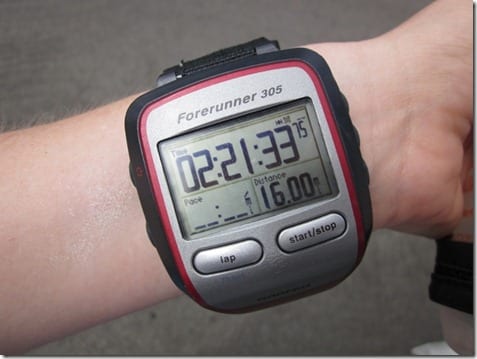 Here are my splits for my personal reference, (thanks for scrolling past this crap)…
Mile 1: 8:48
Mile 2: 8:38 (a little eager)
Mile 3: 8:51 (eagerness wore off fast)
Mile 4: 8:41
Mile 5: 8:56
Mile 6: 8:56
Mile 7: 8:43
Mile 8: 8:57
Mile 9: 8:47
Mile 10: 8:56
Mile 11: 8:52
Mile 12: 8:42
Mile 13: 8:53
Mile 14: 8:47
Mile 15: 9:02 (are we there yet?!)
Mile 16: 9:04
This is me trying to pretend I'm just fixing my sunglasses as a random car passes me for the third time as I'm trying to take a timer picture . Stop laughing at me stranger, you're the one who's lost…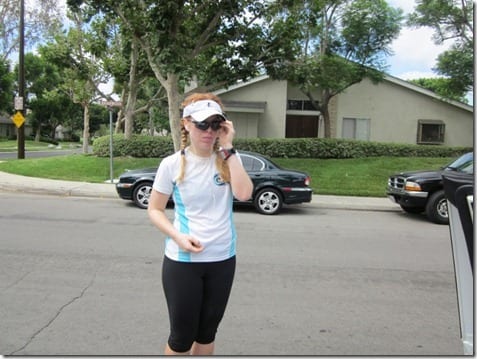 Fuel for the journey included gatorade, honey stinger in chocolate (aka icing) and endorphins when I hit the wall and was hungry at mile 13.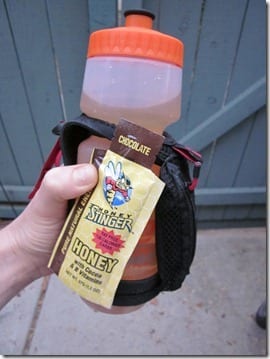 As soon as I got home I made soy chorizo with bell peppers, onions and eggs.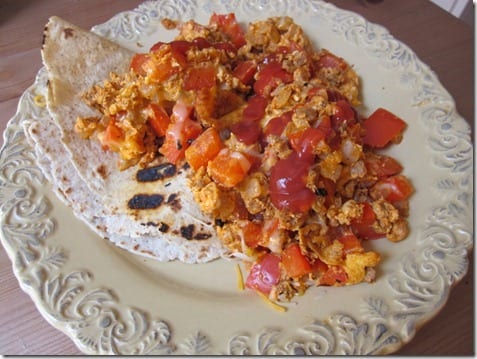 Plus an apple because I was still hungry and thirsty.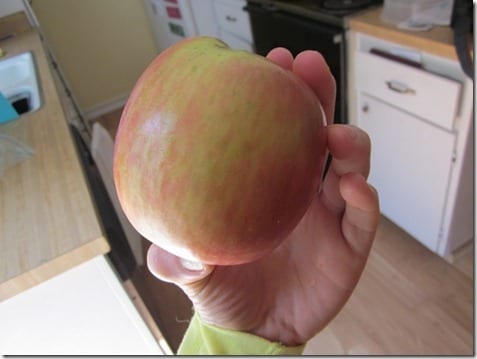 Post shower I read a magazine and built up some energy for the Munchathon!
Today I was invited to cover the first Munchathon in Orange County!
This morning there was a 5k obstacle course race with food along the course. Then, the festival opened up with a bunch of gourmet food trucks!
Since I had a long run on the schedule I opted out of the 5k, but made sure my big appetite was present for the food extravaganza!!!
Gourmet food trucks are always so difficult to track down, I love how this event brought them all together for my eating pleasure!!!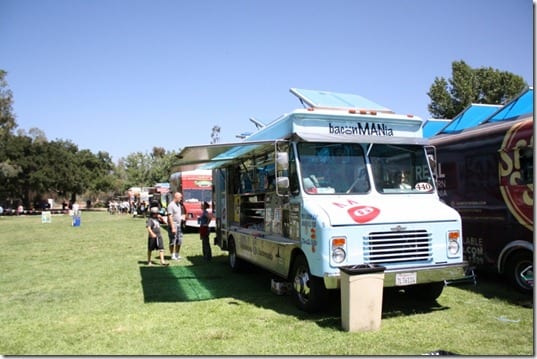 Ben made a beeline for the Baconmania truck…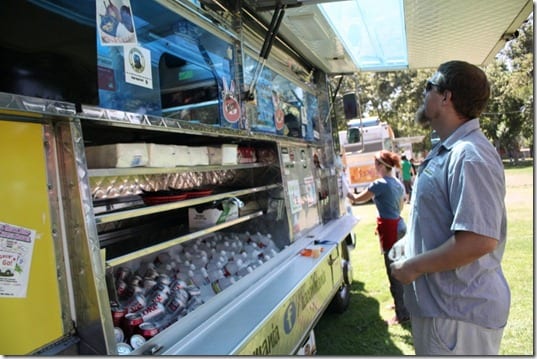 He got the Bacon Ball Duo – PB&J wrapped in bacon and a Mac n Cheese wrapped in bacon!
Look at those greasy balls!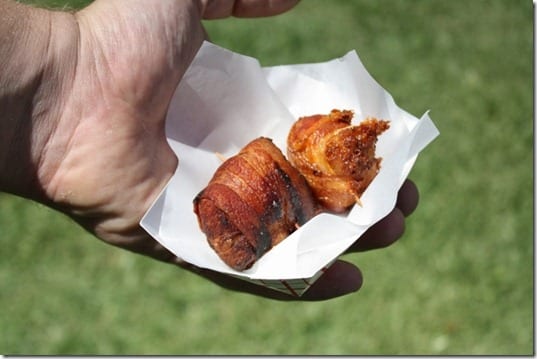 Bacon Wrapped PB&J $$$ shot
We made sure to pace ourselves as I still have to run a marathon before I let myself become completely obese. Even though, the Greasy Weiner was calling my name…
I have been craving falafel for days (weird, I know). So when I spotted this truck I immediately ordered a falafel gyro.
It was a great choice too! The gyro was huge and stuffed full of falafel, feta and yogurt dressing. I'm not the biggest fan of yogurt dressing, but still loved this!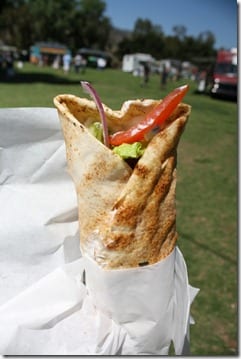 The menu said it was stuffed with french fries too, but I asked for them on the side.
Ben got a pork taco that we was really excited about.
Get it!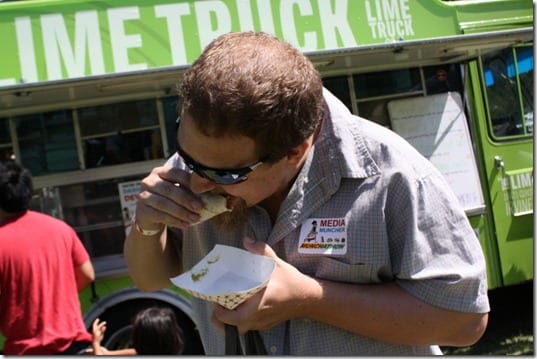 Free sample of Honest Tea Lemonade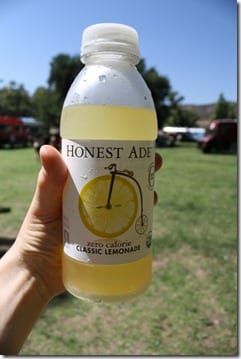 Then, I realized I had it all backwards!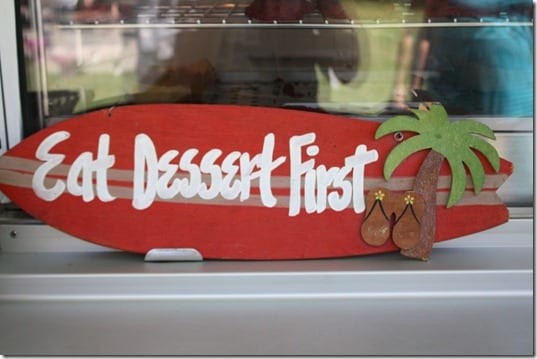 I should have started with the ice cream sandwich!
If I got lost here, I would just eat more food and hope my friends found me one day…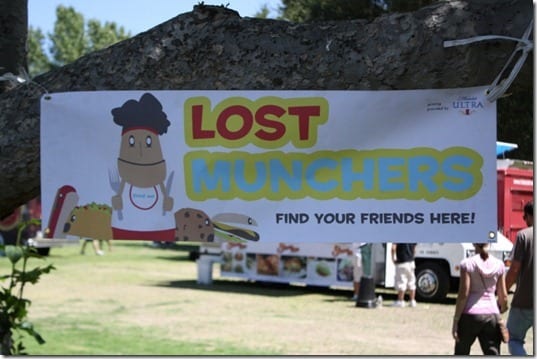 Ben and I heard something about Man v. Food being there, but wasn't sure if they were gone by the time we arrived. Then, we saw a film crew!
I swear I didn't realize it until editing these pictures, but look over my shoulder here…see the guy in the grey jacket?
That would be Adam Richman the man of Man V. Food!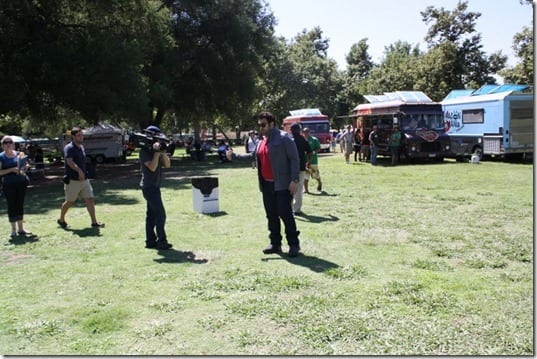 Call me a Cheeseball, but my heart jumped with happiness!!! I LOVE him. I just called myself "Woman versus food" for the 126th time on my vlog yesterday. I'm obsessed.
Unfortunately, his crew made me stop taking pictures
They wouldn't allow any photography while they were filming and weren't doing autographs or anything.
Rumor is the episode they're filming is about the 7 pound burrito from The White Rabbit.
The rumor also is that Food wins in this episode and he doesn't eat it all
As we were watching Adam film someone from the fry truck came around with samples of all their amazingness. You can't see it that well, but the best ones were in the back = sweet potato fries covered in goat cheese and raspberry jam. To.die.for.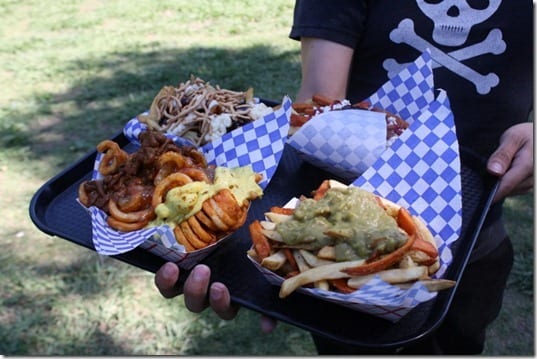 Finally Ben and I decided to wave our white flags and go home.
Hopefully, I'll meet Adam next time. May I suggest a legit meeting of Man/Woman versus food?!?! I can take him at eating a whole watermelon (or 2) for sure. A girl can dream…