Here's a round up of the BEST tips for running in the summer. Heat and humidity can really make every mile seem harder – but use these tips and hacks to run strong, even in the hot summer weather! Plus – I'm sharing a free print-able pdf to plan your summer running and have the best season yet!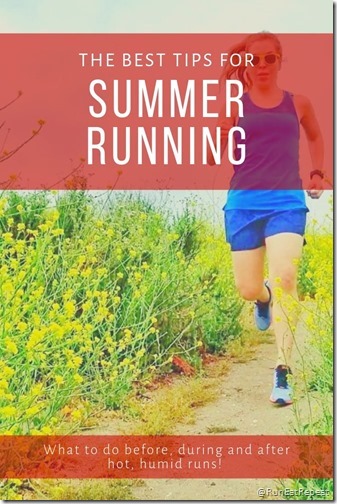 11 Summer Running Tips:
1. Run your long run / harder workouts on the coolest day of the week.
Check the weather report and note the weather for each day of the week. If possible adjust your training schedule to run your long run or hardest run on the coolest day of the week. This takes good planning and experience – you  shouldn't be doing your hardest runs back to back. But if you have 1 run that is the most challenging or highest priority – try to set yourself up for a great one by planning it into your schedule on the best day possible.
Bonus Tip: Use the Summer Running Checklist below. At the beginning of each week – check the weather report and note it on the list.
Also note any vacations or scheduling conflicts that might impact your workouts. Then, plan your training for the week around those factors to the best of your ability.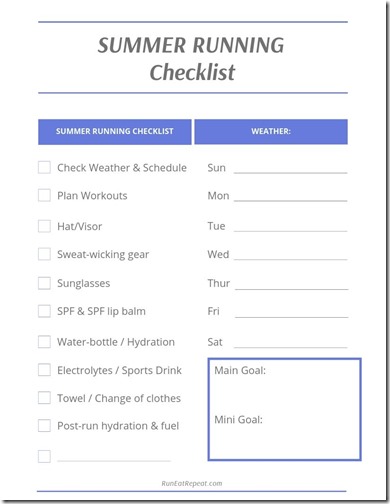 *Click here for the Summer Running Checklist printable version.*
2. Run during the coolest TIME of day.
When you're checking the weather also check the fluctuations in the day's temperature AND sunrise/sunset. Plan to run during the most mild weather each day factoring in safety precautions such as daylight. If possible run when it's the coolest or when it's the coolest during day light. I try to run first thing in the morning as soon as the sun is out. It might be a little cooler before sunrise but I don't want to run in the dark.
3. Hydrate and Fuel Properly BEFORE, During and After
Make hydration and electrolyte balance a priority all the time. Go into every workout well hydrated. This means you can't just think about hydration right before or during a run. Be prepared before, during and after. Bring a water bottle, run where there are water fountains, have water ready for after your run.
Also consider using an electrolyte or sports drink option – especially if you're doing a longer run, it's extremely hot/humid or you tend to need some extra help in this area.
I use Nuun tablets and Spark drink (Mango and Fruit Punch are my favorites)
4. Get ready for the sun with sports sunscreen.
Getting sunblock in your eyes is the worst!! Prevent sun damage and stinging eyes with these reminders…
Use sweat proof or sports sunscreen
Apply 10 minutes before you start running so it dries / sets
Bring it along and reapply if you will be out in the sun longer than 80 minutes (refer to your bottle for time limits)
Remember to use spf lip balm
Spray sunscreen on any areas you can't reach
5. Visor and Sunglasses.
If you can't run in the shade at least give yourself some! Consider wearing a light colored hat or visor and sunglasses. Wearing sunglasses with 100% UV protection is also very important to protect your eyes. Repeated exposure can add up and cause health issues.
>>> Check out my Summer Running Must Haves HERE from Amazon <<<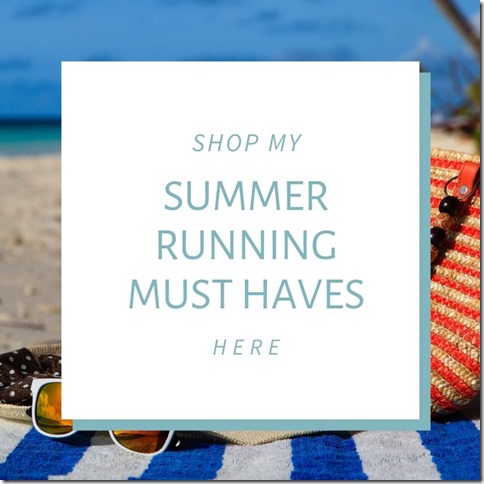 6. Wear the right gear for the weather.
Use sweat-wicking, light colored, properly fitting gear. This isn't about vanity or getting new running clothes. Proper gear is important for performance, comfort and morale!
Sweat wicking and properly fitting gear can help keep you cool and prevent chafing (those horrible burns you get from your skin being rubbed repeatedly). And once chafing or blisters start – it's hard to avoid irritating the area when you try to run the next day.
Light colored gear can help reflect the sun and keeps you visible to cyclists and drivers.
7. Prep & Plan your hydration & supporting gear.
Use a hand-held water bottle, fuel belt or camel back during your runs as needed. How much water you'll need depends on the temperature & humidity, the type and length or your workout and your body.
Know if you need to bring along water or a sports drink before you start. Have something ready to drink for after. Get the right fuel belt, hand-held water bottle or hydration backpack – one that works for your hydration needs, fits you properly and is something you'll actually use.
8. Run according to your effort instead of pace or time.
Adjust your goals and workout plan as needed. This might mean doing a tempo run and
Example:
Your training plan says – Warm up 1m. Run 5 miles at tempo pace 7:30.
And that pace is a medium-hard effort for you… use the effort scale to determine how much effort that run usually requires and run at the EFFORT LEVEL not the prescribed pace.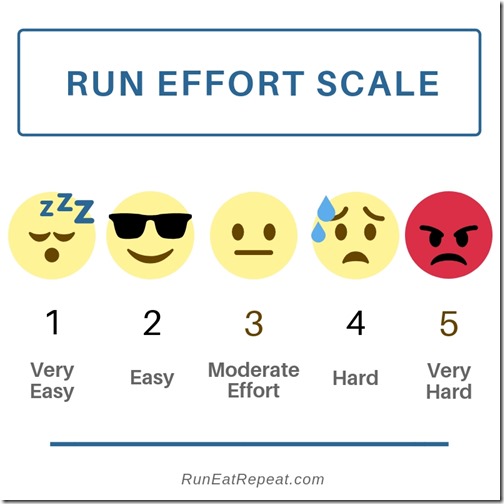 9. Choose the best route.
Opt for running routes with shade and water fountains when possible. If you life near the beach or mountains – consider doing your long run somewhere that's cooler than where you live.
I'm in southern California and the beach is usually 10 to 15 degrees cooler than just a few miles inland.
10. Treadmill – in extreme weather conditions run on the treadmill.
11. Give yourself time to adjust to the changing season.
If the summer heat arrives overnight after a cold winter or mild spring… your body will need time to get used to it. Be patient (and persistent). Listen to your body and accommodate it's needs as you transition to running in hotter and/or humid temperatures.
Bonus Tip: If you're driving somewhere to run – bring a towel to sit on after to protect your car seats from sweat. I have a towel in my car at all times for this reason.
Follow @RunEatRepeat on Instagram for daily updates and tips!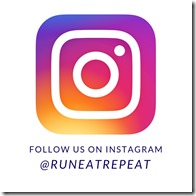 Question:
What effort level was your last workout?
You can get more Running Tips, Training Plans, Recipes and more on RunEatRepeat.com
And check in daily with @RunEatRepeat on Instagram to stay accountable and share your workout!