Hello! Today was a rest day from running so I threw together a super 'no thinking required' kind of workout. I don't like counting reps when I workout. I like to zone out in my brain movies or watch TV or talk to my cat. So I put together this 15 minute countdown for butt and abs…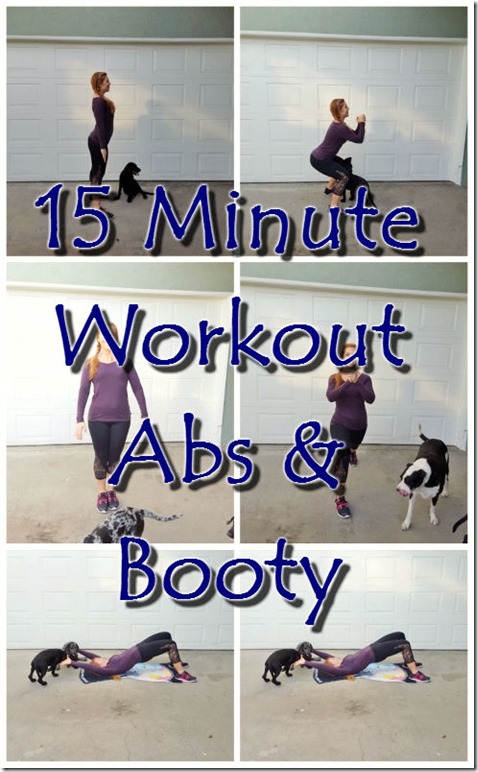 It's just 5 moves you do for time. If you need a break, take and then get right back to it.
5 minutes of squats
4 minutes of reverse lunges
3 minutes glute bridge
2 minutes crunches
1 minute plank
__________________________________
15 minutes total
How to do this workout:
Grab your cell phone or another timer. Set it for 5 minutes – squat. Set it for 4 minutes – reverse lunge… and so on. Do the moves continuously in the time allotted paying attention to good form. It's not about maxing out reps, but doing as many as you can correctly to get the maximum benefit. Hold your core in tight, breathe, squeeze.
I did these moves this morning in front of my TV (watching My Big Fat Fabulous Life). I set the timer for the increments and did them all back to back. If you need a break, take it and then get right back to it. If it's too easy, add a weight – hold a weight like a goblet during the squat and hold one during the glutes bridge.
I tried to do a little picture series to refresh your memory on the exercises except the puppies were all over me the whole time. It was crazy, but fun.
(Bad) Examples:
5 minutes of squats OR 'frantically throw a squeaky toy across the yard and do a few squats before the puppies come back while looking like you are committed to the move'.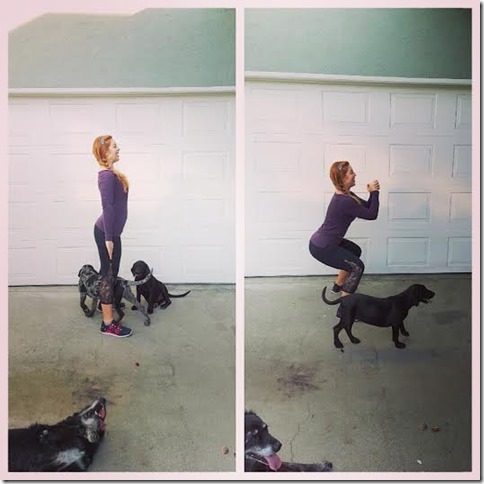 (Please note Roxy in the bottom left corner. Ha!)
Reverse lunge, alternate legs for the 4 minute set. Try not to step on the puppy as you go back.
3 minutes of glute bridge / chaos
2 minutes of crunches
1 minute of plank / learn how it feels to have your eyeball licked by a puppy
What I'm Wearing to Workout …
I am loving the latest Fabletics designs. The top and capris with lace accents are both from Fabletics.
And now I'm zooming off to start my day with some Spark. I just got a new delivery and have officially decided my favorite flavor is Mango Strawberry (Fruit Punch is a strong 2nd place). I'm also trying the Crave Check this week and will let ya know what I think later.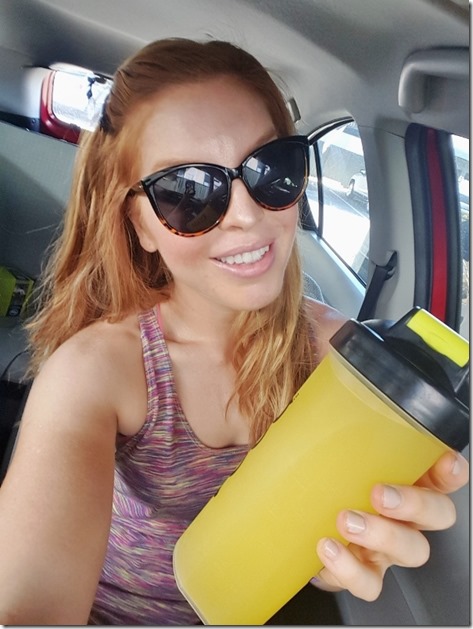 Question: Do you like counting reps when you workout or just zoning out?
Do you wish you were rolling around with puppies right now?
I do.