The day started with a chilly run. Well, it wouldn't have been chilly if I would have had long sleeves on, but it looked warm before I got outside. Oh well. I was going to do a speed run, but I need to find a new route because it's not working where I am now.
I got an email that my early class was canceled. Yes! This means I don't have to eat yogurt bowls while driving
  I'm sure my fellow commuters are happy about that.
This means I had time to make eggs. Bagel with pumpkin cream cheese and PB & PB on the side.
I'm digging eggs for breakfast, but don't get to have them enough during the week. This was super satisfying.
Toe nail update: It's like a loose tooth – still hanging on, but still holding on too much to rip off. It hurts when I try to wiggle it. I'm going to put it under my pillow when it finally falls off. Is there a toe nail fairy?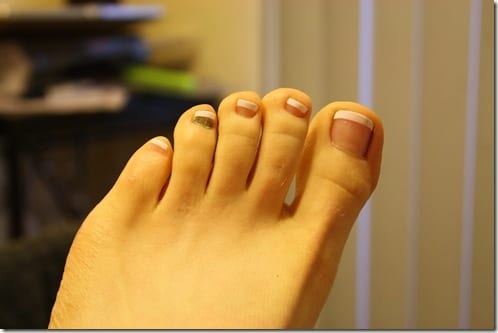 A year ago today I visited Connecticut…
Monica does Connecticut and Portable Restroom
  Worlds apart, huh.
Question: Do you remember when you lost your first tooth?
Me: I was a late bloomer. I remember my Kindergarten teacher giving you a special tooth shaped box when you lost your first tooth. You put your tooth in it and then put it under your pillow.
Well, I didn't lose my first tooth under after kindergarten was over
I was sad. But, my mom was a teacher at my school and asked my K teacher for a tooth shaped box. It was a big deal to me
Run SMART Goals
Fill out this form to get the SMART Running Goals worksheet to your inbox!