It's been forever since I've done a formal review! I don't even remember the last one. Exciting. At least for me
I heard about the new Vitalicious VitaSandwich on Twitter last week and was super excited. I LOVE Vitatops (maybe more than any other food now that I think about it) and was happy to hear the company was trying something savory and meal-like.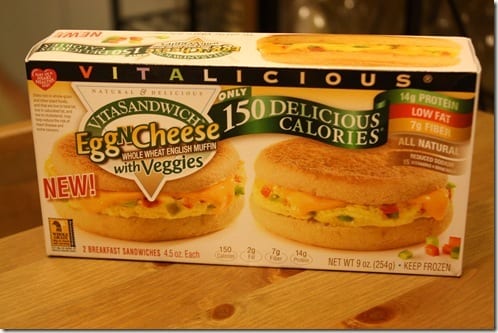 I spotted these at the store today and snapped it right up.
There are two types of VitaSandwich – I went with the veggie version. The other one is just eggs and cheese. The come in a 2 pack, individually wrapped.
They are super easy to make, just heat the frozen sandwich in the microwave wrapped in a paper towel. The instructions say to flip it over after 90 seconds in the micro and I did that too.
This is a picture of the "cooked" sandwich open faced, so you can get a glimpse inside. The cheese is on the bottom of the egg patty.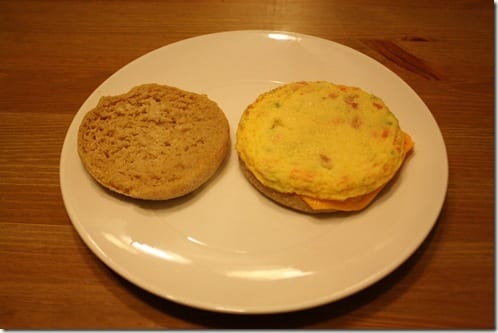 A two minute egg sandwich would be super impressive if I didn't make myself a two minute egg sandwich for breakfast this same morning. It's true.
The VitaSandwich was in serious need of some salt, pepper and ketchup to be enjoyable. Once it had those toppings I shared it with Ben. If it was really good he wouldn't have even seen it, so that tells you how much I liked it
– I didn't.
Here is the nutrition info – impressive, as always is the case with Vitalicious.
Vitalicious Breakfast Sandwich review:
Likes:
Good nutrition stats – 150 calories, 14g of protein
Easy to make
Dislikes:
Price – Two sandwiches cost $4.29
Taste – It was super bland even though it has 14% daily value of sodium (and I added more)
A LOT of ingredients.
You can see the cheese, but you can't taste it
The best part of the VitaSandwich is the novelty that the company is making a new product, but it's not very good.
I think my breakfast sandwiches taste a lot better and can be made very quickly too. (I make the eggs in the microwave.) Plus, 150 calories is not enough food for anyone for breakfast. No, it's not even enough for a little kid, so don't try and convince yourself that it's your new low-cal diet breakfast and blame me when you tear into the kitchen after work on a binging rampage, not that I know from personal experience.
I still LOVE Vitatops and don't think you can get a better 100 calorie treat any where else. But, the breakfast sandwich was not good. Save your money. Better yet, buy some Vitatops and pretend like the sammies never happened.
I ate that sammie as a snack, so my lunch was a lot more substantial – big salad topped with couscous, beans and gorgonzola.
Plus some clearance style chips on the side…
My BFF Cindy came over this afternoon too!  She has a fourth month old baby that I met for the first time today <3
Today marks the first time Ben has ever fed a baby! Isn't that crazy?!
We had some snacks while catching up. I got these pumpkin sugar cookies from the store this morning. I don't really like frosted sugar cookies so I scraped it off and donated it to the Grizz.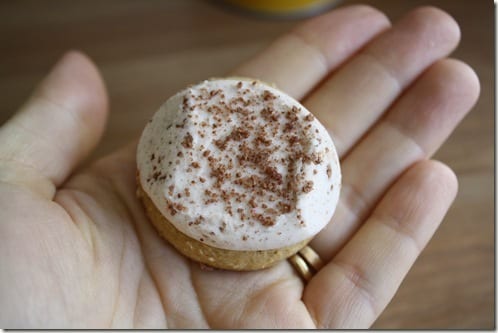 Dinner was a random mix of broccoli, cheese ravioli, veggie burger and half a bread stick. I only cut the breadstick in half because I want a big bowl of popcorn while we watch a movie tonight
Question: Did you have a good weekend? Anything happen I should know about?
Run SMART Goals
Fill out this form to get the SMART Running Goals worksheet to your inbox!