After breakfast Ben and I cleaned up, ran an errand and headed toward my mom's. She lives about 45 minutes north of me.
First we made a pit stop for lunch.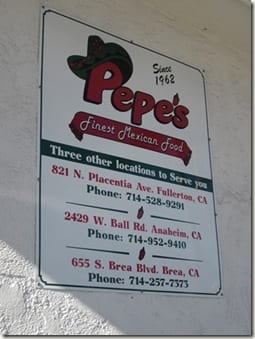 There were no healthy options on the menu, so I went with a Taco Salad. Here's to you Mr. Five Thousand Calorie taco salad guy. I think there's lettuce in it…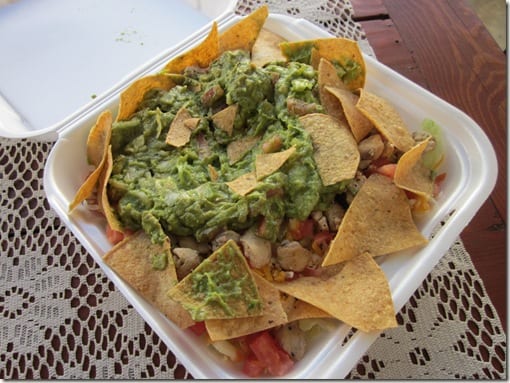 Anyone remember that "Real Men of Genius" Bud Light commercials? This taco salad reminds me of that.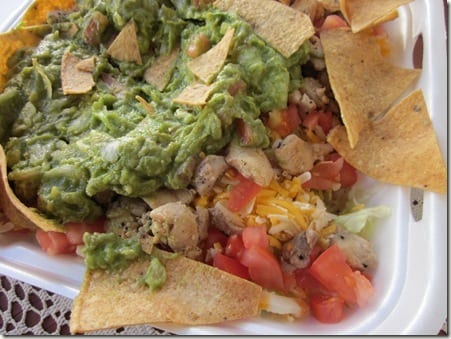 Bud Light Presents Real Men of Genius
Today we salute you Mr. Giant Taco Salad Inventor
(Mr. Giant Taco Salad Inventor)
A culinary invention that baffles the human mind,
a twelve thousand calorie salad.
(ai-carumba)
Ground beef, refried beans, guacamole,
cheese, sour cream and, if there is any room left,
a few shreds of lettuce.
(I don't see no mayonnaise)
Some may ask, is your Taco Salad Healthy?
Of course it is, it's a salad isn't it?
( You can eat that deep fried crunchy bowl )
So crack open an ice cold Bud Light, conquistador of the calorie.
You put the feast in fiesta.
(Mr. Giant Taco Salad Inventor)
Seriously I wanted to weigh the container because it felt like it was 7 pounds!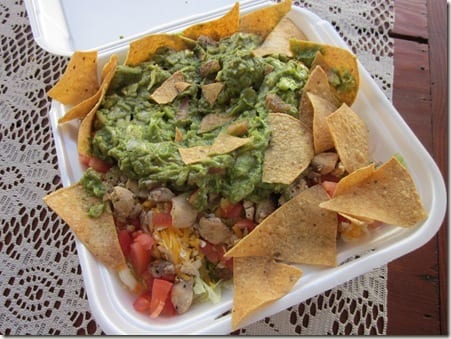 We actually ate at my grandma's and I shared with her, so my twelve thousand calorie salad was only six.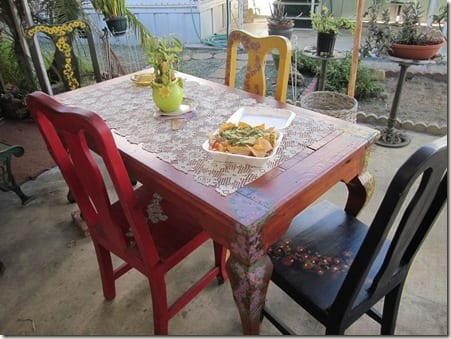 Then we headed to my mom's!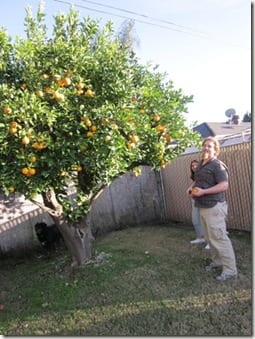 Ben, my mom and Matt picked oranges and avocados from the trees in her backyard.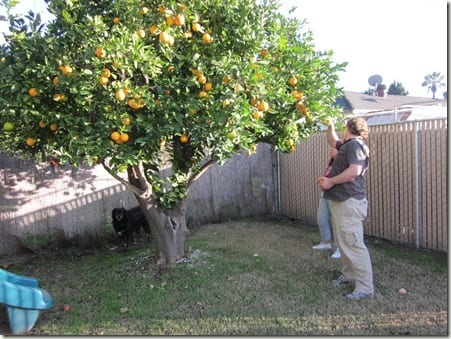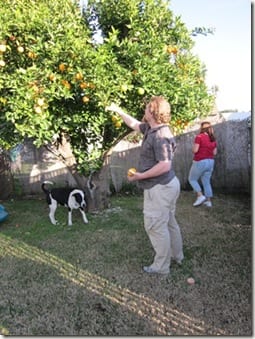 I made wishes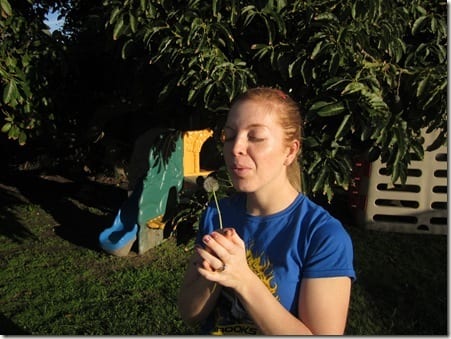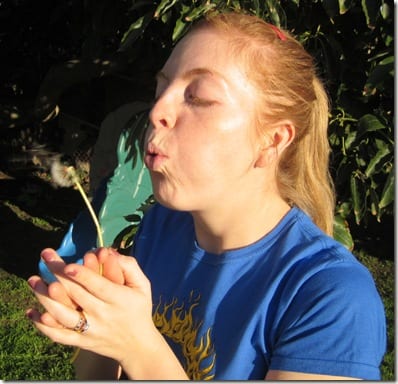 My mom and I took the dogs for a long walk while everyone else watched football.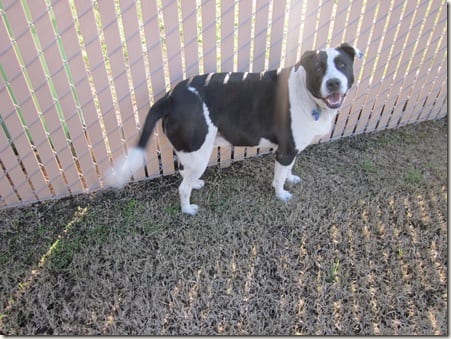 I refueled with a handful or two of cashews.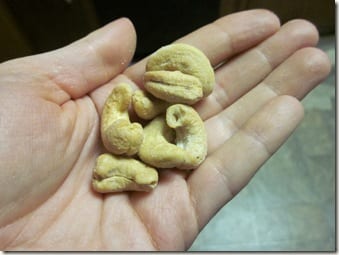 I apologize that dinner is not at all photogenic, but I just dug into some random leftovers and bites. I wasn't even going to take a picture, but this ish is good!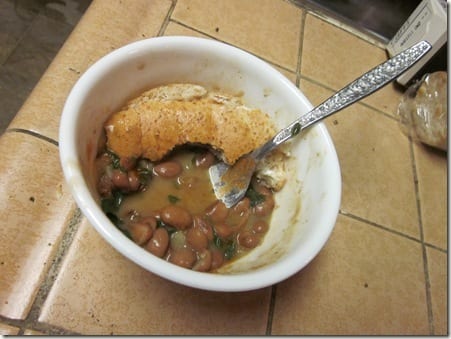 My mom made this dish from her childhood and I stole her leftovers. It has pintos, onions and spinach. I used a whole wheat bodillo for dipping. So simple. So good.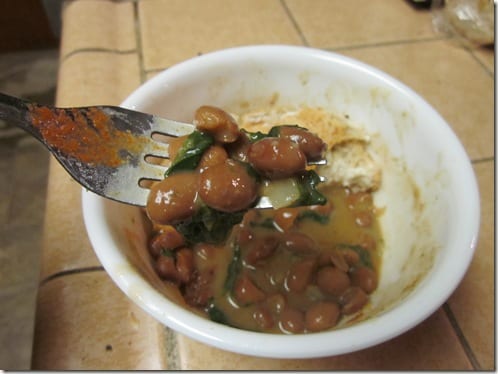 I'm about to make a chocolate pb smoothie for dessert.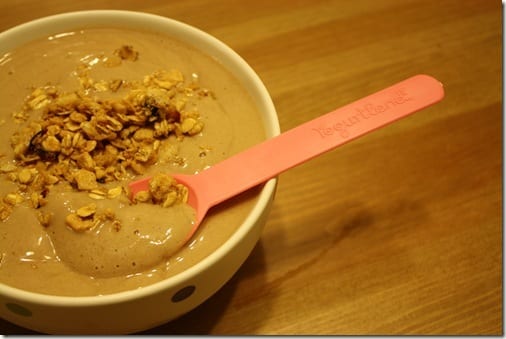 Yes, I keep the Yogurtland spoons for future use. It tastes better if you use a fun spoon. I swear.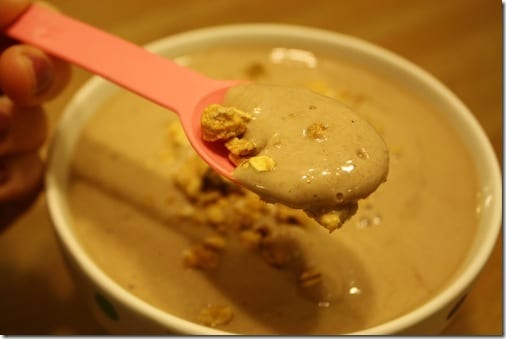 Now that I've announced my half marathon plans I need to make the training plan for my full! Off to do just that…
Run SMART Goals
Fill out this form to get the SMART Running Goals worksheet to your inbox!