I am a hypochondriac, or a hyper-condriac as I'd like to call it. Since getting back from Boston this weekend I've been tired, headache-y, felt like I was in a fog and had night sweats (okay that last one always happens – not sure down comforters are great for  California weather).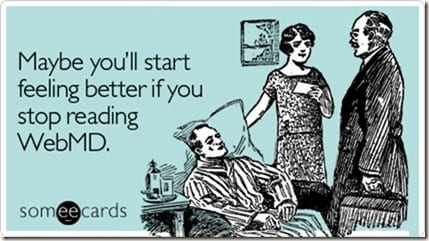 Anyways, this week I was convinced I
a.) was pregnant
b.) still jet lagged
c.) am crazy
d.) have a brain tumor
e.) all of the above
If you guessed e.) all of the above – you're right!
Then today when I was taking out the trash I realized my eyes were itchy and burned. It finally hit me – I have allergies!

www.superpoop.com
Well, at least I hope I have allergies. I immediately went to the store for meth supplies medicine. I can't take it until tomorrow because of the timing and desire to sleep. But, if this helps I'll know I am in fact going to survive.
My eats today were tragic in terms of looks, but I've decided I can't compete with the amazing photogs of the blog world, so I'm gonna quit trying. From now on I'm sticking to what I know – chickpeas…
and ice cream. We just have to wait on the ice cream for another 37 days. Yes, I'm keeping close track.
Today's lunch = sink salad. This time with a Lean Cuisine meal on top of a salad.
Oh! And I found these new crackers at Ralph's today… Milton's Graham. They were in the Cracker section NOT the Cookie or the graham cracker section, so I figured it was okay.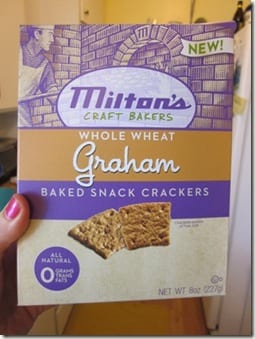 I paired them with some PB and apple butter. It may just be the lack of real sweets talking, but this was amazing!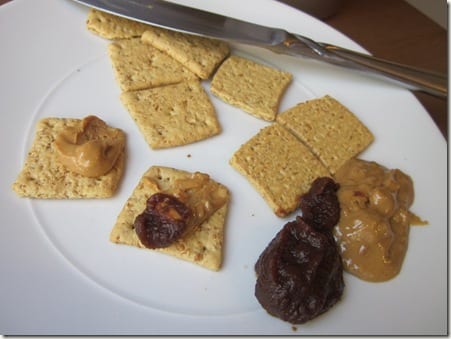 Dinner looks gross and I considered plating it all fancy-like, but then I realized I wanted to eat and keep it real – salad eaten with a spoon, roasted broccoli and english muffin pizzas.
In other news, the other night Vegas wanted to join us for dinner. I'm not a "cool" cat owner in that I'm Mexican and cats are for catching mice lizards not hanging out at the dinner table. But this was too cute.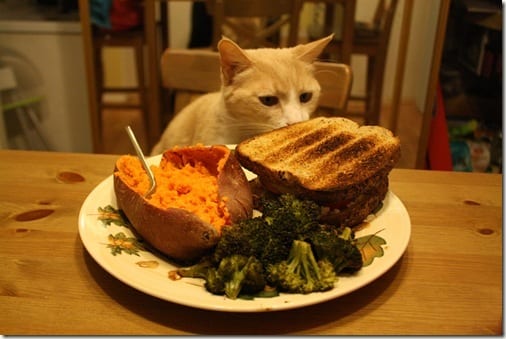 "Mmmmm, I love sweet potatoes!"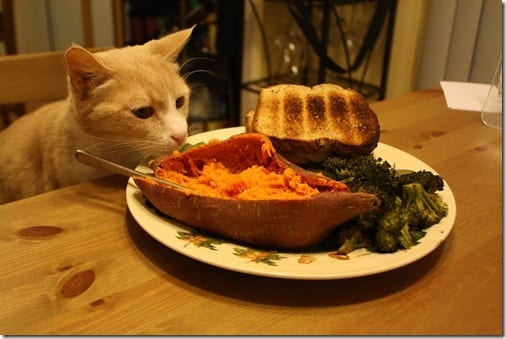 He's trying to scratch his face with the fork. Sometimes I do that too.
I plan on making a protein shake for dessert and watching trash TV for the remainder of the evening. Tomorrow I have a long run planned and will be attending the Natural Products Expo!!! There will be food and fun. Lots of it.
Good Night!
Run SMART Goals
Fill out this form to get the SMART Running Goals worksheet to your inbox!