The most important part of my running gear are my shoes. I am not really a "shoe girl" but I am a "running shoe" girl all the way! So, I am always on the hunt for the best running shoes.
I used to wear Asics running shoes. While training for the Long Beach Marathon I ran in Asics GT-250. Thanks to the blog I realize I got them in August and they are past their "Best By" date! Good thing I have some new ones…
The Asics GT-250 is a light weight stability shoe. I have a history of IT band issues, so having something with more support during long runs was essential. Yet, they were not too heavy. I loved them!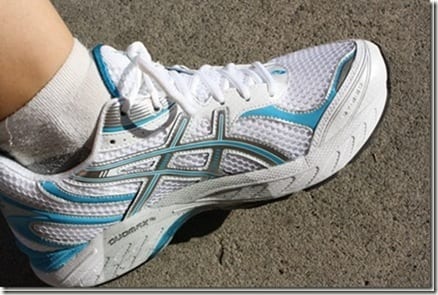 I also got a pair of Brooks Ghost running shoes. These are neutral cushioned shoes and are lighter than the Asics. I wear these on shorter runs.
I have pretty much always alternated between 2 pairs of running shoes during training. It used to be Asics and Adidas, but I haven't bought Adidas in a while (mostly just because I got the Ghost free in a contest).
I recently got a pair of Jillian Michael's Tubes K-Swiss shoes. I LOVE the way these look, but do not use them for running. These are my cross training shoes. I also like the way they feel, but don't think of them as running shoes.
The other day New Balance sent me a pair of their new light weight running shoes – The New Balance 890. These weigh about 9.65 ounces and are designed to be lightest neutral cushioned shoe out right now.
I really like fun colored shoes, so I am partial to their black ones with pink!
I am not on the barefoot running bandwagon just yet, so I like the idea of a light running shoe (without having to go completely naked).
I'll have to run with these a bit more to know if I really like them. I do always appreciate a lightweight shoe since I can use all the help I can get to make running easier!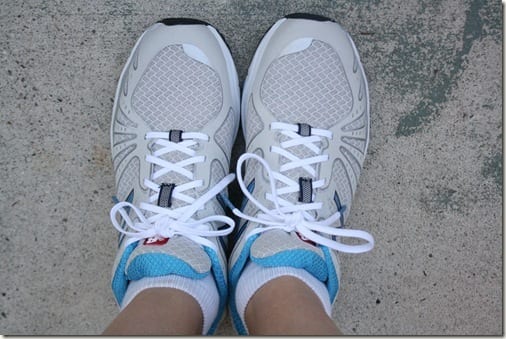 Another great option are Saucony shoes for women – I have a lot of friends that are loyal to this brand.
To me, the best running shoes are a pair that is supportive on long runs, but not too heavy… Lasts for 500 miles in good shape… and works for YOU!
To find the best running shoe for you it's important to go to a running store and let them assess your gait, mileage, size and injury history. Running shoes are the most important part of your arsenal!
Questions: What do you look for in a running shoe?
Have you been professionally fitted and assessed for the best running shoe for you?
What running shoes do you use now?