Despite my healthy serving of hummus at lunch, I was still craving chickpeas for dinner. I decided to roast up a can of them with broccoli, onions and spices.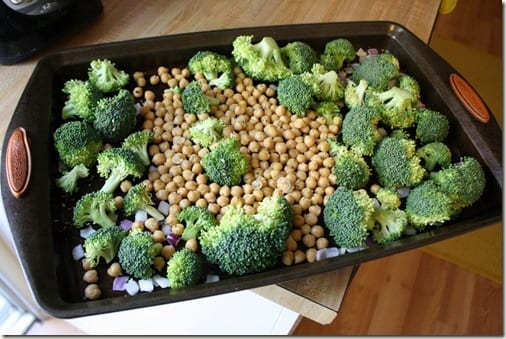 Roasted chickpeas + broccoli = an amazing combo choccoli (or brocpeas?)
I know I desperately need a manicure, but I couldn't help but snap a pic of the way I ate these – with my man hands.
Ben and I took a walk after dinner. Then, he did squats while watching The Soup. Is that weird? Maybe a little, especially because Paula Deen was on the screen.
Two of my favorite foods in the same night – chickpeas and fro-yo! I hope I'm not going to die soon (I always think that when things get too good. Is that weird?).
Except my fro-yo was a smoothie in a bowl with tons of granola.
You know that game 2 Truths and a Lie? Let's play it with my comments – here are 2 real comments I've received and one "fake". Guess which is the fake –
1. Just wanted to let you know I just found your blog by googling "Why does roasted broccoli smell like garbage?"
2. Had anyone ever told you you look like a polar bear?
3. I had a dream last night that we went wedding dress shopping together and you picked a lime green one!
If nothing else, now you'll think of me as a polar bear in a lime green wedding dress eating garbage?
Run SMART Goals
Fill out this form to get the SMART Running Goals worksheet to your inbox!