As a founding member of the Chickpea Lovers Club, I feel it is my duty to find the world's best hummus. I fully accept this challenge and have made it my mission to seek out the winners and the duds of this smashed garbanzo bean goodness.
I've tried hundreds of restaurant versions and different brands (including all the TJ's varieties). But, I always come back to Sabra.
Fact:  Sabra makes the best hummus.
Another,  possibly related fact: I will continue to try all others just to be sure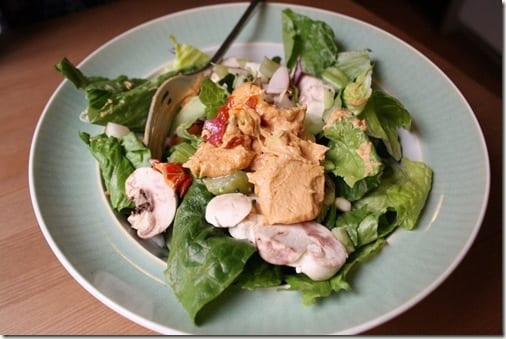 I paired my hummus topped salad with an egg sandwich and mustard pretzel bites. I love mustard pretzels, but only buy them when I'm traveling. Today they caught my eye at the store and I got 'em. Now I'm itching to get on the open road…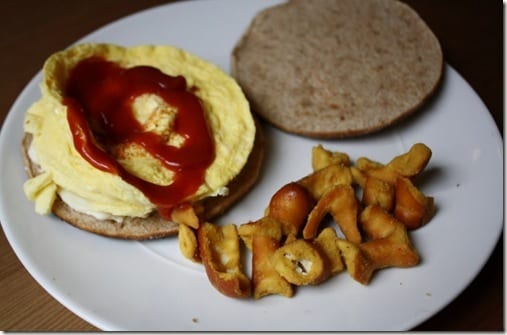 The other night I started re-reading Geneen Roth's book – When You Eat at the Refrigerator Pull Up a Chair. For those that don't know, Roth is an author that writes about Intuitive Eating and ditching the diets to lose weight too. I love her books because they are written from her point of view and via her experiences. When You Eat at the Refrigerator is written in a "50 ways" style similar to Michael Pollen's Food Rules.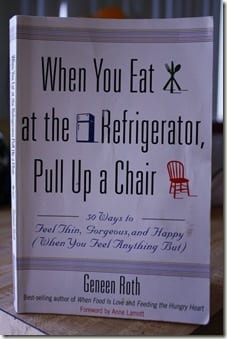 Last night one of her steps was "Eliminate the Ways You Gain Weight Without Eating".
This one really struck a cord with me because this is one of my worst habits. I've written about it here, but needed a refresher for accountability.
Ways I Eat Without Eating:
1. When I'm cooking
2. When I try Ben's breakfast (you know, because I'm not eating yet)
3. When I eat what's left on Ben or Matt's plate
4. Samples (Costco!)
5. Bites of Ben's food or dessert
6. When I'm putting food away in my belly after dinner
7. When I take a sliver of cake off the edge to make it straight – Roth calls this "edging the cake" and says she's guilty of it too


www.nataliedee.com
She basically says to eat the damn cake and enjoy it instead of sneaking. I whole heartedly agree 🙂
Do you eat without eating?