I just realized today is Tax Day and boy did I get taxed…
Let me let you in on an inside joke – when we get a flat tire, random ticket/fine, crazy ridic bill Ben calls it a "God Tax". There's no rhyme or reason, just pay it and move on. (Also, when I steal bites of someone's food sometimes I call it a "Monica tax!")
First Vegas got in a fight and racked up $400 in vet bills. Then, I broke my tooth and will have a $950 root canal tomorrow.
This morning I tripped over my laptop cord and it smashed to the ground. It's dead. I don't have my hard drive backed up….
I freaked out and tried to call Ben, but he didn't answer. I decided to go for my run anyways, because there was nothing I could do right then to fix it.
Then, I got stung by a bee at mile 5. On my one of my chins. I can't make this sh*t up. I tried to take a picture of the piece of stinger left…
That's when I lost it. I tried to call Ben again, no answer. So I called my brother Michael (not Matt as he would be in the middle of 4th grade history or something) and started balling. Not balling like this…
Balling like this (but even worse because I am a gross crier):
Yeah.
I cried it out then realized I was 5 miles away from home and turned back. I ended up running 9 and walked 1 to cool down.
When I got back I was super thirsty and depleted of all energy. I devoured a mango and then drank a smoothie.
Ben was having a bad day too and randomly decided to come home for lunch. We talked it out a bit and now I feel a little better. I'm sure the chips helped…
Wow. Wasn't this the most depressing post? Sorry.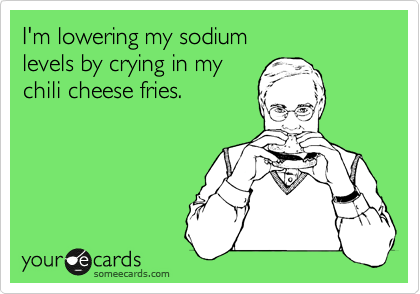 Anyways, now I'm scouring the internet for a cheap laptop. I know it's not the end of the world, but the timing of everything is not helping.
My least favorite posts are serious ones, so let's end on a happy note…
Happy Thoughts:
It's Spring!
I live in California with a guy who rocks!
I had someone to call when it was all going downhill!
I love Diet Dr. Pepper! A lot! (Random, I know)
I have a ton of meds because of broken tooth!
It's Friday and I'm going to Vegas on Sunday!!!
Question: Please share some happy thoughts!
Run SMART Goals
Fill out this form to get the SMART Running Goals worksheet to your inbox!