Hello and Happy Friday! I woke up today and realized that since I have a group run tomorrow morning, then am getting a root canal – my long run needs to be today if I'm going to get it in!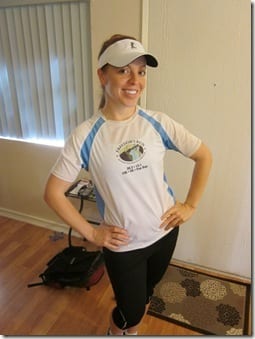 And yes, Vinnie – I want to get it in.
I mean the run – sickos!

Today is Fitbloggin Friday and we're talking with Jack Sh*t Getting Fit. He's funny, he has funny pics. Read his blog.
1. How long have you been blogging / why did you start?
I've been blogging for over 30 years; unfortunately, I didn't realize that you had to actually post things onto the internet for other people to be able to see them. I just thought my blog wasn't very popular…
JSGF began on Easter Sunday of 2009, and it was because I had stumbled onto some weight loss blogs and had instantly been captivated by the stories of these people changing their lives and documenting the process.
2. What topic are you speaking about at Fitbloggin?
I wanted to speak on the topic I'm most passionate about (molecular biology) but it looks as though I've been stereotyped as a "funny" guy and they want me speaking about "humor" and "blogging" and when "to" and "not" to "use" quotation "marks" in your blog. It reminds me of that story of the funny clown who always wanted to be a molecular biologist… dammit, I can't remember the rest of that story…
3.    Why do you think this is an important topic?
Besides being a painfully slow process, losing weight and getting fit is a lifelong pursuit. Who among us has the strength or stamina to stay 100% focused on our goals 100% of the time? For me, cracking a joke or looking at what we're trying to do from a unique perspective helps keep the focus on what I'm doing and definitely helps keep me from getting in a rut.
4.    What are you most looking forward to at Fitbloggin ? I'm excited to meet a lot of people that I feel like I already know for the first time and have them buy me a drink.
5.    Anything else we should know about you or your blog?
My blog enjoys long walks in the moonlight and sipping margaritas on a balcony overlooking the waves crashing on the beach. It is tender and caring, yet it once killed a man just for snoring. It is my best friend and my worst enemy. It is that split-second of apprehension you get just as your plane is touching down when you say to yourself "I hope I don't die in a horrible fireball in the next ten seconds." It is a faithful dog, fetching its master his slippers, pipe, newspaper and martini. It is me. It is you. It is… can I stop talking about my blog now?

Thanks Jack!
Other Fitbloggin Friday posts:
Back to running: There is the slight problem that my new group has thrown off my Race Calendar (because of Sat. meetings) and now I need to find a new goal race. So, I spent a big chunk of the morning searching for my next race! I'm announcing the Race Calendar for the rest of 2011 soon so I have some reason to keep running – I definitely need a goal race to stay  motivated!
Okay, I have a list of possible next races in my head and shoes on my feet. See you in 10 miles…