After a little walk/errand I made an easy lunch as soon as I walked in the door. Easy lunch = Sandwich, carrots and fruit – am I right?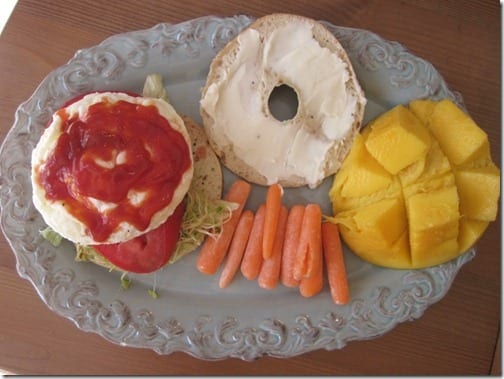 I made an egg sandwich with sprouts and a pile of tomatoes. It was very mess to eat, but delicious! I ate most of the mango while cutting it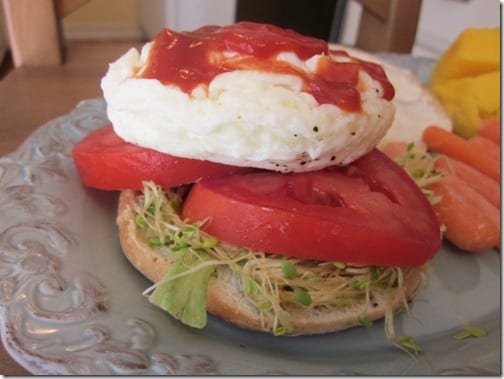 I mention it in my "Pictures" page, but I have tried practically every diet out there. I started officially dieting probably freshman year of high school with the Cabbage Soup diet and then hit every other crash diet in existence on the "weigh up".
It's been a few years since I did the Jenny Craig diet, but all the recent ads on TV had me thinking about it again. I'm sure you've caught the Sara Rue commercials.
(source)
The program has you eat prepackaged meals and snacks (which you buy from them). Some meals require you to add fruit or veggies or yogurt to "round it out". It is low calorie and very controlled, which is how it works. I did the Jenny Craig program for about 3 months in college until I fell off the wagon (read: binged on hundreds of loaf cakes for the following 3 months and then decided to try a new diet).
But, I would like to think that those 3 months were not a complete loss – especially because the plan is so expensive!! (You have to buy all your food from them.) So today I'm sharing with you
What I Learned from the Jenny Craig diet:
1. The "weight loss consultants" are sales people. They are not RDs or doctors. They have sales quotas.
2. Taking laxatives before a weigh in "helps" you drop 3-7 pounds fast.
3. God help you if you lose 7 pounds in "one go". (And God help the person in the bathroom after you.)
4. Taking your prepackaged meal to Disneyland is weird. And it sucks when everyone else is eating churros.
5. You can buy low calorie prepackaged meals at the grocery store for much cheaper. They're called Lean Cuisine.
Probably the one positive thing I learned…
6. Portion controlled snacks are a good idea if you are a grazer.
Things are about to get pretty busy around here in RERland, so I stocked up on tons of bars and snacks yesterday. If I don't have a snack around I completely attack the kitchen when I get home from work/school/errands. So, I'm keeping these around to help prevent that.
I won't lie and say that Sara Rue's before and after pictures don't make me want to eat shelf stable Swedish Meatballs for breakfast, lunch and dinner. (Don't judge, bathing suit season is coming soon.) But, I know the plan doesn't work long term for me. It is a crash diet – 1200 calories of pre-planned food, not "real life". I was starving and the food isn't exactly delicious, you know?
www.toothpastefordinner.com
That being said, please don't call me the C-word in my comments. To each their own and I never judge other peeps for doing their own thing.
I vote we eat what we like, watch how much of it we're eating if we're trying to lose weight, and rock on.
Run SMART Goals
Fill out this form to get the SMART Running Goals worksheet to your inbox!