Update on my Smart Snacking Challenge: Yesterday went well, but I had lunch early (had to work at 12pm) and had my 2 snacks before dinner.
This morning I chomped on an apple and pineapple cottage cheese (obsessed with it right now!).
This afternoon I will be snacking on some Smart Pop because today is National Popcorn Day!
As part of my partnership with Orville Redenbacher the company sent me some of their new Pop Up Bowls. I'm pretty excited since I always pour my popcorn into a bowl anyways and dim the lights while watching trash TV.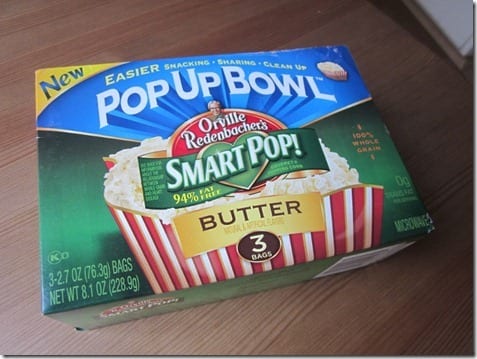 It hasn't been easy for me to stay on track with snacking. It's been my worst habit for YEARS, but I'm slowly becoming more aware of the random trips to the kitchen and bites while cooking. I have caught myself grabbing a piece of bread with PB&J twice already! One time I successfully stopped myself, the other time I ate it. And I grabbed a handful of cereal after my apple this morning before redirecting myself to get something with protein.
Progress, not perfection.
About two weeks ago I shared a Beginner Level HIIT workout here. Hopefully, you've done this a few times and are ready for the next step.
Here is a 4 minute workout using the Tabata Timer
Do each move 20 seconds. Then, 10 seconds of rest. Run Eat Repeat if you want.
The moves:
Jumping Jacks
Screamers (alternate)
Burpees
Skaters
Squats
High Knees
Butt Kicks
*Consult your physician before starting a new exercise program.
**I don't know why, but I feel very dumb posting this video and Ben just told me these shorts aren't flattering. But, I'm not going to be scared this year of looking dumb on the internet since it's basically my night job… Enjoy?
Question: How's your Smart Snacking Challenge going? (If you're joining me) What did ya snack on today?
***For the record I told Ben I was going to click on the "Meet Single Runners" link on the video after he said that.
Run SMART Goals
Fill out this form to get the SMART Running Goals worksheet to your inbox!