Hello from the sky! I'm blogging on my way back to California. I'm still working on my 2nd Reach the Beach leg story, but wanted to check in for the day
After we reached the beach yesterday we headed back to the New Balance site where we first met up. It was very sad to say good bye to everyone.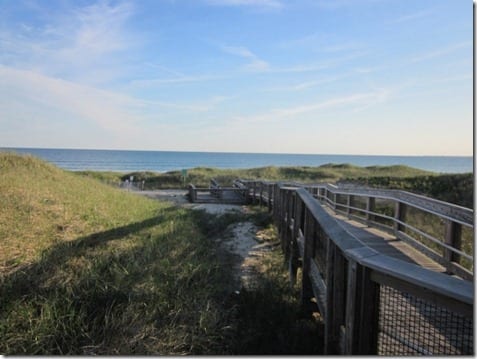 Tina and I reluctantly gathered our stuff and went home for the night. (She was nice enough to let me crash at her place since I promised not to pee the bed this time.)
When we got there we were stinky, exhausted and hungry. After a shower and egg sandwich (courtesy of the lovely Mal) I hit the pillow harder than ever in my life. Sleeping is so good.
This morning I woke up on a mission.
That mission was to get Marylou's iced coffee.
Since my legs are super tight from the whole "run, eat, sit in a van for hours, repeat" thing – I suggested we walked to the closest Marylou's to shakeout our legs. It was only about 1.5 miles away, but I would have walked 26 miles to get to it.
I ordered the last one without sugar or cream, but it was still suspiciously sweet (and delicious) so this time I investigated further.
Yes, many of the iced coffees do have sugar already in them. They are made with Swiss Miss hot cocoa mix that has sugar (in the form of HFCS). I don't think it's a lot, so it's not the end of the world.
Luckily, I am willing to be world's most embarrassing dining patron because I was able to find out that the Mudslide does not have the Swiss Miss mix. The girl at the counter wouldn't give me the secret recipe though, so I am considering moving to MA just to get a job at Marylou's and find out all the secrets. Hopefully Mal and Tina won't mind a long term roomie?!
It was amazing and I drank it in peace.
After our walk-a-do we went back to Tina's for breakfast. She offered to make Oh My God Pancakes! (Which have an alarming name when you're not ready for what you host is offering.)
Yes, please!
I topped my 'cakes with Justin's Honey Almond Butter and Jam.
Then, it was time to blog and play catch up. Apparently living out of a van for 30 hours really makes the emails pile up!
We worked away until lunch time when I may or may not have begged for Whole Foods salad bar. After eating nothing but bagels, pita chips and PB pretzels for 30 hours during the relay I wanted some greens.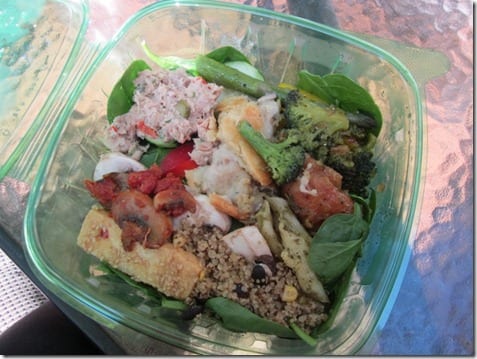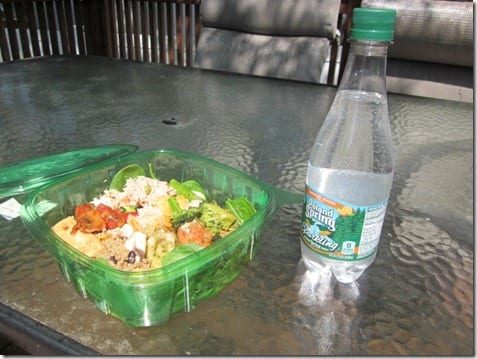 The weather is absolute perfection so we ate outside.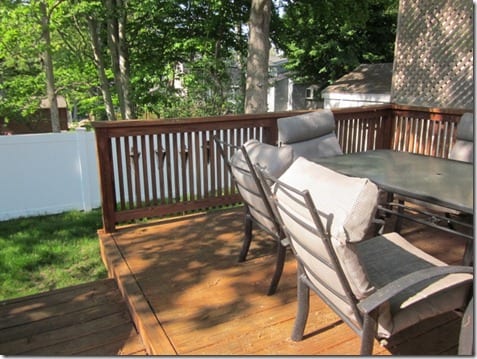 After lunch Murphy offered to take me on a walking tour of his neighborhood. Being a polite guest, I kindly accepted.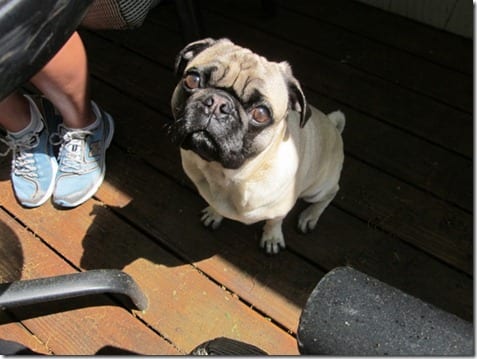 It was great to walk and see all his favorite pee spots.
After about 286 stops he showed me how nice it is to lay your belly on the shady parts of the street. I tried it too, but Tina refused to take a picture of me.
Sadly, it was soon time for me to leave and head to the airport.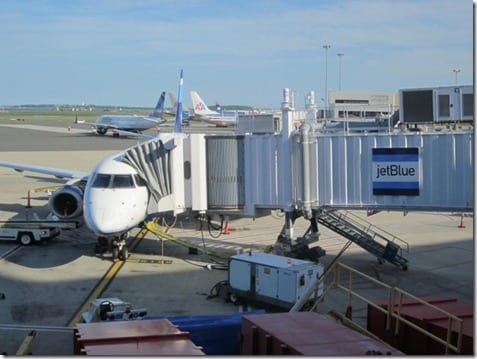 Since I am constantly thinking about food I had the foresight to buy a turkey sandwich and blueberries from Whole Foods. This will be dinner since I'm on a 5.5 hour flight!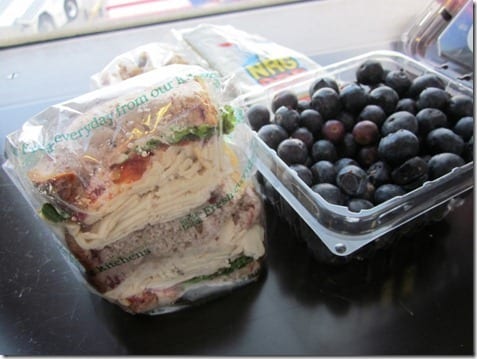 The rest of my snacks are a NRG bar and my famous Kashi trail mix if I need it.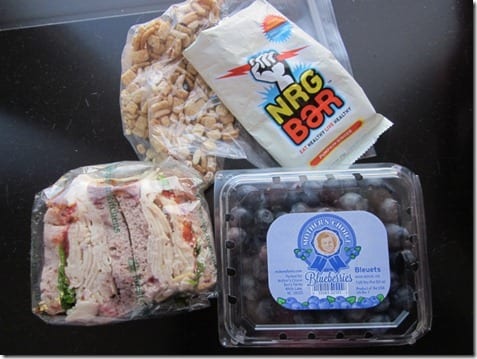 Updated to add: That sandwich was AMAZING. There were pecans and pieces of cranberry in the bread. Delicious.
The flight attendant just came around with snacks and I'm enjoying some chocolate chip cookies for dessert.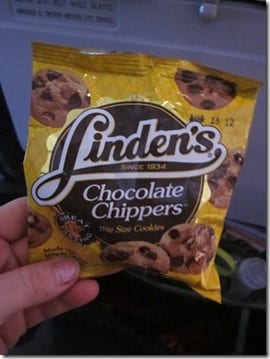 I'm fading fast, but will try to put together the rest of my Reach the Beach posts on this flight if I don't fall asleep.
Sunday Set Up:
Exercise:
Monday: Strength, Abs

Tuesday: Speed (if my toe feels better)

Wednesday: Mid-length

Thursday: Yoga

Friday: 4 miles and abs

Saturday: LR
Dinners:
Monday: Veggie burgers or frozen meal (I have no idea if there is food at home)

Tuesday: Grilled chicken and sweet potato

Wednesday: Chicken salads

Thursday: Egg salad sandwiches

Friday: Homemade pizza
Question: What was the highlight of your weekend?
My entire weekend was one big yellow highlighter
Run SMART Goals
Fill out this form to get the SMART Running Goals worksheet to your inbox!