Alternate title: Monica completely freaks out while running and embarrasses herself in front of her team and the camera guy.
Let me start from the beginning…
Since New Balance was sponsoring us and Reach the Beach works with them closely we had a camera guy with us all weekend. We did pre-interviews and pictures and he was filming the entire race. So he caught all the hand-offs, fun, excitement and of course the drama.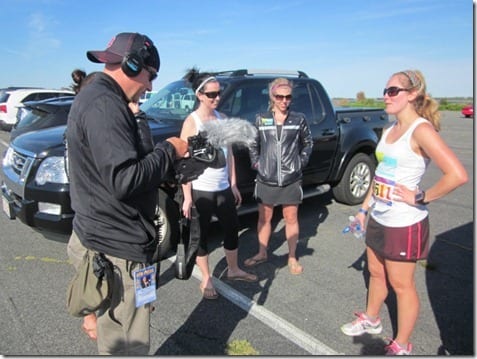 When we last spoke I had just run a super fast (for me) 7.5 miles,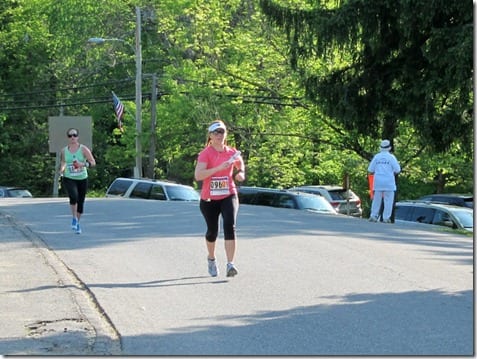 and handed off the baton to Theodora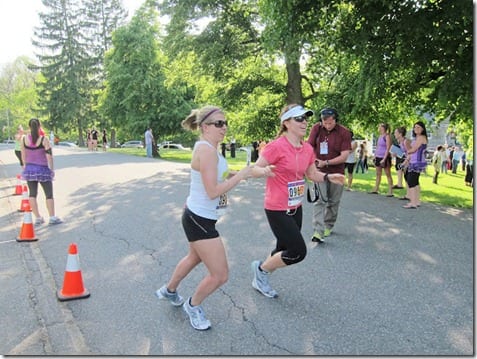 I was super pumped and crossed my first leg off the list.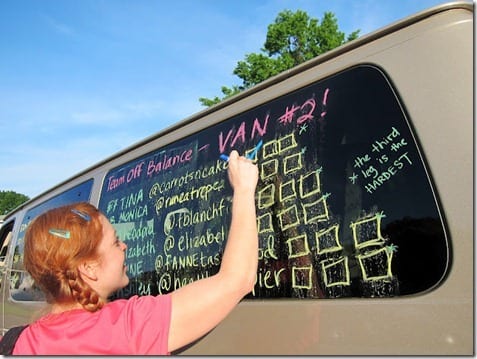 I decided to use a grading system for myself and each leg got a letter based on my performance. Leg #1 got a B+ because it I rocked it, but might not have run a smart race since I killed my quads.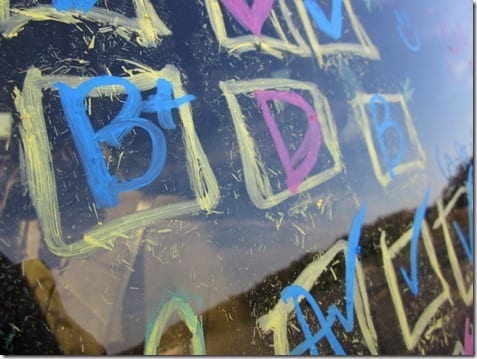 After my leg I focused on cheering on the rest of the team.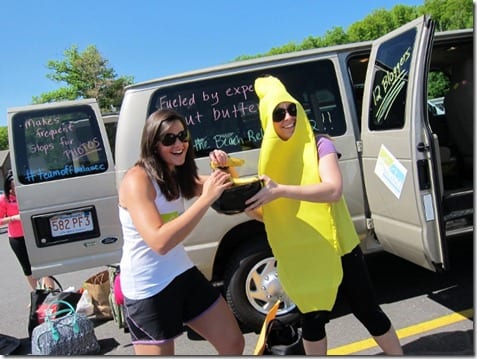 I busted out the banana suit and we bumped "Call Me Maybe" to cheer on Anne.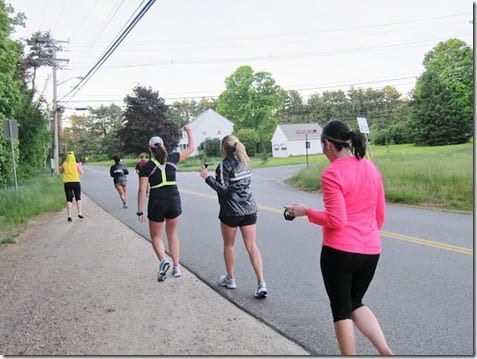 It was SO MUCH FUN!
After our crappy dinner and sad attempt to sleep we were back in action. By this time it was around 2am and my turn to run next.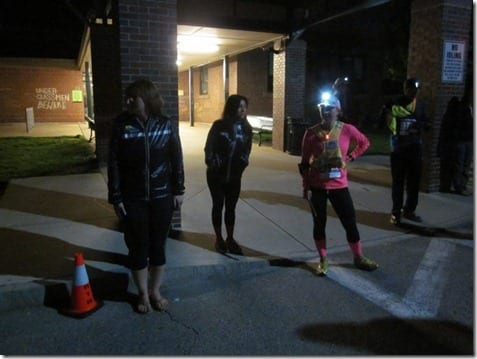 I had 8 miles to run in the middle of the night. I was scared going into the night run, but planned to try and run as close as possible to the other runners. I had already told myself I would either speed up or slow down to stay with someone.
I was uneasy, but after watching Gretchen and Tina run their night legs I felt a little better since I saw people around them.
Finally it was my turn and Tina handed me the baton snap bracelet and I was off!
But, as soon as I turned the corner away from the transition area I turned onto a very dark street and didn't see any other runners. I saw the Reach the Beach signs, but no fellow red blinking lights in the distance.
It was VERY DARK. This stretch of the race had no street lights because it was a forest-y area. I started to get scared and wasn't sure what to do. I ran faster hoping I would catch a glimpse of another red light around the bend.
Nope. Nothing.
I felt like I was covered in a pitch black blanket and the only thing I could see was two feet of pavement in front of my feet courtesy of my hat lamp.
I was terrified of what was in all the darkness to my left and my right, but couldn't look that way to check it out because I had to keep my eyes on the ground so I wouldn't trip. Every time I heard a little noise I would whip my head toward it for a second only to be reminded my feet where running blind.
My van pulled up on the side of me less than a mile in and Monica asked, "How are you?"
I was freaking the fck out, but decided to keep the profanities to myself. I said, "It is pitch black, I can't see any other runners! I'm scared!"
Apparently, one of the rules is you can't drive alongside your runner so she couldn't just flank me. She said she would drive up a little bit and check on me again.
As soon as the van pulled away I basically ran as fast as I could to it. They offered me another headlamp, but what I really needed was to not be alone in the dark by myself. I turned down the lamp and said, "I just want to see another runner!"
I should mention that I was on the passenger side of the van and the camera guy was taping all of this right at my eye level the entire time. I was talking past him to Monica, but I was basically losing my sht right into the camera. I didn't care, I was convinced I was going to die out there.
The van drove up a ways and I sprinted to it again. At this point I had really gotten into my own head and kept hearing things in the bushes. I made up this story that someone had been waiting there to attack a solo runner all day. I overwhelmed myself with bad thoughts and couldn't get into a positive place.
I ran to the van again and they had pulled over. Then, a banana hopped out and handed me water.
Monica had put on the banana suit!!! She could tell I was freaking out, but I had to keep going. She found a way to bring some humor to the situation and help me smile.
The van and the banana saved my life. They continued to stay close as I ran through the pitch black towards the van. The naner would hand me water and then drive off to the next stop. I was running WAY TOO FAST and I knew it, but I was so scared I couldn't slow down. My heart was pounding out of my chest (both from running and being scared) and I knew I couldn't maintain my pace, but I needed to get to the van!
Finally we came to an area with a cute downtown and streetlights. Thank God.
I felt a lot better and the van stayed with me until the last mile. They told me there was another runner a little bit behind me so I wasn't alone and they had to get Theodora ready for her leg.
I didn't see one single runner until after mile 7 when some guy sped past me. I've never been so happy to get road killed. Finally I turned the corner and saw the transition area. I made it! I didn't die or cry or call Ben to come pick me up.
I ended up running super fast too! Fear makes you fast.
8 miles – 8:12 pace
Mile 1: 8:26

Mile 2: 7:30

Mile 3: 7:32

Mile 4: 8:34

Mile 5: 8:11

Mile 6: 8:35

Mile 7: 8:28

Mile 8: 8:16
I'm DONE! I was so happy to be done with that run, but I do feel stronger for going through that experience.
Once it was done I immediately felt kinda embarrassed about being so vocal about being scared. I'm usually pretty rough around the edges, but I did not try to down play or hide the fact that I was so scared.
I also felt like I was a hardship for the van and wanted to apologize to my team if I made this leg difficult, but they wouldn't have it. They were beyond supportive and positive.
I got into the van after I was done, chugged water and said a little prayer.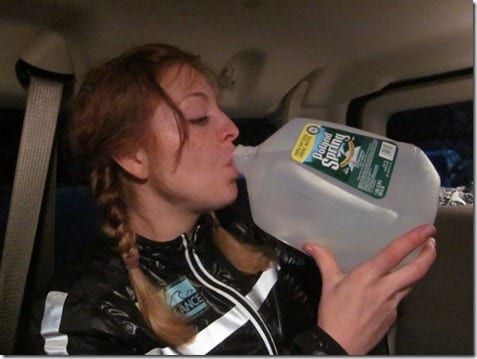 Big big thank you to Monica for being the best banana ever.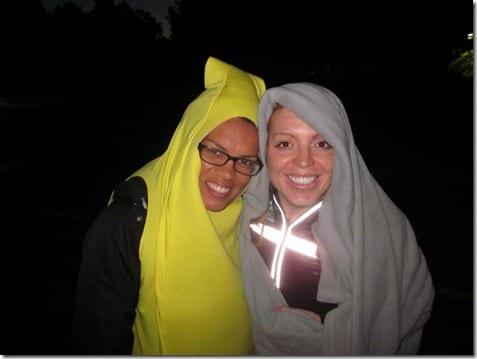 After that the remaining 4 runners for this leg did great and it all went off without a hitch.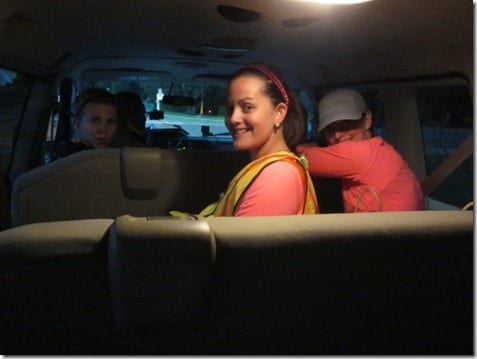 I gave myself a "D" for this leg. "D" for Dark that is – I'm super proud of how I ran and that I didn't die.
On second thought, maybe that should be a "D" for Dramatic…
Question: What are you scared of?