Team Off Balance made it to the beach!
Hello everyone! I survived my first relay race, but barely. It was the most epic adventure I've ever been on and I loved it!
Each leg of the race was very different so I'm going to post each one individually. (I posted about my first leg in my previous post, but it was from the van and I want to remember all of it here.)
After we left the start van 2 relaxed and waited for our turn.
We piled into our decorated van and just laid low for a while.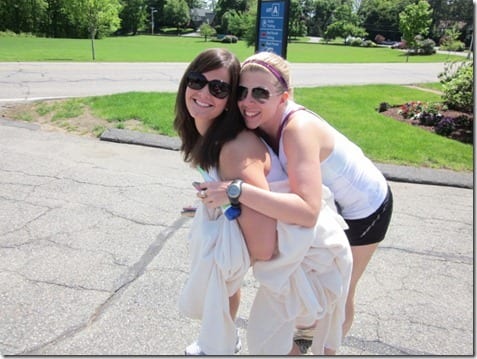 Then, we headed to the first transition early to cheer on the other runners and wait for our first runner to go.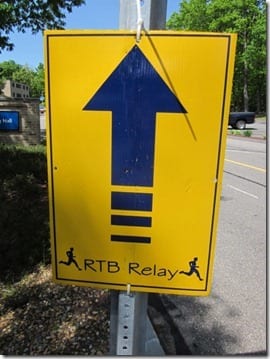 New Balance even had someone drive the van for us. Monica turned out to be our driver/coach/life saver. Seriously. She completely made the weekend for us. She took care of all the worry and directed us to the where, when, why, how of everything. She was the 7th member of our team and AMAZING.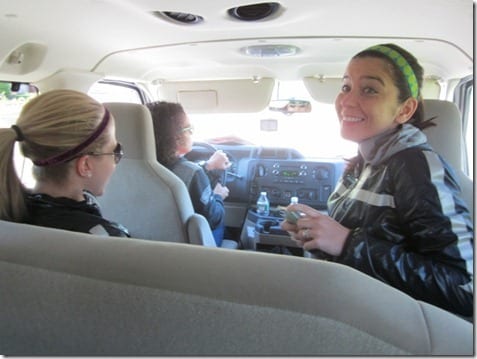 We started our first leg at 4pm. Tina went first and I was after her. After she was off and running we met her half way for water and support and then headed to my hand off area.
My first leg was 7.58 miles. It had a lot of downhill, but one super huge hill that killed my quads. I flew down the first hill and did 7:09 my first mile of my first leg!
Yeah, that's not smart. I had 21 miles to go for the weekend and that's faster than I've run in my life.
(source: Ashley)
All the excitement and waiting and adrenaline just had me so pumped I flew through my first leg (again it was a lot of downhill, one killer hill).
7.58 miles average pace – 8:05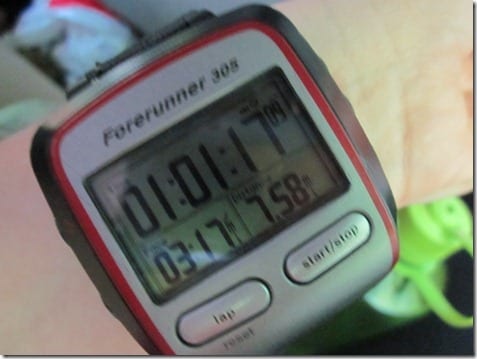 Monica advised me I came in 5 minutes faster than we had calculated. Which would have been awesome if I didn't have another 15 miles to run. But, I figured I'd just try to stay on pace for my next leg and go with it.
Hand off to Theordora!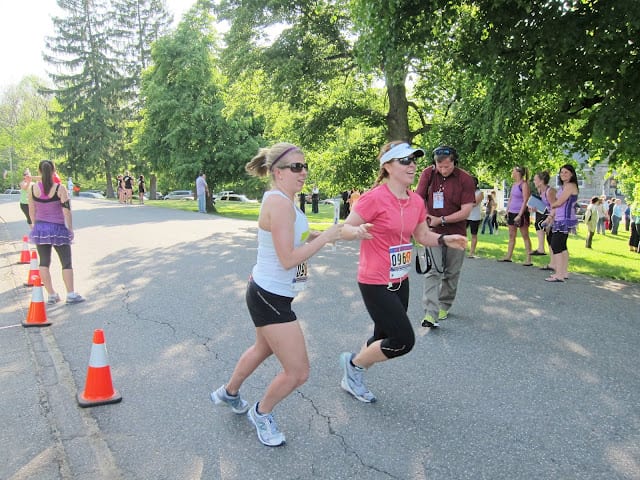 (source: Tina)
I passed one girl going up the big hill (she stopped to walk), but I didn't pass anyone else the entire race. I'm not competitive with this stuff at all, but it does bum me out that I really ran as fast as I could and didn't pass anyone. Then, other girls in the van would finish their race and say, "I got 3 road kills!".
I was only passed by males and they were super fast so I don't feel bad about it. But, at the time I thought I was doing something wrong to not pass anyone.
I was still pumped after, but knew I needed to refuel because the journey was only 1/3 over. I had an apple right after, but wanted something with the good carbs to protein ratio. (Where's Chocolate milk when you  need it?!)
After my leg we headed to the next transition area and I got nekkid in the back of a van. Luckily, it was our van and I was solo.
I brought baby wipes for a quick wipe down, but I'm pretty sure I still smelled like a sweaty pair of boxer shorts some guy forgot about in his trunk in August.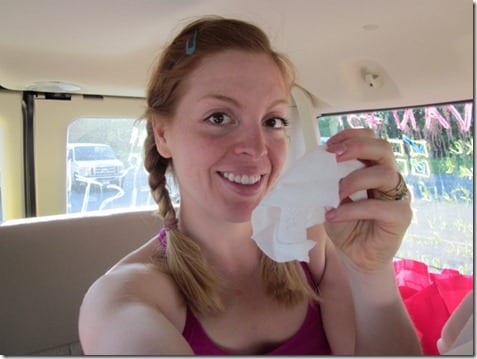 A lot of the transition areas had bake sales or other food for purchase.
Well, this ended up being the perfect post run stop for me because they had Chobani! The protein / carb combo I was needing! Don't mind the sexy stretching in the background. The weekend got a lot more inappropriate from here, but those stories stay in the van.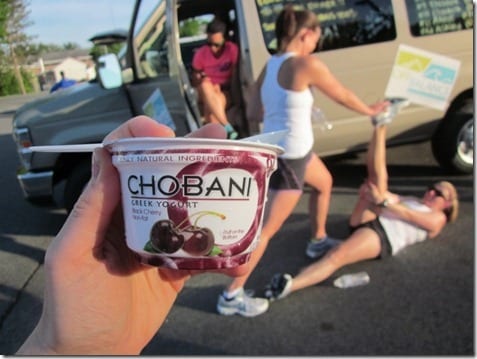 The energy stays so high when it's your van's turn. There is always someone who just came back from their turn and is PUMPED UP!
Monica made us a spreadsheet of expected start and finish time which helped keep us feeling organized and not frazzled.
We stopped 1/3 of the way into each runner's leg to make sure they were okay, give them water and cheer them on. We would also ask if they wanted us another mile or two up or if we could wait at the next transition. This really helped everyone!
Anne getting ready for her first leg. That's our drive/coach/lifesaver Monica with her.
Elizabeth bringing it in!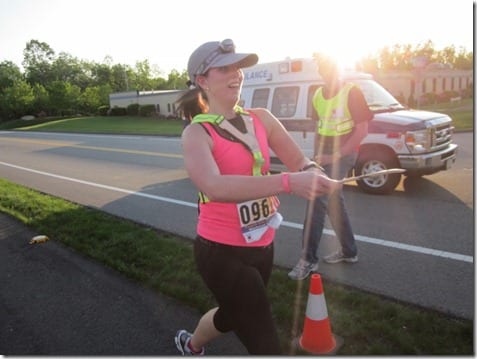 Our last runner was Ashley from Healthy Happier Bear. She had the most gorgeous run!
We were done around 8pm and after our last runner we went to eat dinner. We ended up at a random Italian restaurant that I would not recommend. The food was not good and I'm pretty sure that was the culprit for our stomach problems the next day.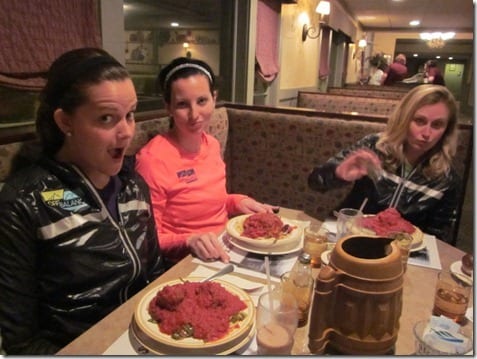 I was craving a big turkey sandwich, but they didn't have anything like that. I settled on tuna and stole a few bites of Ashley's pasta.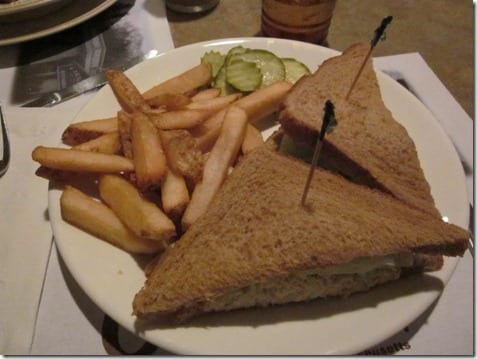 There were a lot of problems with our order and Theodora was told to push off the meatballs on her pasta if she ordered it without. But we were so tired we just ate it.
After dinner we headed to get some sleep, which wasn't comfortable or easy. The transition parking lot was loud and we didn't bring sleeping bags so we squished in the car. I basically tossed and turned for 2 hours and then it was time for Tina to get ready for leg #2.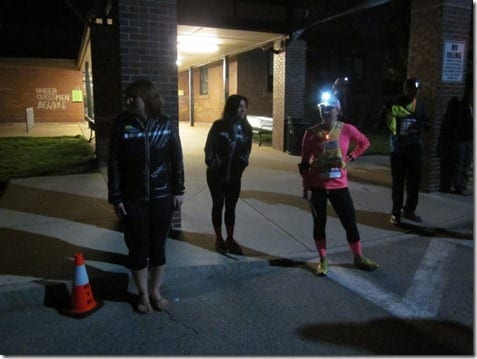 Sneak preview: I completely fall apart in leg 2. Stay tuned.