Remember when I would eat Flapjack or French Toast every Friday?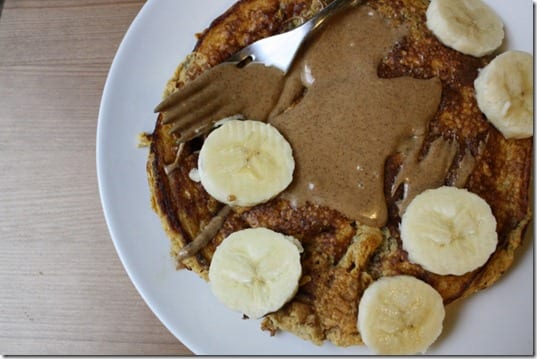 Not sure why I stopped that, but after reading about four different protein pancake recipes in Oxygen recently I've been craving 'em!
Before we get to this morning I want to share that I was sipping on an adult beverage right around 8pm last night. I'm not counting this as night time eating as long as it doesn't become a habit. Noted.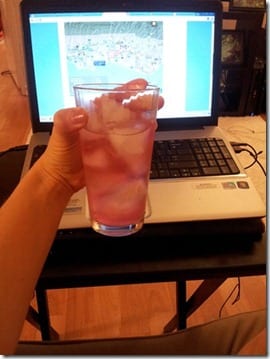 I woke up early again (which I kinda love) and was pretty hungry. So, I chomped half a banana and some iced coffee before my easy 2.5 mile run. I'm taking it easy today
When I got back it was Pumpkin Protein Pancake time!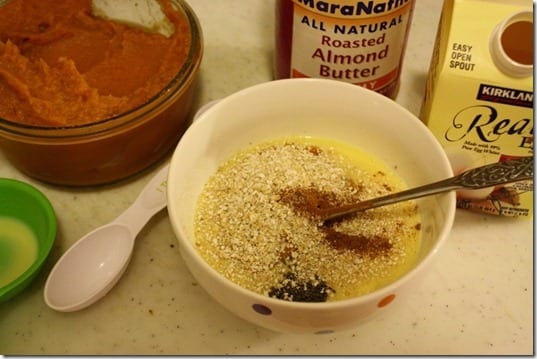 Ingredients: 1/3c egg whites, 1/4c pumpkin, 2 Tb. oat bran, dash: salt, chia seeds, packet stevia, pp spice
Tip: Don't flip protein pancakes until they are pretty set
I topped it with A LOT of almond butter and the rest of the banana from earlier. (I didn't follow a recipe from the magazine as I never follow recipes.)
But, it was missing something…
Syrup!
Unfortunately, I don't have any syrup
Luckily, I found this Agave packet in my cupboard. I think I got it at Blogher Food?
Added bonus: Agave is thought to be sweeter than sugar, but have less of an affect on your blood sugar! I'm trying to eat cleaner, but not swearing off sugar in every form. I think this is a happy medium
Flashback Friday: One year ago this weekend I went to my friend Susan's wedding and then ran the Mission Inn Half Marathon! <- That post has a wedding and a race, so it's extra fun.
Happy Anniversary Rondell and Susan!
The Fitnessista is hosting a Blogger Bake Sale and proceeds go to Hurricane Sandy Relief Efforts! My Pumpkin Whoopie Pies are up for sale – go check it out.
*And if you are local I'll tie them to Vegas' back and have him personally deliver them!
(*Note – this is only if he agrees to it and he's not very agreeable…)
Question: What are you doing this weekend?
I'm running a race!!! Ah! I feel like I'm going to regret this in the morning, but I impulsively signed up for a marathon tomorrow. More on that later…
Run SMART Goals
Fill out this form to get the SMART Running Goals worksheet to your inbox!