Ask a Monican Vlog today!
Reader wants to know when should you ice bath and why?! And when you should just use a good 'ol bag o' peas.
I was actually icing after my run today whilst answering email all multi-tasking like. Via Instagram –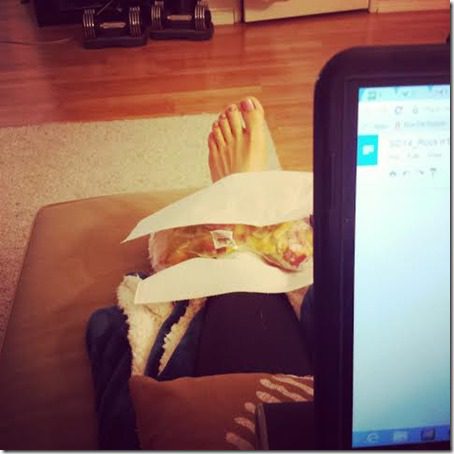 I'm finally getting into long run territory and wanted to ask for a bit more detail on after run icing.  I've seen images on your blog showing you in the ocean, in a pool and sometimes using frozen bags of peas on the knees…

Can you give a short sum up of what we're trying to accomplish with the "ice bath" and how we might differentiate between situations that need short term bag-o-peas and situations that need a dip in the bathtub with ice…  ???
When to take an ice bath vs. when to use a ice pack Vlog
Remember – Using icing as a Band-Aid to push through uncomfortable overuse injuries is not recommended. However, icing in conjunction with rest can greatly increase healing time and athletic performance. – Via Active
My post Marine Corps Marathon ice bath…
Resources:
8 Ice Bath Dos and Don'ts via Active
Ice Baths Cold Therapy via RunnersWorld
Does an Ice Bath Speed Recovery?
And if you're in a video watching mood…
All The Worst Things That Happen While Running
Question: Do you ice bath? Do you drink icees?
Email me your questions to RunEatRepeat at gmail dot com!
Run SMART Goals
Fill out this form to get the SMART Running Goals worksheet to your inbox!