Hello! I just got back from San Jose where the 2016 US Women's Olympic Gymnastics Team was picked!! It was amazing and exciting and inspirational. I had a great time. There were so many events and memorable moments so I am just going to share the top 10 to keep this concise.
Top 10 Moments from the US Women's Gymnastics Olympics Team Trials
San Jose. From the moment I arrived in San Jose there was buzz everywhere around the Olympics Trials. There was such a happy excited energy.
The Fairmont Hotel in San Jose
This is a very fancy hotel – but beyond the amenities and view and room and customer service…
one of my favorite things about the Fairmont was all of the former Olympians and legendary gymnasts were staying there too! I brushed arms with Shawn Johnson and Kerri Strug and so many others. Every time I was in the elevator or lobby I saw someone famous.
Highlight: I was in the elevator with Natalie Morales and froze. I should have said 'Hi' at the very least! I was hesitant to ask for a picture because it looked like she had just worked out and probably didn't feel like it, but I regret not saying hello!!
The food and drinks. I was invited to the Olympic Trials by reps from CorePower. They had so much amazing food for the group. And they also had every option of Fairlife milk, CorePower and Yup. They were available all weekend so I made sure to taste all of them. My favorite is the CorePower light in chocolate.
Meeting Simone Biles. She is the best gymnast in the world right now and some of the former Olympians even said maybe ever! She was super sweet and I asked what she eats before competition.
Biles said they usually have a late lunch before a competition like this weekend's Olympic Trials. She mentioned chicken but said she's flexible with what the chef prepares. She also said her favorite CorePower flavor is strawberry. Mine is chocolate
Attending the trials and meeting so many fans and gymnastics super fans!
Seeing behind the scenes of the Olympic Trials! When you get there the gymnasts are warming up on all the different events. There is so much going on all around the competition floor. Some are doing floor passes, some are practicing the vault… it's fun to see. You can tell they are mostly just warming up and getting nerves out – not throwing 'full-out' moves.
The introduction of all the gymnasts at the beginning of the trials on both Friday and Sunday was AWESOME! There is a video with highlights from some of the best and most memorable moments from US Olympians of the past. They showed some of the best and not necessarily worst – but hardest moments for the gymnasts. And the voice over was dramatic in the best way… "every four years … starts now"
Gymnastics Performances
At this point all of the girls are amazing. These are the best in the world. Each one really brought it and it was great to see every single performance.
Running in San Jose! I found a great route along what looks like a riverbed and is very similar to a few routes I've run in SoCal. It is a great running route if you're in the area!
My search of the BEST Iced Coffee continues. After several suggestions from readers I finally tried Philz iced coffee. It is delicious.
Post-trials 'picnic' in my hotel room! Look how the blueberries turned my fingers blue after I attacked them!!
My first baseball game in San Francisco and World Naked Bike Ride invite.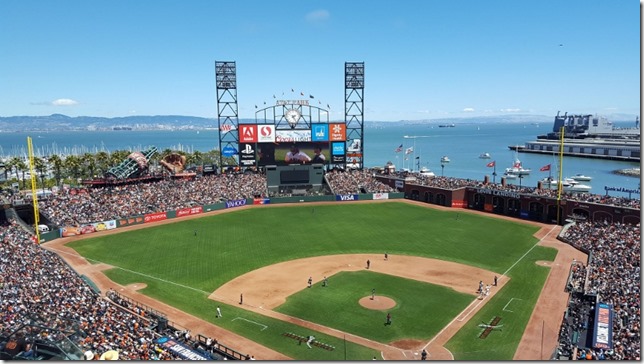 Scoring a special Olympic edition chocolate bar from Hershey's!!
Nastia Lukin spoke with our group on Saturday and it was super inspirational and real. She talked about the best moments of the Olympics – hello she's a gold medal winner! But also the worst – like when she fell off the uneven bars at the last trials.
She said her mom always said "Never quit after a bad day."
Her mom would make her keep going to the gym after a bad day and then when she had a good day she'd give her the option to quit. Of course you don't want to quit after a good day!!
I feel like that really related to running. We all have bad workouts or bad runs or horrible races! I've probably quit running at some point during every marathon I've run! It was just so relatable and motivating. This might be my favorite part!!
All of this weekend was awesome and I'm so pumped for Rio! Are you?!
Congratulations to the ladies that made the 2016 Women's Gymnastics Team!!
(source)
Question: What's your favorite summer Olympics sport?
Run SMART Goals
Fill out this form to get the SMART Running Goals worksheet to your inbox!