This is it people. This is what we've been waiting for – Girl Scout Thin Mint Cookies in cereal form. Everyone knows Thin Mints are the reason Girl Scouts have stayed in business this whole time. I remember being a girl scout and eating these cookies. I mean, selling not eating…I was supposed to be selling them (but I was really just eating them).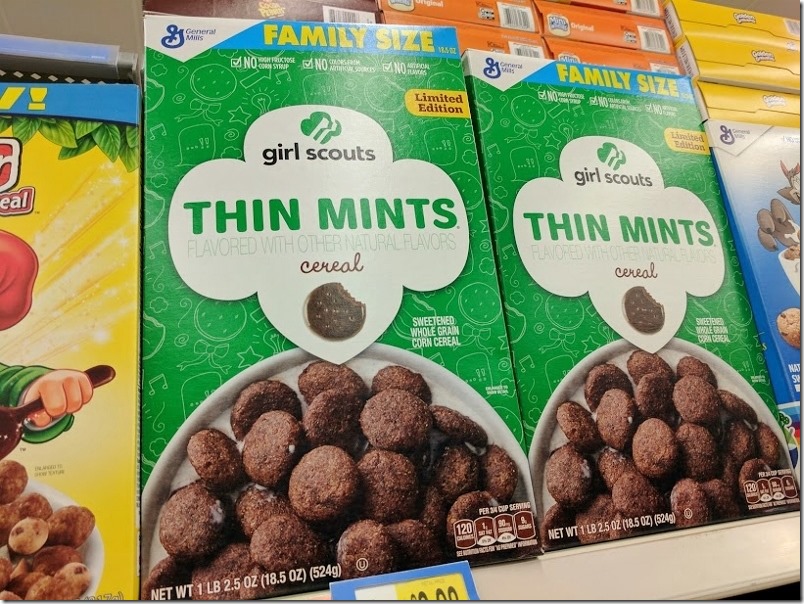 So, even though I didn't need any cereal I had to buy this new Thin Mint Cereal for 5 reasons:
1. It's only here for a Limited Time
2. I wanted to taste test it to let ya know if it was good.
3. It's cookies in cereal form – do I really need another reason?
4. I'm pretty sure they're called THIN mints because they make you thin.
5. National Cereal Day is coming up (March 7) and I want to be fully prepared with my cereal knowledge and cereal stash.
Yes. I bought them and immediately tried them on the way home.
And then I tried them with milk when I got home. They are good.
Thoughts on GS Cookie Thin Mint Cereal…
Cute little chocolate, minty bites. More dense than cookie crisp, which makes for a better bite. Not too minty or too sweet – just right. Turns your milk –> chocolate.
I think they're good. I'm used to keeping my Thin Mints in the freezer so I think I'm going to put a baggie of the in the freezer and see how that works.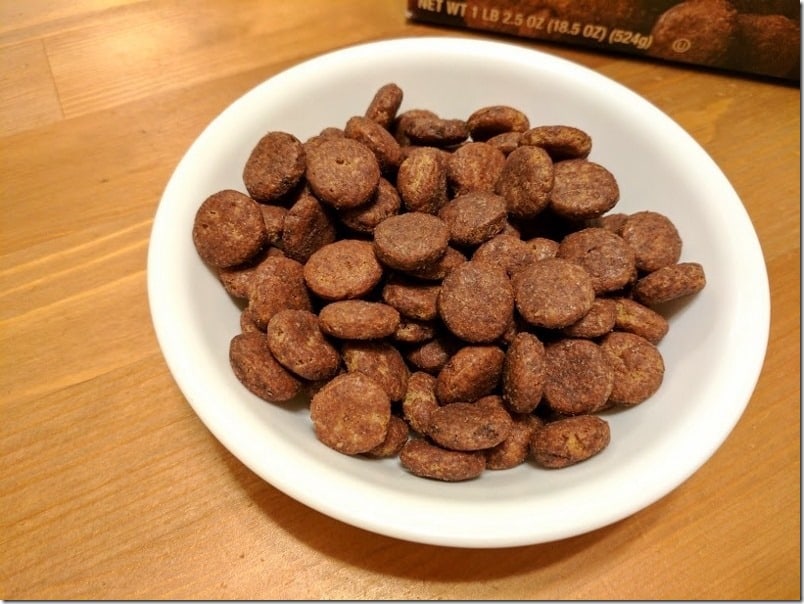 Nutrition info:
I spotted the Thin Mint Cereal at Walmart. They are also at Target and some big grocery stores.
Speaking of freezing non-freezer items…
I keep cashews in the freezer because I like when they're extra crisp / crunchy. This might be a bad idea for my teeth. But it's a good idea for my happiness.
In other news:
Vegas says 'hi'.
He also says, "Hey lady… give me some chicken. I'm going to meow continuously for 22 minutes until I get chicken…"
And I want to give myself a lil pat on the back because I made a big fancy steak dinner for Valentine's Day!
I am not fancy. I don't really crave red meat. I have no idea how to choose a good cut of steak – or cook it.
But I bought steak and potatoes and sourdough and cooked up a manly meal for the Grizz. I looked up how to do the steak since it's been so long since I've cooked one. And that reminded me that I should make steak every time I cook for someone! It's super easy. Just season. Broil. Flip. Boom.
Oh, I almost forgot this is something a running blog! I ran 9 miles this morning. It was just a so-so run, I didn't get into a good groove. For some reason my foot turnover didn't feel quick at all? But it was the most gorgeous day ever. Ever. (That's not an exaggeration. It might also be the cereal sugar high talking.)
Question: Do you keep anything random in the fridge or freezer?
Do you know how to cook steak?
Are you getting Girl Scout Cookies this year?