Pile on the Miles is almost over and over 3000 people signed up to play!
You are doing an AMAZING job. And I want us to keep it up!
(This is one of the pictures from the photo shoot I did recently. I'm doing some updates on RER and wanted new pictures for it. They are so random.)
Anyway. Let's keep up the momentum with this
25 Days of Fitness Challenge
Countdown to Dec 25th with a fitness related task each day. Most of them are exercises you can add on to your normal routine for an extra calorie burn and some of them are mental health helpers to keep you balanced mind, body and spirit.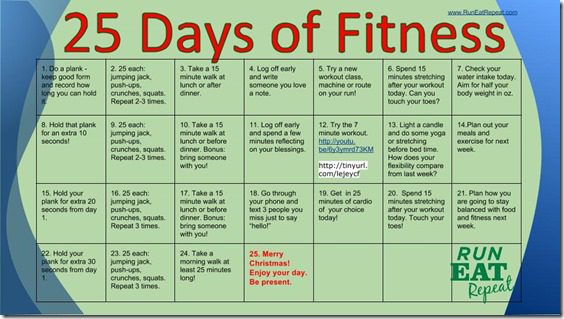 Click here for a printable version.
25 Days of Fitness Starts December 1st!
As an added incentive – CLIF Bar has graciously offered to send one RER reader a two boxes of CLIF bars and a box of Shotblocks to keep ya going strong!
(Related: I chopped up two CLIF bars last week and incorporated them into granola bars I was making. It turned out amazing!)
Prize:
CLIF Bar Crunchy Peanut Butter 12ct box
CLIF Bar Blueberry Crisp 12ct box
CLIF SHOT BLOKS Mountain Berry 12 packs
To Enter: Leave a comment on this post with how your Pile on the Miles goal is going this week!
Are you in for the 25 Days of Fitness Challenge?
Open to residents of the US only. Anyone can comment, I'll redraw if I choose an international name. Closes 11/28/13 8pm PST.