Podcast: Play in new window | Download
Subscribe: Apple Podcasts | Google Podcasts | Stitcher | RSS
Today we're talking about how to stick with your running or workout routine. It's easy to fall off track when you're busy or don't know exactly what you're working towards. So here are simple but real tips to stick with it and make progress.
I get a lot of questions about how to get back on track after getting away from running or healthy eating. But before you even fall off the wagon – I'm trying to strap you in with these 5 ways to make it a long term successful part of your life.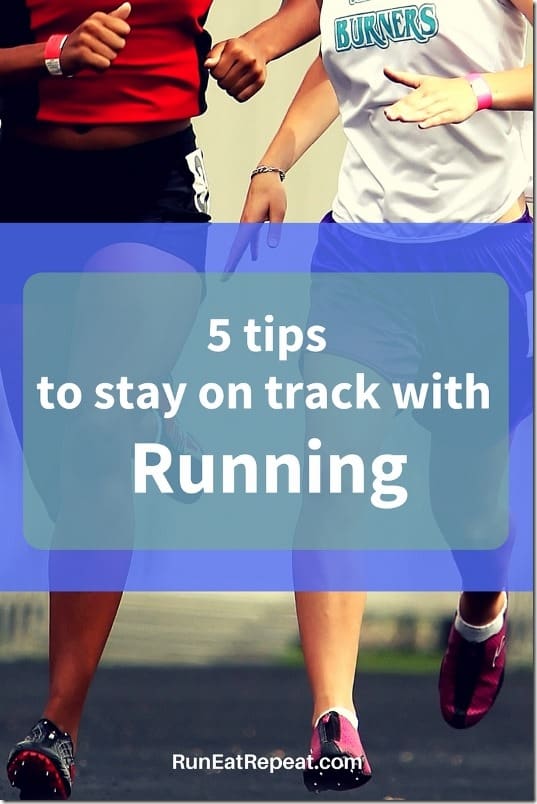 1. Set a clear, specific goal and get a plan.
What is your goal? Is it to run a race? PR? Come back from an injury? Make the track team?? Get fit?
You don't have to run a marathon to be able to name your goal. But you do have to name your goal to know if you are sticking with it!
Once you have identified your goal – get a plan.
Use a training plan from a running website, coach or create one yourself. It can be a very specific training plan with 7 days of running, cross training and specific workouts OR it can be as simple as Mon/Wed/Fri – I run 3 miles, Tue – yoga, Saturday – crossfit.
AND – make sure it's something you want to do – not something you're doing because you said one time you would.
Name your goal and get a plan for it! Here are some plans to give you ideas…
30 Day Plank Challenge
Jillian Michael's 30 Day Shred
Run 3 days a week
Run Streak
2. Schedule it.
Know exactly what you are doing each day, where and when.
What is your workout for that day?
What time are you doing it?
Where?
Do you need anything for it – (pack a gym bag, make a training session) ?
This 10K plan was for the Lace Up Running 10K but you can adapt it for your race…
3. Be accountable.
Build in accountability by sharing your plan with someone in your life, get a running buddy, join a group or hire a running coach.
How do you stay on track with goals? Do you need a lot of encouragement? If so – where could you get it?
Do you need to do a group challenge? Do you need one on one support?
Be honest and self aware –decide how you can check in with yourself each week to make sure you're sticking with it.
Check in daily on the Run Eat Repeat Instagram Run Report post!
4. Set yourself up for success…
Remove any obstacles in the way. Time? Location? Stress?
What are the things that are going to stand in your way?
How can you overcome them?
Don't have that much time? – Lay out your running gear the night before. – Switch up your longer workouts for days you have a little more time.
Feel intimidated and keep avoiding the gym or running group? Ask a friend to go with you OR just go two times before you decide that it's too scary. And remember – be brave.
Super out of shape and hate that you have to start from scratch? Well, it's better to start from right here today than not at all. You're not going to get into shape by accident – make the decision to go for it. Yeah, you might be a little frustrated at first – but that'll go away fast and you'll be on your way to a healthier you!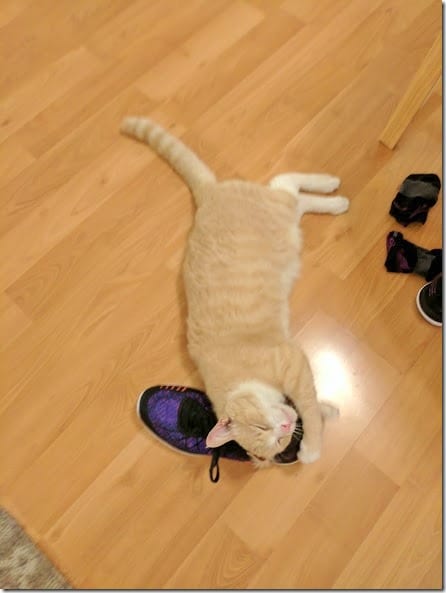 5. Reward yourself!
If you give more to yourself … you will get more from yourself.
So think of 5 things you'd love to do or get when you stick when your training plan each week. I'm a-okay with delicious food treats as a reward for working out… but if you're not compile a list of things you love to do, see, feel, smell that you can use as a reward.
5 non-food ways to reward yourself:
1. Massage – bonus points if it's a sports massage!
2. A new item of clothes or shoes
3. Guilt free time to do something frivolous … watch TV, scroll Instagram, research your dream trip to Costa Rica, create a Pinterest board with your dream outfits, take a nap…
4. Pedicure and manicure
5. Send someone flowers or an edible arrangement just because – or buy some flowers for yourself! (But I feel like giving someone a 'thinking of you' gift is the sweetest surprise and I get twice as happy to do that for someone else. Anyone else feel that?)
Share your ideas on Instagram so we can make a huge list of great ways to celebrate our running victories!!
This is from a lil spa da with my mom…
Got a running, nutrition or random life question? Ask me via email [email protected] with Podcast Question in the subject line or call the RER voicemail.
Thanks for listening!
How do you reward yourself for sticking with your workout or running plan?