Happy Tuesday from Monica and Vegas!
This morning I had 8 miles on my training plan. I woke up hungry and my legs felt very tired so I considered cutting it back to 7. I stalled a bit with some iced coffee and toast. Until I didn't have any more time to waste and got out the door.
At the 3.5 mile mark I decided I should really try and stick to the program today since I'm already cutting back my long run in Philly this weekend.
I did it! 8 miles on a Tuesday morning!
8 Miles – Average pace 8:35 (because it's super down hill coming back)
Mile 1: 8:31
Mile 2: 8:37
Mile 3:9:02
Mile 4: 9:02
Mile 5: 8:22 (see, downhill time)
Mile 6: 8:12
Mile 7: 8:13
Mile 8: 8:43
I was super hungry (again) when I got home and brainstormed breakfast during the last couple of miles. I decided pumpkin pancakes with a fun topping would be delicious!
Carmel Oikos + 1/4c pumpkin + 1/2 tsp pumpkin pie spice = Pumpkin Yogurt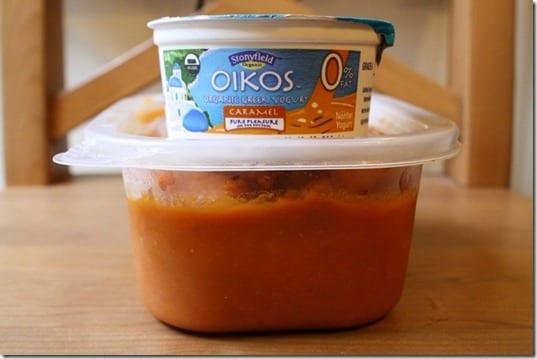 Apparently, I think it's October because I went with a double pumpkin breakfast today! I made a batch of pumpkin pancakes and topped it with pumpkin yogurt and almond butter.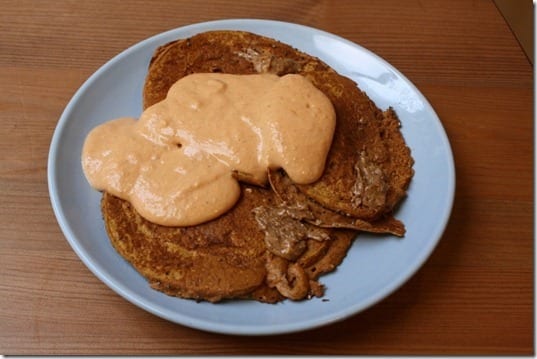 The yogurt was sweet and drippy! But, I still added some syrup, because I love it.
I have a busy mid-morning at work. Then, a big break before my evening clients. I'm hoping to update my FAQs page this week and do an Ask a Monican – leave questions here.
Questions, comments?