Last night Ben asked me if I had started carb loading yet. My response,
"What?! I never stopped after my last race…in January."
The fact that carb loading is only for races should have been specified in the runner's manual or something. Someone should have told me this!
Today I carb loaded with grapes straight out of the fridge. And some watermelon.
I made a random egg scramble for lunch with leeks, spinach, salsa and black beans. I was out of ketchup so this one packet's worth did not cut it. Boo.
While I was out running errands I picked up a pack of TJ's whole wheat cinnamon rolls. These things are amazing as is, but I added pumpkin butter and it changed my life. (For the better. In case that wasn't clear.)
I have a little tradition of carb loading for real with ridiculous amounts of rice and soy sauce. I started that party tonight with a tofu stir fry.
I love my wok 🙂
Tofu, veggies and TJ's teriyaki sauce = the easiest and tastiest stir fry ever!
I have to admit I was jealous of Ben's orange chicken though. It's so much prettier than my plate. So I stole some.
And in a action that clearly displays my lack of foresight, I bought Dark Chocolate Covered Peanut Butter Cups today.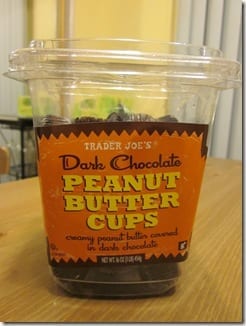 They're not as good as you think. They're better.
A lot better.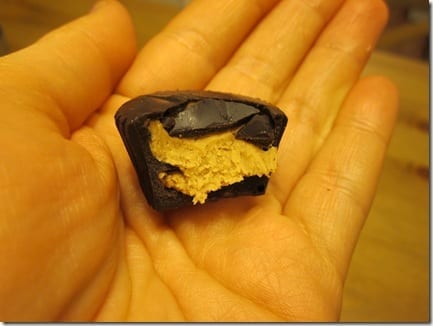 Even the checker was like, "Oh my gosh these are so good. But, I ate the whole container in front of the TV one night."
Sounds like he can predict my future as well.
But, this counts as carb loading, right?
Ben really wants to order this online – a Nutella snack pack!
(source)
When I saw the picture I asked him what country sells those (because Nutella is foreign and all).
Ben's reply, "Happy Land"
Can't say I disagree.
Question: How'd you carb load today?