My Goal: Run a Sub 4 Hour Marathon
I didn't post yesterday because I didn't have it in me. This whole week I've been stressing over the race to a ridiculous degree. Truth be told, after reading race recaps over the last week I wasn't pumped up – I was doubtful of my abilities, my training and my readiness to hit my goals.
All week I tried to get my head in the race. I wrote a post about it. I reached out to Aron (from Runner's Rambles)  for advice and tips. I watched Spirit of the Marathon.
I tried, but for some reason I really doubted I could do it. And that helped seal my fate.
But, that wasn't all of it. I'm not going to blame coming in 4:01 minutes over goal completely on my mental state. But, it did not help. And it was very hard to stay positive when it got hard during the race.
I knew that not going into the race confident would hurt me – and that scared me more than actually not being confident.
Yesterday I hit up the expo. It was anti-climactic. I don't know about anyone else, but I enjoy the expo for some free loot and it was kinda slim.
I ended up running around like a crazy person trying to get my shirt for race day. I ordered a shirt online a while back and it came on Friday. But, it was too big and I knew I shouldn't wear it like that given chafing and overall comfort.
As expected I had a hard time sleeping last night. It's always hard to sleep before race day! Jitters!!!
Finally my alarm went off at 4:20am this morning and I got ready and fueled up with a cinnamon roll with AB&PB and coffee.
Marathon Race Morning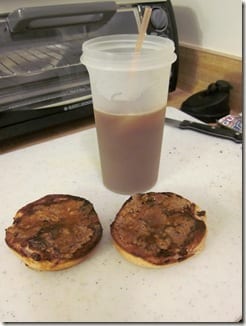 These things are so good! It basically cinnamon raisin bread in this shape.
I filled my water bottle with Gu Brew.  The plan was to drink it all by mile 11 or 12 and hand it off to Ben. He was planning to see me at that point anyways and it was a good amount of time.
We drove to Long Beach and Ben dropped me off near the Start. He usually drives somewhere to take a nap and get breakfast before he finds a spot to cheer for me 🙂
I lined up near the 4 hour pace group. I didn't formally announce it on the blog because I'm very superstitious, but my goal was to break 4 hours.
My first marathon was 4:15:38
and my second was 4:27:0?
But, I had some super strong long runs where I averaged 9:06 pace and knew that sub 4 hours was an attainable goal. I would have to pace about 9:10 to do it, but some of my long runs were faster than many training plans have to run long runs to hit goal.
It was my first 20 miler that gave me the confidence to shoot for it. Unfortunately, a few less than stellar runs after that shook my confidence more.
None-the-less, I knew that I really truly wanted to break 4 hours. So, I grabbed a 4 hour pace band at went for it.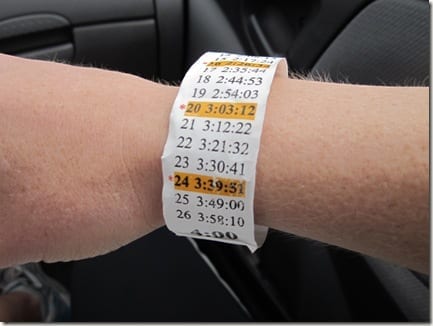 Marathon Race Recap Mile by Mile (almost)
I started off feeling slow, but that was actually for the best. I am really bad about pacing myself so my legs being a little heavy made me start off at the pace I probably should have anyways.
I did really well the first 15 miles or so and was on pace to do it! Ben saw me at mile 12 and I felt good. I actually got him a pace band too so he'd know if I was on target or not and when to expect me at the finish.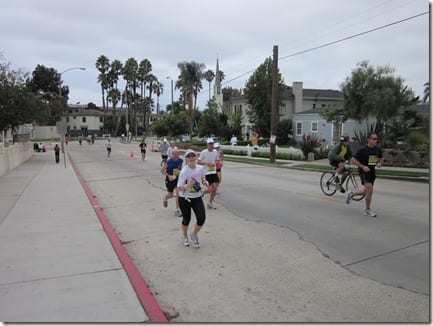 Here I'm handing off my water bottle to him. I only wanted to use it for the first half and then use water stations, but it ran out a little early and ended up double fisting.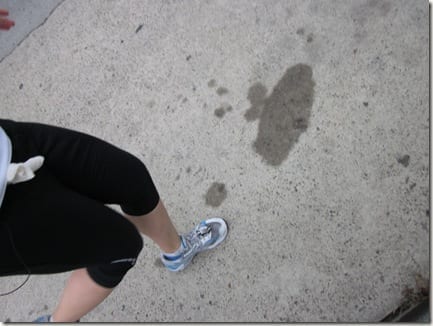 At this point I was about 3 to 4 minutes in front of the 4:00 pace group. He knew about my goals and was keeping close track of my times and the 4 hour pacer.
Looking at the pace band and my Garmin I finally thought I could do it!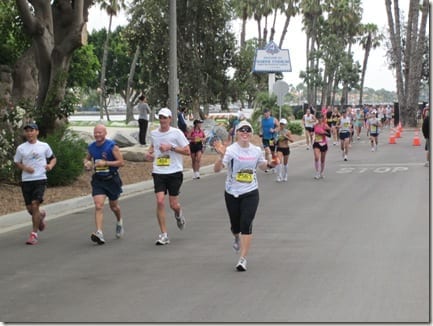 But, at mile 17 I hit a wall and started to slow down.
I saw the 4:00 pace group. I told the leader I was going to try and stay with them.
Then, I saw the 4:00 pacer run away and I couldn't keep up 🙁
I kept her in eyesight for a few solid miles. But, I walked through the aide stations and the distance between us increased.
My heart sunk, but I knew all was not lost. I tried to use the pace band to figure out if I could make it up. I tried really hard to get back to a 9:10 pace, but I didn't make myself. *At this point I think I could have pushed it a little more, but I'm not sure because I am not used to pushing myself on long runs or in speed work so I can't really say.
At Mile 24 Ben got a text that I was at 3:42:13. That would mean I would have to run sub 9 minute miles to break 4 hours.
I still wanted to give it a good shot so I kept running (you know, as opposed to sitting on the curb crying and ripping my bib off in a tragic rant of failure).
Around  mile 23 I started getting cramps in my leg right above the knee toward the inside. It began as a twitch (like when your eye twitches randomly), but grew. I stopped near a light pole for balance and stretched my quads a bit.
Luckily, I was able to keep running after that small stretch 🙂 It happened again a mile later, but at that point I was so close to the end I just ran through it.
I crossed the finish like at 4:04:00.
Pace: 9:19
I was exactly 4 minutes from goal.
Since I felt a little defeated I got so happy when I saw my family cheering for me near the home stretch! I started to wave and smile. Yah!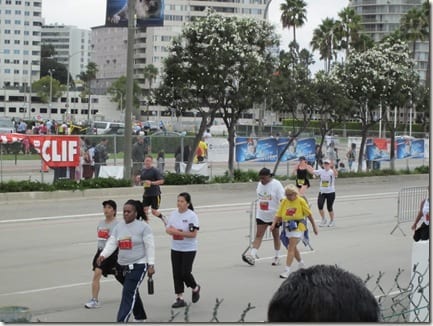 Then, I remembered I was almost done and wanted to rip the band-aid off.
My family saw me towards the finish and I met up with them as soon as I pulled it together past the finish line. There were a few tears, but not many as I didn't want to hyperventilate and was still breathing heavy. I just felt really defeated.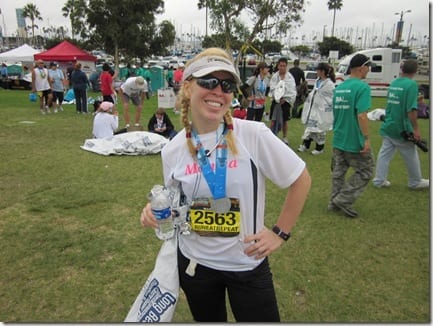 Matt and I with the sign he was holding.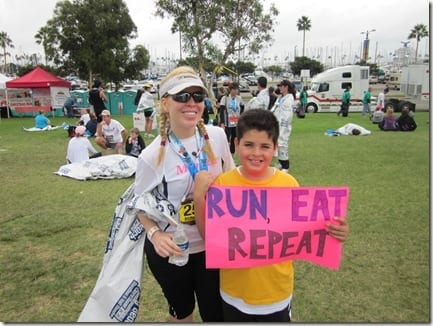 Ben made the "Si, Se Puede" sign. I loved it 🙂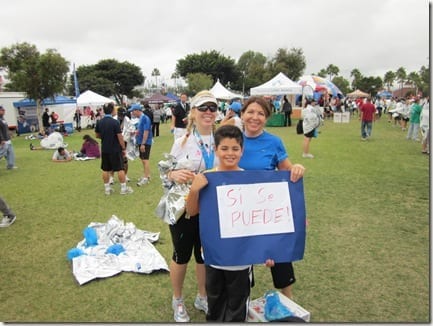 And the view from the back of my shirt.
Ben was super supportive this entire training cycle and I love him so much for it.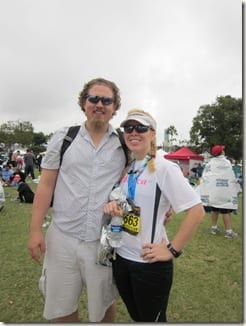 After the race I hobbled back to the car and iced my knee while eating a banana. I felt a little nauseous and was not hungry at all, but knew I should eat something.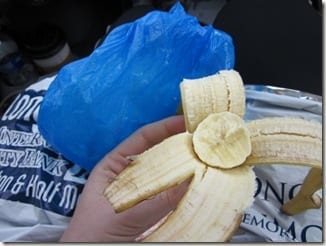 Then, I went back to my mom's for a shower before food. I am always DRENCHED after a long run. Drenched.
Finally it was time to eat! We went to BJ's Restaurant and Brew House. Ben was starving so we shared nachos. They weren't very good, but I wasn't feeling picky.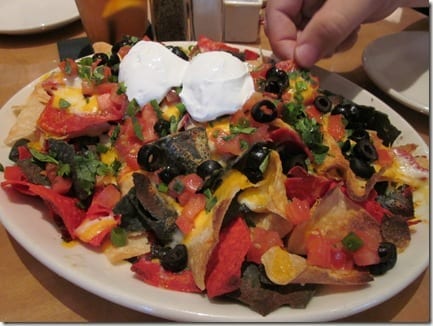 I stole the salad that came with Ben's food.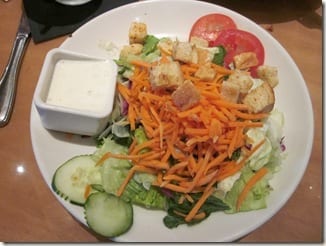 The rest of my peeps and I shared a vegetarian pizza on whole wheat crust. The waiter said ww crust  is new and I love that they have it.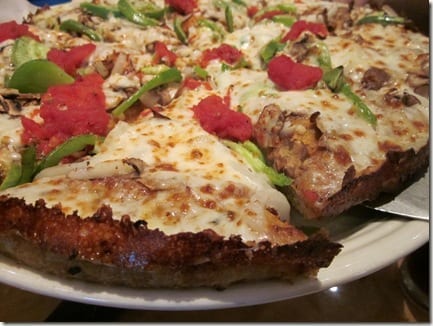 Our toppings were onions, mushrooms and bell peppers. It was no Chicago deep dish, but again I wasn't feeling picky.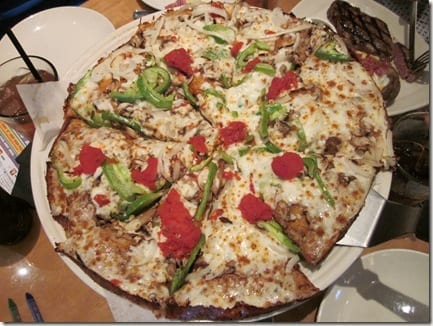 And because the reason you go to BJ's is not the pizza at all, but the Pizookie… we ordered the Chocolate Chunk Pizookie and it comes warm with two scoops of vanilla ice cream.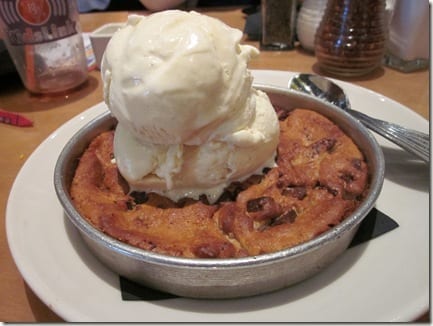 Ben said it felt like this meal was a marathon of eating and around course 18 he thought he hit the wall.
Yeah, until we got the Pizzookie and then everyone was all over that!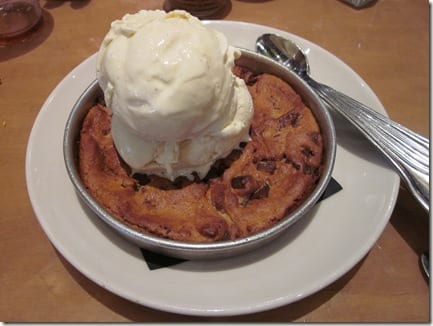 Now we're relaxing at my mom's. Ben needed a nap because he said, "I'm very tired from watching my wife run a marathon today."
Poor thing.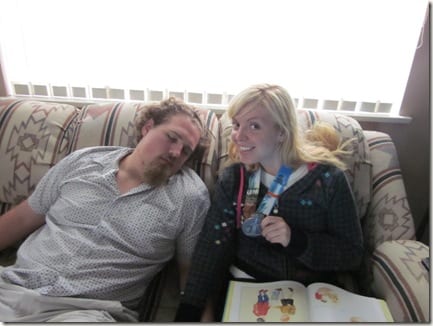 After coming off the high of running a marathon I'm going to think about what I could differently next time. But the rest of today is for relaxing and celebrating my accomplishment.
Sometimes in life you want something more than you've wanted anything else, And sometimes you try harder than you ever have before, And sometimes you pray real hard for something…
And you still don't get it.
But you can either give up or try again. Success is determined by how you handle setbacks.
 I'll bounce back fast because life is short and it must go on…
Before I sign off I really want to thank everyone for their support and positive thoughts. I read every single comment and email and it always makes me feel really good to know there is someone sitting at their computer taking the time to say something nice to me 🙂
Thank you for reading.
xoxo, Monica