Alternate title: The time I LOST MY KEY at a race.
Hello! I woke up before the sun and my alarm this morning to run the Avocado Half Marathon. My alarm was set for 4:28, but I woke up a few minutes after 4am and decided to get up. I wasn't sure where the race was exactly so it was a good idea.
Plus, I had to allow time to get sunblock in my eye…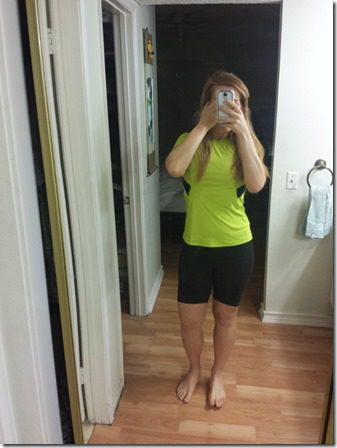 I set out most of my stuff the night before and made oatmeal and iced coffee before heading out.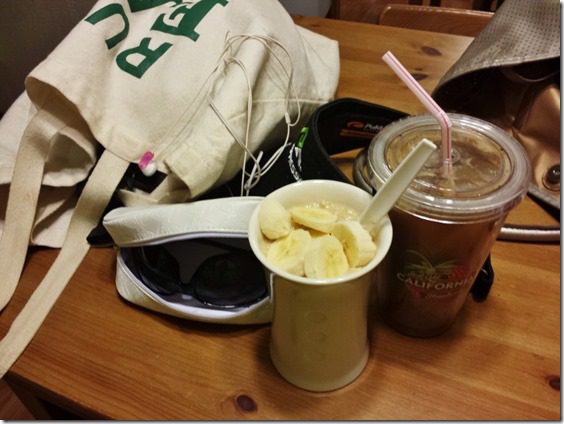 The race was in Fallbrook,CA which is only about 60 miles away. Oddly enough – I had never heard of this city before though! Luckily the drive was easy peasy and I got there without any issues. (The issues came later though…)
The shuttle buses to the start and packet pick up were also seamless. It's a small race so bathrooms and bag check were easy too.
I actually wasn't going to get a shirt or bag check because it's a hassle but when I saw the shirt had my beloved avocado on it I had to have one! I might give it to my mom in exchange for raiding her avocado stash
This is the inaugural Avocado Half Marathon. Even though it's a new race it was very well organized and there were a lot of volunteers in yellow tee-shirts.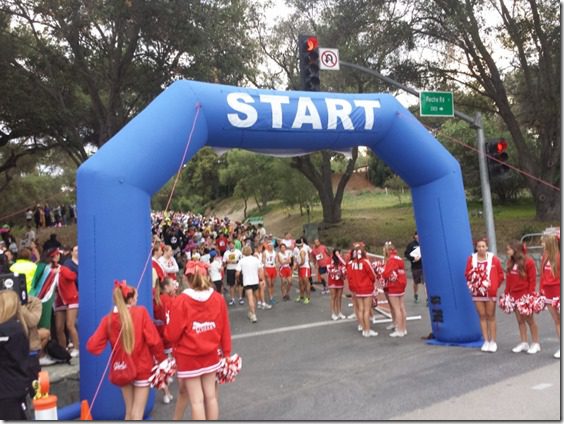 I went to line up and met reader Victoria – Hi! How'd it go?
Then, I took one last picture before I put my phone in my belt and realized…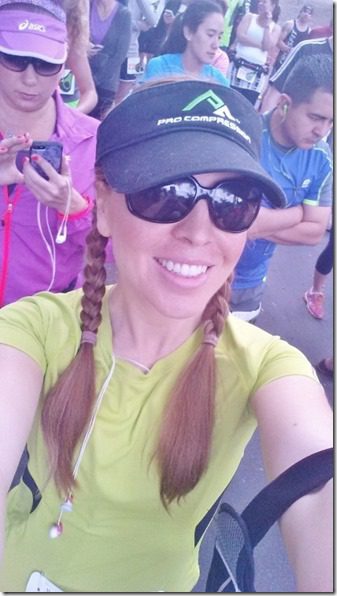 MY CAR KEY WASN'T THERE!!!?!?!?!?!!
Crap.
There were 4 minutes until the start so I ran back to the bib pick-up to check if left it there. No.
I ran to restrooms to see if I had left it there. No.
I traced my steps from the bathroom to the bib pick-up. No.
I went to the bag check (again) and checked there. No.
I wasn't sure what to do so I told a few volunteers that I lost my key. I let them know I was going to go run and if someone found a key it was probably mine.
Then, I headed back to the start just in time for the gun to go off so I jumped in line and ran.
But, I started thinking about how I was 60 miles from home… Alone… And Ben was going to be unavailable all day to come help me. And my mom is probably like 120 miles away. I was stressing out.
So, when I hit the first big hill I stopped to make a call.
I stopped 2 other times to text back and forth. I just wanted a Plan B in case I didn't find it.
The race was VERY HILLY. I stopped 3 times total to check my phone and took a few pictures since I was walking anyway.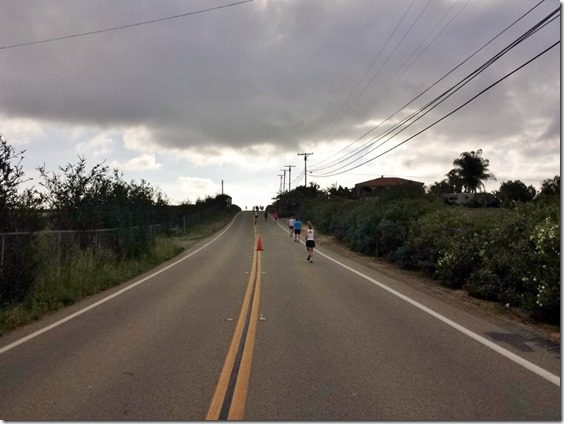 At one point I was walking up a hill and some guy came up beside me and was like "Okay!" as in "Okay stop walking and get it the hell together!"
That made me run again and we were pretty close the rest of the race. He beat me but came back and gave me a 'high five' at the finish.
There were avocados at the finish, but I didn't see them. But – I wasn't looking either, I was most concerned with finding my key!!
I took one quick picture and was about to search for my key when one of the volunteers came up to me and said they FOUND MY KEY! AHHHHH!!!
So, I rushed back to the bag check and met a reader, Blair who WON the race on the way there!! Awesome!! (I'm sorry, I forgot your name because my brain was all off from the key thing.)
My key. Oh my gosh – getting this back helped my tiny black heart beat again!
Mike saved the day! Seriously. I am so grateful that the volunteers were so helpful and cared that I lost my key. The fact that April saw me and told me about it and Mike held on to it for me – very very awesome of them!!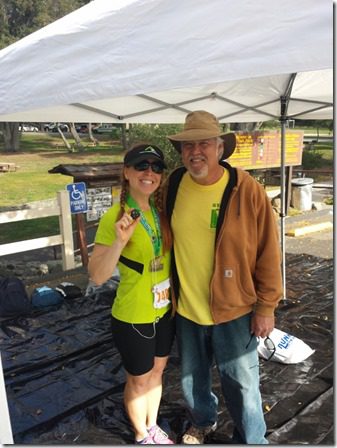 On the way back back I made a very important stop for watermelon. Oh yeah.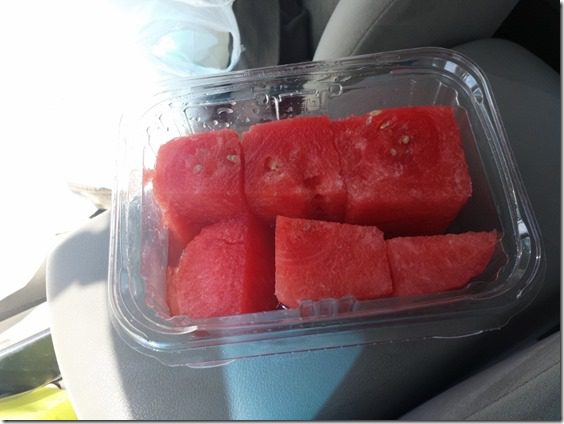 And the award for best medal ribbon goes to… The Avocado Half Marathon!
Question: Have you ever lost your key? When? Did you freak out? Did you find it??
Disclaimer: A rep from the Avocado Marathon provided me with this bib. All opinions are my own.