Hello! Yesterday Jon and Corey got married on a beach in Boca Grande! It was the most gorgeous setting for a wedding and the timing with sunset was perfection.
Everything from the bride's dress to the music to the food and the décor were beautiful and perfect for a beach wedding. Corey was gorgeous and glowing, but I only have this picture from a distance…
Since the wedding was outside I wore leaf earrings to be nature-y.
Okay, I just like them and hadn't worn them before. (I actually have another very similar pair, I didn't realize until I got these home.)
They were putting the finishing touches on the reception area when I got there and once the sun set it was amazing.
Congratulations to Jon and Corey!!! Marriage us a  marathon not a sprint. (<- I have a full explanation for this I might go into one day, but basically when you hit the wall you can quit and start over from scratch or you can slow down, assess, pray, eat something, let people cheer for you and keep going.)
Now it's time to check in for Pile on the Miles! It's the last week. Are you going to hit your goal??
Keep it up. Push yourself. This is the last week!!
I'm following along with everyone on Instagram by checking the #RERMiles tag. I love it!!
This week's POTM Challenge is sponsored by Timex! They make awesome watches, but more importantly they make SPORTS WATCHES that can help you track your workouts, time, steps, calories and more.
Today they are giving one challenger an IRONMAN Essential 10 Mid Size watch. This girly design made me realize that even though there is so much running gear out there for women, 96% of running watches still look very masculine. I kinda love the fit and the detail on this one…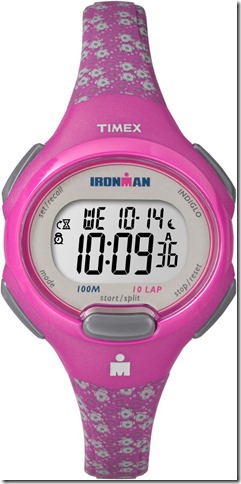 Go here to get more info or buy the IRONMAN Essential Watch.
Follow @Timex on social media here:
Instagram / Twitter / Facebook
Don't forget to update Twitter and Instagram with #RERMiles
Question: What is your Pile on the Miles Check-in for today?
Disclaimer: Timex is providing the prizes for POTM this week. All opinions are my own. Closes tomorrow at 9pm PST.
Run SMART Goals
Fill out this form to get the SMART Running Goals worksheet to your inbox!