I usually make a Bunny Cake for Easter… but I might have a new favorite fun dessert idea!! It's super easy and cute! Just like the bunny cake it can double as a center piece (if you don't eat them too fast).
And this easy Easter dessert recipe –  made from toasted coconut and topped with a few chocolate covered eggs… is lighter than most other dessert options. Boom!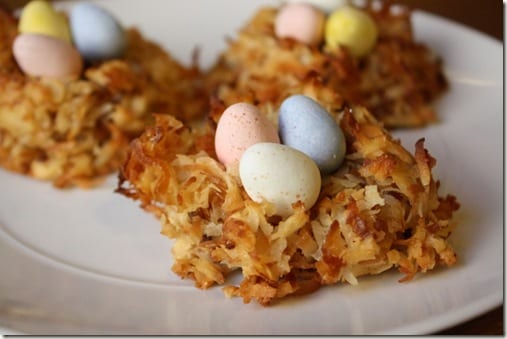 But first, I must get dinner "out of the way". I made turkey meatloaf. Who am I? So weird.
If it wasn't for all the ketchup I piled on the plate I'd think I was another meat lovin' blogger!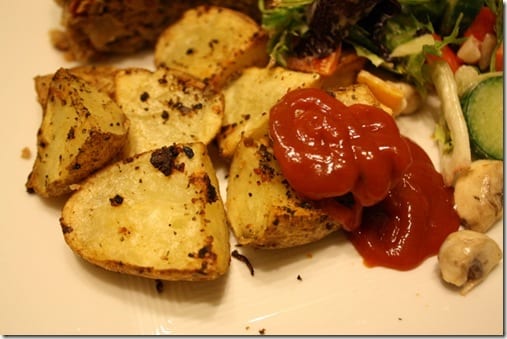 Okay, back to the Easter Birds Nest Dessert Recipe…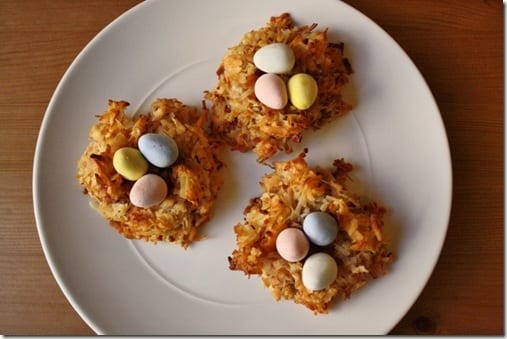 Yesterday I headed to the store to pick up the supplies: coconut and Cadbury Mini Eggs…
Hmmm, the Cadbury Mini Eggs are already open. That's weird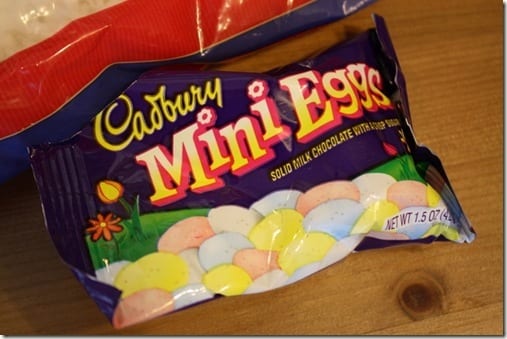 First I toasted the coconut, because only vampire birds have nests this color…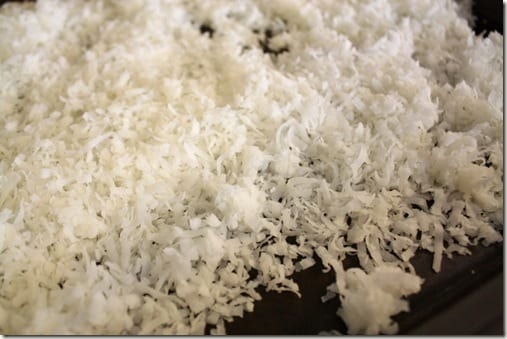 Spread it in one thin layer on a baking sheet.
Toast at 350 degrees for 5 to 10 minutes, stirring occasionally.
Watch it carefully as it can burn.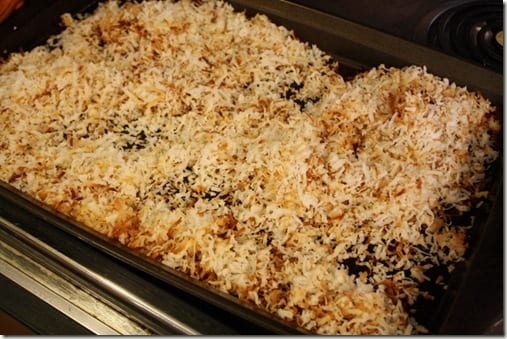 TIP: The coconut should be toasted to a J-Wow like tan.
If you went all the way to Snooki you went too far…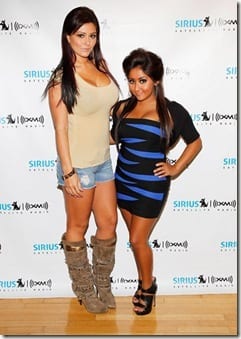 (source)
Once it's nice and toasty set it aside to cool.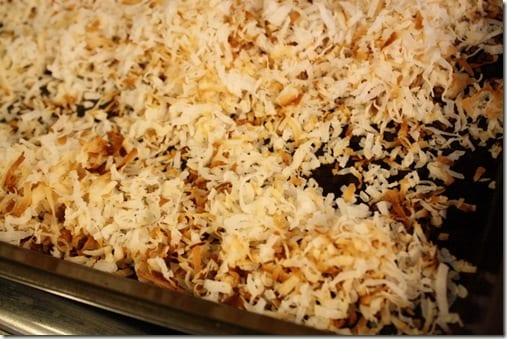 While it's cooling, whip up 6 egg whites and 1/2 tsp vanilla.
I use a handheld mixer because I'm not one of those fancy bloggers who owns a Kitchen-aid stand one.
I wouldn't know how to use it anyway…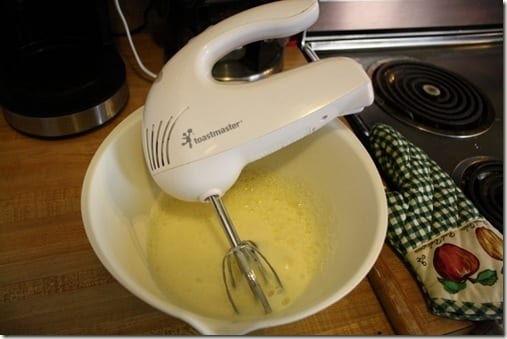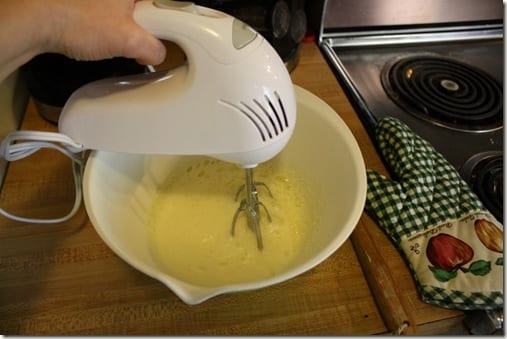 Fold the toasted coconut into the egg whites.
Form big balls of the coconut mix with a large spoon and place on a well sprayed/oiled cookie sheet.
Bake at 350 for 10-15 minutes. Watch closely as the coconut is already toasty!
Place coconut macaroons birds nests on a plate and allow to cool.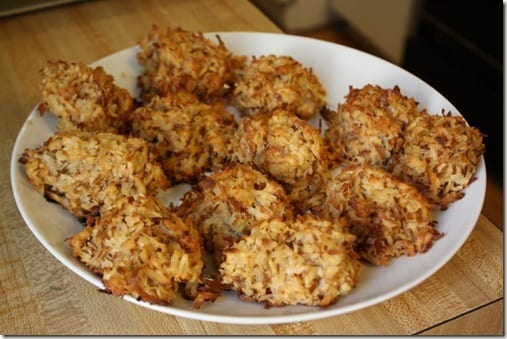 Create a small "bed" in the middle of the birds nest and gently lay 3 eggs in it.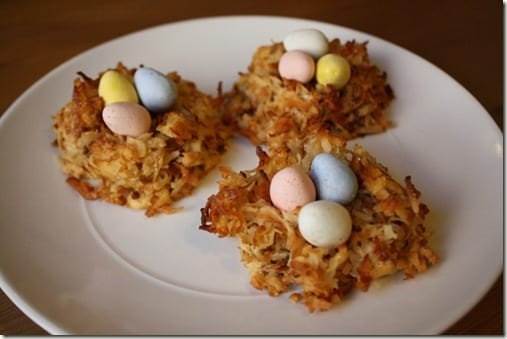 Watch carefully for any cracks in the eggs. This means they are about to hatch and you should eat them immediately to prevent this.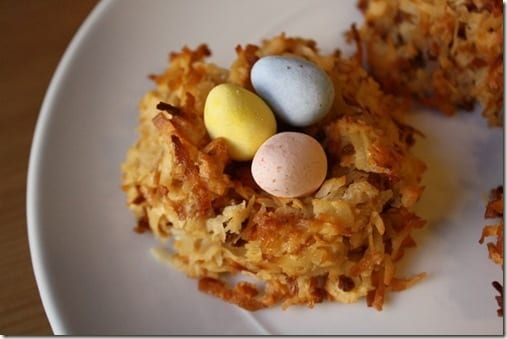 I spot a crack!
Nom nom nom…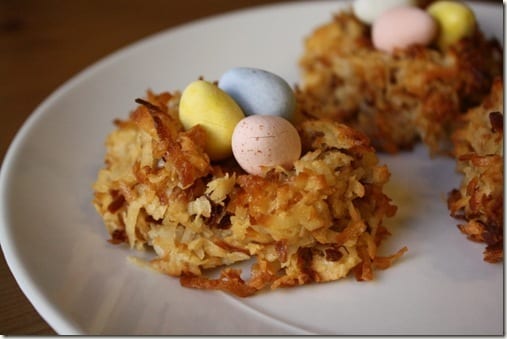 Easter Coconut Birds Nests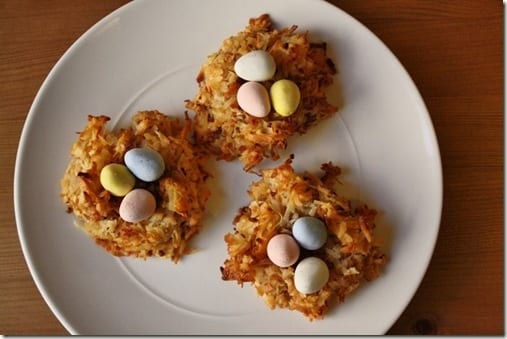 Easter Birds Nest Dessert Recipe…
Ingredients:
– 3 c shredded coconut
– mini eggs (Cadbury)
– 6 egg whites
– 1/2 tsp vanilla extract
Directions:
1. Toast the coconut.
Pre-heat oven to 350 degrees. Spread coconut on baking sheet. Toast for 5 to 10 minutes depending on how toasty you want it. Stir occasionally.
2. While it's cooking whip egg whites and vanilla extract. (I used a handheld mixer.)
3. Fold coconut into egg whites.
4. Form ball with the mixture using a large spoon. Place on greased baking sheet. Gently press the middle of each 'nest' with the back of the spoon to form a place for the eggs when it's done.
5. Bake at 350 degrees for 10 to 15 minutes. Watch closely so it doesn't burn.
6. Let them cool. Then, place the candy eggs in the center.
Note: If any of the candy eggs are cracked – you must eat them immediately. It's a law of cooking and must not be ignored or the Easter bunny will arrest you.
Happy Easter!
Enjoy!
Happy Easter