I scored with another great week of Blue Apron meals and I have a discount code for you to enjoy the dinners too! Bonus: Since I'm trying to eat vegetarian this month I requested no red meat or pork in my meals. I ended up with a pescatarian dish (that I believe is also gluten free) and a vegetarian dish. Perfect!
I cooked the Mexican Shrimp Fried Rice first since I wanted to prepare the shrimp when it was still freshly delivered.
This prep was pretty easy since you don't really have to 'fuss' with rice. I just started it and then concentrated on chopping the veggies. The avocado was my favorite part (always is) and it was perfectly ripe. Love.
I personally wouldn't call this dish 'fried rice' because to me fried rice has to have an egg cracked in it. But, I would call it Spanish Rice for sure. This is very similar to how my mom cooks Spanish rice – but fancier!
Pro tip: When you are cooking Mexican food make sure you have a margarita near by. It's the only way it will be authentic. #science
Just maybe wait until you're done chopping to sip…
The Mexican Shrimp Fried Rice Recipe came together super quickly. I really enjoyed this one. (Note: The meal's main ingredients seem gluten free, but I don't know what was in the spice mix so I can't be sure that was g-free. The pasta dish below was definitely not gluten free.)
Bonus: I really appreciated that this meal was made with brown rice. Blue Apron offers a lot of  vegetarian and healthy looking options on the recipe page.
Side note: Dessert was this big ol' fancy chocolate cake that Ben bought all for me! I think someone is trying to buy my love and knows exactly the price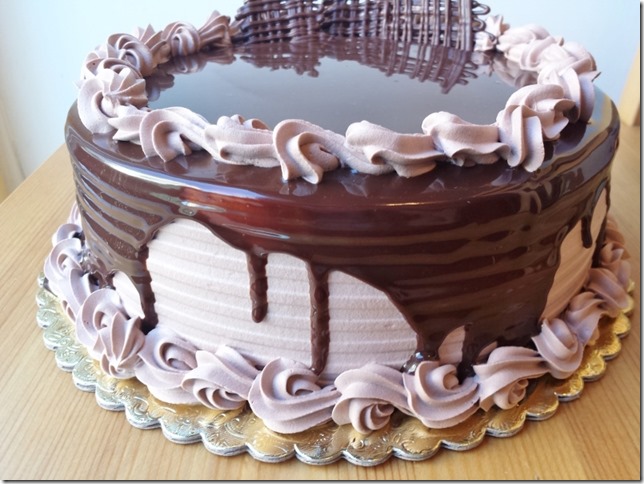 I shared a piece, but claimed all the dark chocolate on top for myself.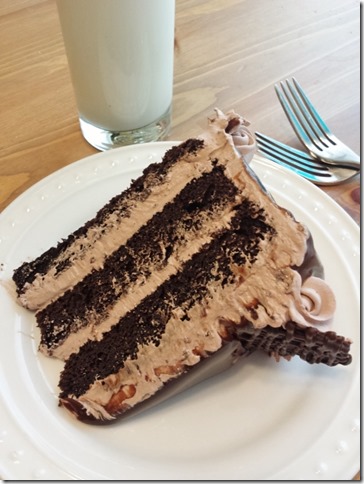 The second meal was Spring Strozzapreti Pasta. This was the vegetarian dish that I made for "Meatless Monday". I have never had strozzapreti pasta before, it's not a shape of pasta I've even seen at the store but I loved it.
I very rarely make sauces from scratch, but I love how Blue Apron taught me how to make a simple cream sauce with this dish. They give you all the ingredients and the steps in order and before you know it "Boom!" I just made a fancy pasta sauce all by myself.
One of my favorite things about Blue Apron is that some recipes give you a Cooking 101 lesson in different types of cuisine. I'm not super familiar with Italian cooking, so I appreciated learning to make a cream sauce. There's everything from Jambalaya to  Lamb Gyros to Moo Shu Vegetables on their recipe page! Love it.
Want seconds? Check out my last Blue Apron dinners post with two different meals.
Blue Apron Discount
The first 50 RER readers to sign up will receive two free meals! Just click here to get started. <- – Enjoy!
Question: What did you have for dessert last night? What did you have for dinner?
Disclaimer: This post is sponsored by Blue Apron. All opinions are my own. Blue Apron did NOT say these meals were vegetarian or gluten free, that is my opinion of the ingredients.