Okay, after the trial and tribulations of sickness and traveling this is my first day on Body For Life. It's going to be a challenge since I don't have any groceries and am out all day taking a CPR class, but I cannot postpone this any longer!
I'll be posting weight updates on my Weight loss page. I know some of you come to RER for my random BS and some of you come for weight loss stuff. If it's not your thing, please don't check out that tab. And please don't judge me for my efforts to lose weight.   I hope we can still be friends
I'm thinking my workout plan will be:
Sunday: Run
Monday: Strength
Tuesday: Run and/or KB
Wednesday: Strength
Thursday: Run and/or KB
Friday: Run
Saturday Rest
I'm running instead of doing the interval workouts since I have an exciting race calendar for 2011!
**This is subject to change at any time based on gym classes, travel and other (like today).
I started the day with Jillian's 30 Day Shred. I really don't have time for a "real"  run or workout at the gym since I'm rushing off to a CPR class very early this morning. (I also  have to drop Ben off at work before heading to it.)
Breakfast was a protein shake and PB toast. I hope to pick up a protein bar at some point for mid-morning.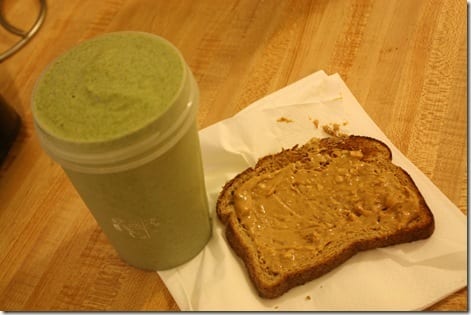 Have a good day!