I used to think, "Boys don't make passes to girls with fat asses."
Until I realized that they do. A lot. Especially if you're wearing something tight over said ass.
This morning I was about 2 miles into my run, crossing a small street in front of a car when the male driver gestured to me. I thought he needed directions, which happens often enough that I didn't think anything of it, so I stopped.
Nope. Turns out he wanted to ask me about how much I run and if I do any lower body work. I thought it was weird, but figured he was probably a personal trainer trying to get business.
Nope again. I realized he wasn't a trainer when asked me to turn around (read: I want to check out your ass.) He must have had me mistaken with someone who thinks that's okay and I ran off.
But before I ran away he did tell me that people work very hard for a body like mine 🙂
Now I want one of those shirts that says (on the back),
"Does this shirt make my ass look fast?"
Maybe when I get a little faster…
This morning I got ready for my run with a bagel topped with almond butter and iced coffee.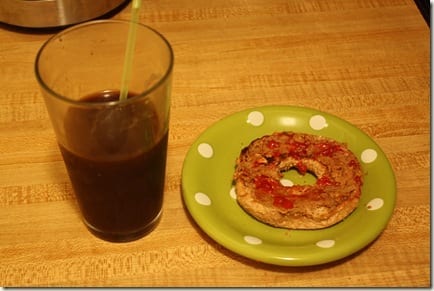 Lame Joke of the Day:
Q: What do you call  seagulls that fly over the bay?
A: Bagels!
I also attempted to waterproof sweat proof my head phones with tape. Let's hope this works since my sweaty 20 miler  a few weeks ago killed my last pair 🙁
The weather was great for a long run – very cool, dewy and overcast. The sun didn't come out until I was almost done and by then it was 9:30am!
While the weather was on my side, the route wasn't. I have really wanted to get back to the old route I used to run for long Saturday runs near Ben's old place. The bike path takes you to the ocean and there are no lights or stops.
But, getting there wouldn't have been enough distance so I figured out that I needed to do 12 miles before getting on that path to complete 20 miles this morning.
My calculations were a little off and I only ended up doing 19. But, I was fine with that because I forgot how much this route goes up and down as it goes under the cross streets. My quads were dead and I was glad to stop.
My time was a lot slower than my 20 miler pace too – 19.15 miles in 2:55:08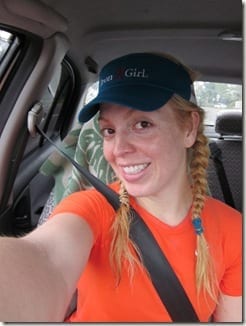 I had pre-arranged that Ben pick me up at the end 3 hours from when I left.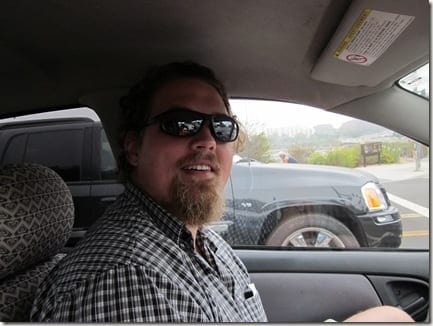 And he brought Gatorade! I also drank one of these while running, plus sports beans.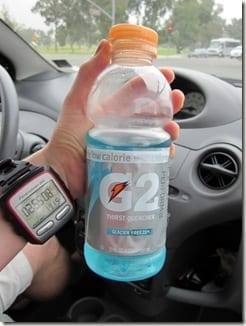 My average pace was 9:09, but I really need to learn how to pace myself.
My splits:
Mile 1:  8:31
Mile 2: 8:32
Mile 3: 8:30
Mile 4: 8:41
Mile 5: 8:41
Mile 6: 8:43
Mile 7: 8:48
Mile 8: 8:59
Mile 9: 9:01
Mile 10: 9:10
Mile 11: 9:20
Mile 12: 9:16
Mile 13: 9:22
Mile 14: 9:19
Mile 15: 9:26
Mile 16: 9:36
Mile 17: 9:57
Mile 18: 9:27
Mile 19: 10:22
Mile 0.15: 9:44
When I got home I took a quick ice bath, showered and made a smoothie. In the mix: ice, spinach, protein powder, chia seeds, almond milk, anticipation that this smoothie is a winner.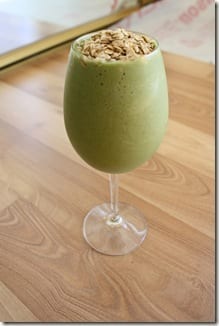 Topped with granola and cereal 🙂
But, my stomach said that was definitely not enough food so I pimped out a frozen fettuccine meal with broccoli and beans.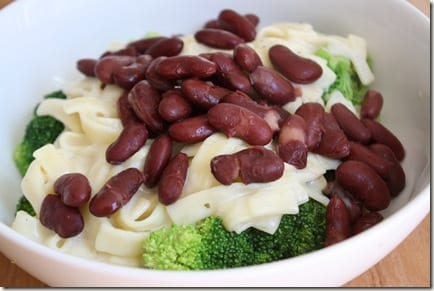 Served with the rest of that honeydew that mysteriously disappeared quicker than is  appropriate.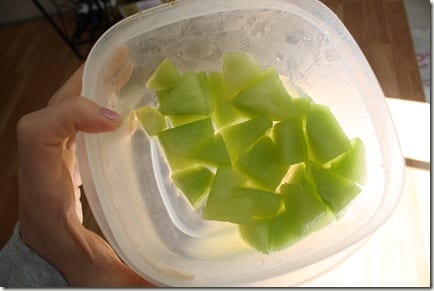 Much better.
Have a great day!
Question: What's the weirdest thing that's ever happened to you on a run or at the gym?
In addition to the story above, I've also fallen pretty hard in front of people. Twice. Classy.