Of course I had to have some of the Irish Soda bread for breakfast! I know I am going to eat it anyways, so it's best to actually eat it during a meal rather then sneak slices in between meals all day.
I toasted up a piece and slathered it with almond butter = divine.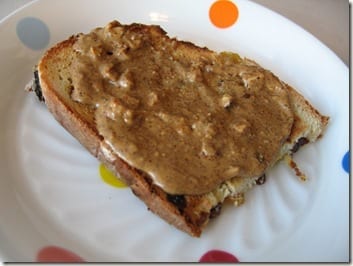 On the side I had my last HFCS filled yogurt and mixed it with cottage cheese to avoid too much of a blood sugar spike. I also topped it with chia seeds which Ben thought was pepper.
Yeah, I put pepper on my yogurt, doesn't everybody?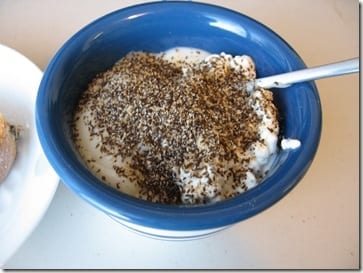 Today is my last appointment with my Physical Therapist 🙁 She is moving back home to Canada this weekend and I'm sad.
I'm not sure if she is going to have me continue with her replacement or if she thinks I'm done with PT for now? I just started back running so I'd hate to stop PT and then relapse, but we'll see what she thinks this afternoon.
I tweeted this yesterday, but left before I could read any replies – is anyone just going to Fitbloggin for the day Saturday?? I think that's what I'm doing…
Breathe – Diets are like Marriage. I know people hate the word "diet" and I do too, but "Healthy lifestyle changes" is a bit much sometimes. I can't always be politically correct. Too bad.