Hi! I just realized I haven't just shared what's going on in Monicanland lately! I have pics of running, eating and life from Thursday to Sunday and I kinda feel like lifestyle posts are the most fun (and least informative but what are ya gonna do). Here is the fun and food from Thursday – it was an extra delicious day.
Thursday morning I got in a short run and 21 Day Fix workout.
Confession: Since I just got back from a run and was hungry I ate blackberries while they did the warm up.
Then, I went to Bible Study. We're doing a new book called All Things New by Kelly Minter. I missed week one so I can't share anything about it yet. But I really like Minter so here's hoping it's great! (My huge cup is filled with Spark I mix 1 scoop in a shaker cup with about 20oz of water.)
This is through a local church – it's not the bible study I've spoken about before that was just SR and a few friends (we did similar book-led studies though). But before SR moved far far far away she introduced me to this church. "Hey church, what up I'm Monica…" This is where I've worked at the food pantry and done some family night events.
But I haven't done a bible study here before so I was a little scared because I wouldn't know anyone. It's a really big women's bible study group – there are over 10 tables of 8 or more women at each. I was assigned a table when I signed up for the last study in January. Our group is a mix of old, young, moms, not moms, and some redheaded Mexican… but everyone is super sweet and I'm really glad I signed up.
But that's not even the important part… I buried the lead!
Since it was Valentine's Day they had a HUGE brunch!!
I didn't get a picture of the entire spread – it was a long line of tables lined up and covered with egg casseroles, oatmeal, bagels, salads, french toast bakes, fruit and more. Plus a separate table of desserts. God bless it.
After that I headed home to prep a recipe I'm working on for an assignment…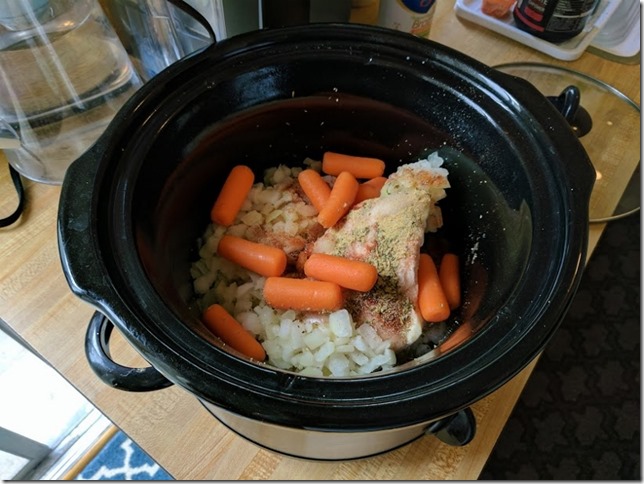 And played hide-and-seek with Vegas.
Then I played steal-the-fries with Ben. He showed up late with a ton of fries from a local burger joint. They hook you up.
I had to switch up my long run for the weekend because it was crazy storming in SoCal – we'll talk about that next post because this is getting kinda long and I have to go spend some quality time in the kitchen.
See ya in a bit!
Question: What's your favorite brunch dish or recipe?
Do you make it? Or just love it??