Hello!  I just spent the day on Catalina Island with my family. Have you been there? It's a small island off the southern California coast. It's a short boat ride away from Los Angeles / Long Beach or Orange County. I've been there before once for the Catalina Marathon and another time for a fun visit with my family. But it's been a while and my mom spotted a Groupon deal for ferry tickets so we planned a day trip to the lil island. (Catalina Island Wikipedia page.)
We met in Newport Beach to catch the Catalina Flyer to the Island around 8am. I took along a protein shake to drink on the way.
There is usually a lot of traffic in Newport Beach on the weekends and afternoons, but since we were meeting so early it was a breeze to get there. I parked at the beach for the day fee of $19.95.
Catalina Island Tip: My brother parked at the valet which was to the Catalina Flyer dock and it was $20.00 for the day.
We bought a Groupon for the boat tickets but had to make reservations. Popular days and times do sell out so make sure you make them in advance.
Catalina Island Tip: There are boats that go to Catalina Island from San Pedro, Long Beach and Newport Beach. I've used the Long Beach port twice. I think the ferry prices / times / services are similar so just choose whatever works for your location and schedule.
We boarded the ferry and chose seats on the middle level, outside covered deck. There was an inside section on that level and I sat there most of the time because it was a little cold with the ocean breeze.
There is a snack bar on the ferry that sells cocktails, beer, soda and chips.
The morning ferry ride was very bumpy. The boat was bumping around a lot and a lot of passengers started to get sick. I saw a lot of people with barf bags and ice chips. It was um… less than pleasant.
I think the rough ocean conditions made the ride a lot longer too. The trip was supposed to take about 45 minutes and ended up taking well over an hour – probably about an extra 30 minutes. The crew was very nice to anyone getting sick and tried to help, but there's not much you can do once you're seasick and the boat is still moving around a lot.
Catalina Island Tip: It's helpful to sit outside and on a lower deck of the boat to help calm / prevent seasickness.
Catalina Island Tip:  I used these Sea Band anti-nausea pressure point wristbands to help prevent sea-sickness. I've had them for years and used them on small boats and ferries in the past.
The weather was overcast with a thick marine layer the whole ferry ride and lifted just as we got to Catalina Island.
Finally we made it and were at Avalon!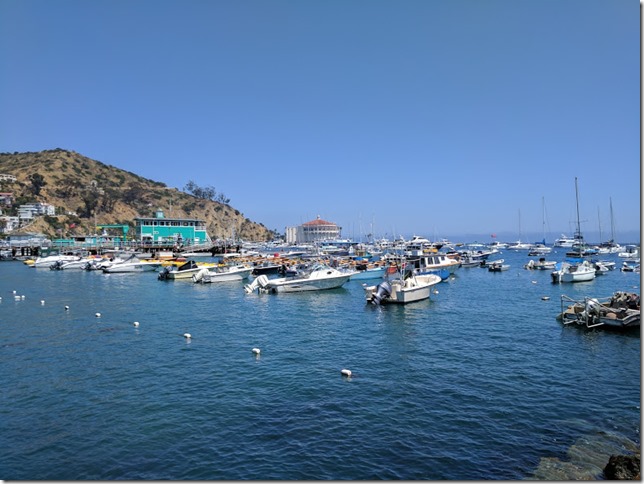 There are a lot of fun things to do one the island from hiking to zip-lining to a culinary walking tour. I did my own walking tour in that I walked to get iced coffee and spotted a delicious chocolate chip cookie that I had to try for my "World's Best Chocolate Chip Cookie Search".
I tried Ben's Bakery just off the main street in Avalon.
This is the Chocolate Chip Cookie from Ben's Bakery on Catalina Island.
My thoughts… Love the size and thickness. I love a thick cookie with a lot of chew. I felt like it was a little too buttery? There was something about it that seemed oily. It was good, but I couldn't put my finger on why it wasn't great. I think the chocolate chips were milk chocolate and maybe dark chocolate would have offset some of the sweetness of the cookie?
My fam decided to rent golf carts to explore the island. There is a nice scenic drive that takes you around Avalon and hits some of the main points of interest on this side of the island and great views.
We stopped at the Nature Center. It's a cute, small stop with information on the Island's eco-system and conservation. It's free admission. The Botanical Gardens are a little bit past the center and $7.00 to enter.
We took the scenic route and stopped at pretty spots to take in the views.
We had the golf carts for a few hours and used that time for exploring. Then, we returned them and went in search of lunch.
Avalon is a small city with a main street lined with shops and restaurants. It's easy to find good food, snacks or drinks. We decided on Jack's
The 'fresh strawberry crepes' sign outside caught my eye! But the menu also said they have famous Fish & Chips…
Jack's County Kitchen was good. Everyone liked their food. They have breakfast until 3pm. (I think they close at 3pm too.)
Note – They didn't have tap water available for free, just bottled water because the island is in a drought.
After lunch we explored the shops and beach. The beach on this part of the island is fairly small and packed with boats. You can rent kayaks and stand up paddleboards.
Catalina Island Tip: Plan your day before you get there. Catalina has great hiking, you can just relax by the beach or take an off-road tour to see bison. But you might need hiking shoes / towels / a fancy camera – depending on what you want to do.
The weather was perfection. It was a really pretty day and there were a lot of people around, but it didn't seem crowded.
There's a dive park where a lot of scuba divers were walking right off into the water (as opposed to from a boat) which I dig. I have not every tried scuba diving, but thought about it a lot. I'd like to be able to walk out into the ocean from the beach as opposed to flipped off a boat.
Catalina Island Tip: Bring sunblock and reapply. Things are overpriced on the island so it will be expensive to buy things like that once you're there.
I put on sunblock at home in the morning and reapplied mid-day and still got sunburnt on my face and shoulders. Boo.
There are two ice cream shops on the main street area – Big Olaf's and Scoops. I've been to Big Olaf's before so Matt and I decided to try Scoops.
The signs say it is 'homemade' and all natural.
As we waited in line I checked out their website and saw they claim it's all natural ice cream with no preservatives or artificial flavors.
So I was very curious when I spotted Cool Mint gelato that was BLUE. I asked about it and they employee said it is colored with algae. I had to try it!
It tastes just like the usual Mint n Chip ice cream. It's good, but I think the chips are too big. Mint n Chip ice cream is best when it's tons of slivers of dark chocolate. (Maybe I should also do research on the BEST Mint n Chip ice cream since I take this research very seriously.)
Matt and I shared all the ice creams. I got to order because I'm good at food and he trusts me.
I ordered – 1 scoop of Cool Mint gelato in a cup. And in a waffle cone Pistachio ice cream and Salted Pretzel gelato.
He questioned me on the pistachio but it was the BEST pistachio ice cream ever. EV-ER. It was creamy and had ground up pistachios and spices. We also shared the salted pretzel gelato. That was good too.
Catalina Island Tip: Eat ice cream.
We didn't have time to get in the ocean, but I wanted to rent a stand up paddle board. I need to get mine out but I'm scared of all the sharks off Dana Point right now!
And before we knew it… the day was coming to a close and it was time to head back to the Catalina Flyer and head home.
It was a great day. So much good family time and good food.
Catalina Island Tip: Take your local Monican so I can be your personal tour guide.
Question: Have you been to Catalina Island?
What island have you been to? Would you recommend it?