Last night I headed north to my old stomping grounds – Long Beach for a fun event. No, Snoop wasn't having another house party…
(image source)
Yeah, I was hoping to go over and make mashed potatoes with him…
The author of the Chi Running book Danny Dreyer, gave a free talk at the community center. It was a great combination of Chi Running info and his own running experiences. At one point he casually mentioned coming in 8th place at his first 100 mile race. Um, no big.
After the talk Dreyer signed my book and we chatted for a bit. He is super nice and I wanted to talk to him for hours about all things running!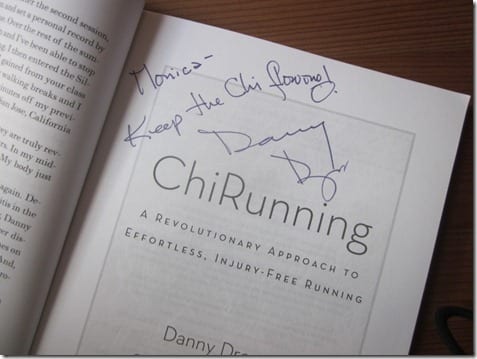 I just started reading Chi Running, so I can't really tell ya how to do it. I can say the focus is on proper form and working with gravity – it's definitely a technique you have to work on! I'm not done with the book, but once I am I'll share my thoughts.
 Coach Steve is all about Chi Running so you should really join the Sole Runners if you're local or loco and come hang out!
I mean, c'mon – even Santa is a Sole Runner!
You can order Chi Running here.
By the time I got near home it was after 9pm and I was Hangry. I stopped at Whole Foods but the hot bar scene was tragic. Luckily, I noticed a sign for "$10 Pizzas on Thursdays". Done and done.
This pic looks dreamy because I dream of pizza… don't you?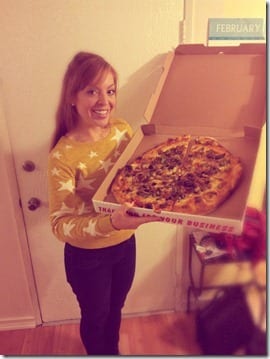 Yesterday was kinda hectic getting off work and trying to get to Long Beach in time for the talk. I know we're all busy and it can be difficult to make health a priority when you're on the go. I personally try to keep things as easy, breezy as possible so I am still digging the Nature Made vitamelts.
I've had this cough since the marathon that hasn't gone away. I've bought some cough suppressant, but not feeling well has reminded me how important my immune system is to being able to do all the things I want to. That's just one more reason to keep taking my Vitamin C VitaMelts to make sure I'm giving it the proper support. 

Nature Made® VitaMelts™ are a new "one of a kind", enjoyable way to take your vitamins because they melt in your mouth and taste great. Discover how new Nature Made® VitaMelts™ can transform your vitamin taking experience by making it enjoyable.  Visit us at NatureMade.com/VitaMelts to learn more.
And I hafta do this…
Question: If you could cook with any celebrity, who would it be and what would you make?
It's at tie, I'd make cookies with Matt Damon or some kinda Shrimp with Tom Hanks
Disclosure: Compensation was provided by Nature Made via Glam Media. The opinions expressed herein are those of the author and are not indicative of the opinions or positions of Nature Made.
Run SMART Goals
Fill out this form to get the SMART Running Goals worksheet to your inbox!