Hello! How's it going? Over here it's going bumpy because I was stopped again on my run today. My go-to running path was shut down for the 3rd day in a row. Grrrrrr.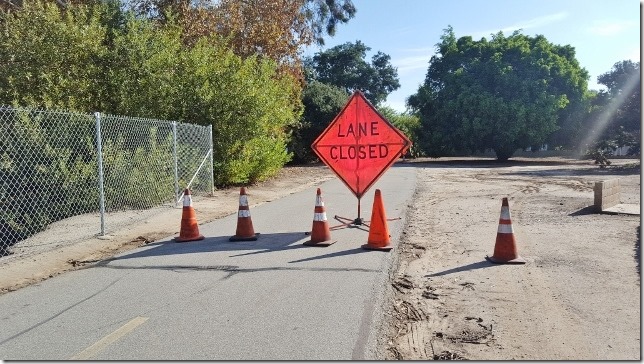 It's frustrating because I couldn't tell at first so I ran out for a mile and then had to cut my run super short yesterday and today. They are filling cracks in the road and I could run around them but since they're using hot oil (according to the sign I saw the first day) they don't let anyone go around. Boo.  It sucks because I can't tell if the path is going to be closed when I first start running since it's only shut down where they're doing the work, but that could be 0.5 miles away or 5 miles away. And this has never happened before so I wasn't expecting it to take multiple days.
I wasn't that upset yesterday because it happens and you have to roll with the punches, but three days in a row is not cool. I have to drive somewhere to run tomorrow or I'm going to go crazy.
Since my run was ruined I went home and did 21 day fix upper body. I've been skipping lower body a lot since my legs are already tired from so many miles of running.
I switch out of my running shoes when I get back from a run and change into another pair for cross training. I don't want to 'waste' my running shoes on other activities. Do you have different shoes for different activities?
I bought a big can of black beans and turned them into healthy refried beans to go with dinner. I didn't get a pic of anything else though. And the fact that this isn't the prettiest food doesn't really help the paint the picture of an amazing meal, but at least trust me that the beans are amazing.
I am still completely obsessed with my Fabletics tee and wear it 99% of the time (I take it off to shower).
Between the repeated failed runs this week and work and therapy I was super anxious yesterday. I decided to take a break and get my nails done.
It was a great idea because the nail place was empty and it was the best mani/pedi ever. I got a super neutral color on my hands but it has a little sparkle so I love it. Check out out Vegas yawning in the background. Ha! He obviously doesn't care about my nail color.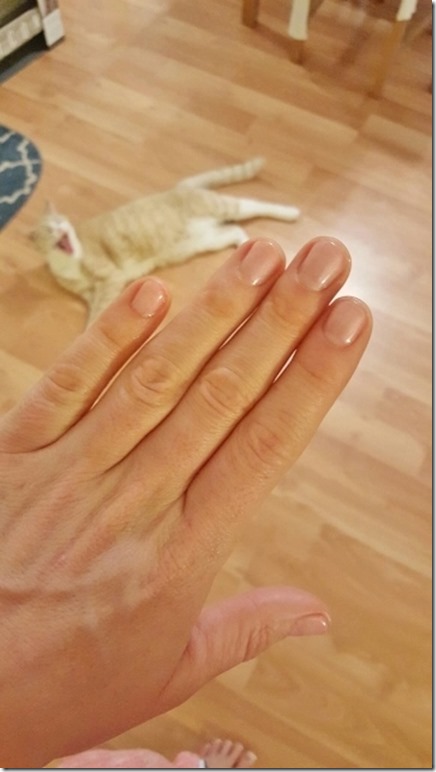 And then I had fun pretending to squeeze his head and pick him up from afar.
Question: Do you wear your running shoes to walk or do cross training? Do you have different shoes for different workouts/life?