After all the Blogher sessions were over Kath and I headed out for a walk.I put on my RER shirt to represent. I meant to wear it on Friday, but was too embarrassed.
It was gorgeous and Seaport Village was packed with people!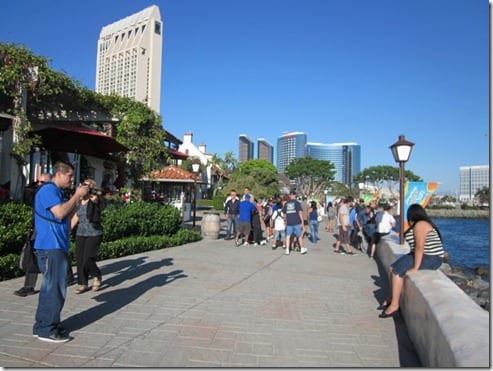 Well, I thought it was gorgeous. Kath may have thought it was cold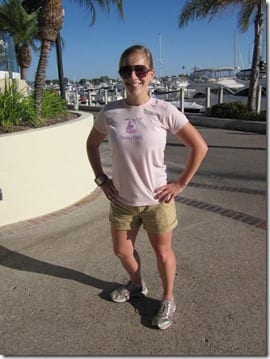 Before we left I had a cake pop for fuel. Okay okay, it was really because I was hungry and don't have any healthy or more filling options.
After our walk we spruced up for dinner! You can't see it, but we both have yellow bags and nude shoes! Great minds perhaps?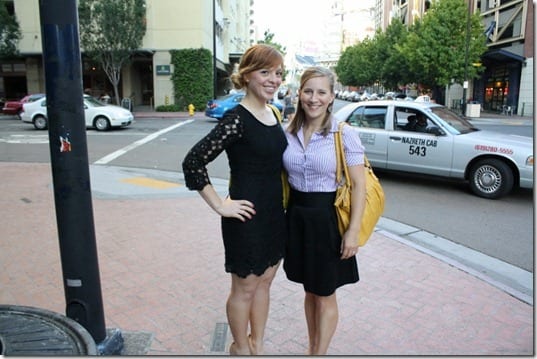 We had dinner with our fellow American Express Prepaid bloggers, the Amex contacts and Manisha Thakor.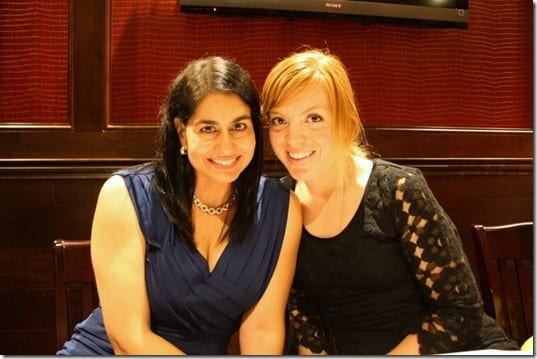 Manisha is a financial expert and was there to talk to us about finances and budgeting. This was perfect for me because Ben and I are just starting to budget in a responsible way! I am rushing out to get her book "Get Financially Naked" asap!
Dinner started as all dinners should – with warm bread and wine.
I got a Reisling because I really only enjoy light cold whites.
I started with the house chopped salad. The ranch wasn't very rich so I ended up dumping it on top.
And the salmon left something to be desired. We were at a seafood restaurant and the salmon was overcooked – that was weird.
Since there was a disaster with someone else's meal the restaurant manager sent dessert to the table. This is a deconstructed Bananas Foster. They shell is like an amazing brittle. It was pretty magical.
And an Oreo Ice Cream cake with carmel. It was amazing.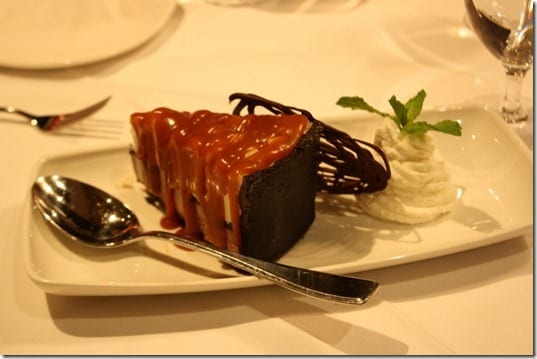 Kath and I had an arm wrestle match for the last bite. Okay not really – I stole it when she wasn't looking…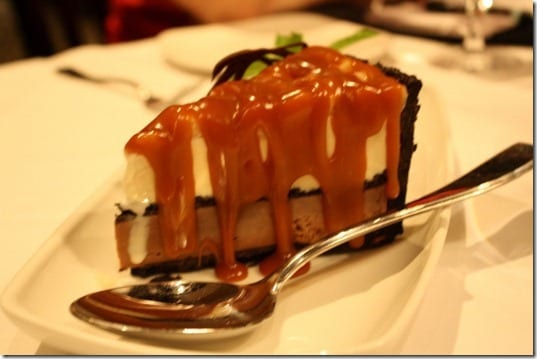 One of the tips Manisha shared was that you should be saving 20% of your income – 15% for retirement and 5% for short term savings.
Do you do that?