Hello from Florida! It's my last day here so I got up early for a run and eat (aka Dunkin Donuts stop).
I didn't see any manatees this morning though. I guess I'm going to have to come back.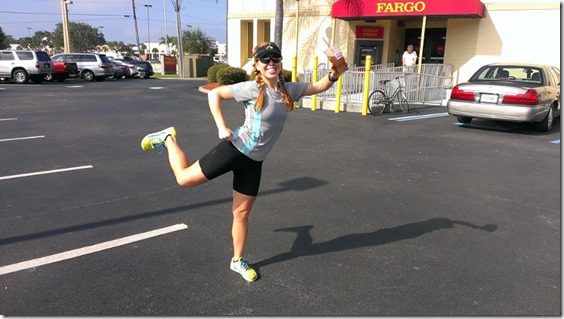 I ran 9 miles and walked a mile cool down to DD. I've been here since last Friday and already feel like a regular here. I think this is all part of Ben's plan to get me to move here. No comment.
Ben's mom is the best and saved me a bunch of coupons for Dunkin. So, I've been taking advantage of the $.99 for two donuts deal and others.
For the sake of the blog I knew I had to report back on my extensive research of the Dunkin Donuts pumpkin line. Hey, it's a tough job but somebody's gotta do it.
Dunkin Donuts Pumpkin Muffin vs. Pumpkin Pie Donut
Dunkin has two kinds of pumpkin donuts – Pumpkin Pie Donut and Regular Pumpkin Donut (cake). I went with the pie version because I tried the cake version last year and thought it was just okay.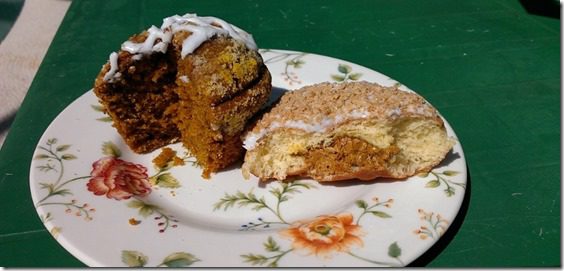 Thoughts: The muffin is moist and delicious. I would like a tiny bit more spice to it via pumpkin pie spice and/or cinnamon and nutmeg. But it was good for a non-homemade pumpkin muffin!
The pumpkin pie donut was filled with a pumpkin crème. Let me say, I am NOT a jelly or crème filling girl at all. So, even though I love pumpkin pie I don't like it stuffed in a donut (or even in an empanada shell). It was good, just not my thing.
Winner: Muffin.
Unless you dig crème filling, then go for the donut.
Stuff I don't want to know…
Muffin nutrition info:
Pumpkin Pie Donut Nutrition info:
Question: Muffin or Donut?