Hello! I used to think that making soup at home was super difficult and would take forever. But this is a super easy chicken tortilla soup recipe. It tastes like it's made from scratch and it kinda sorta is… but there are a few shortcuts that make it fast!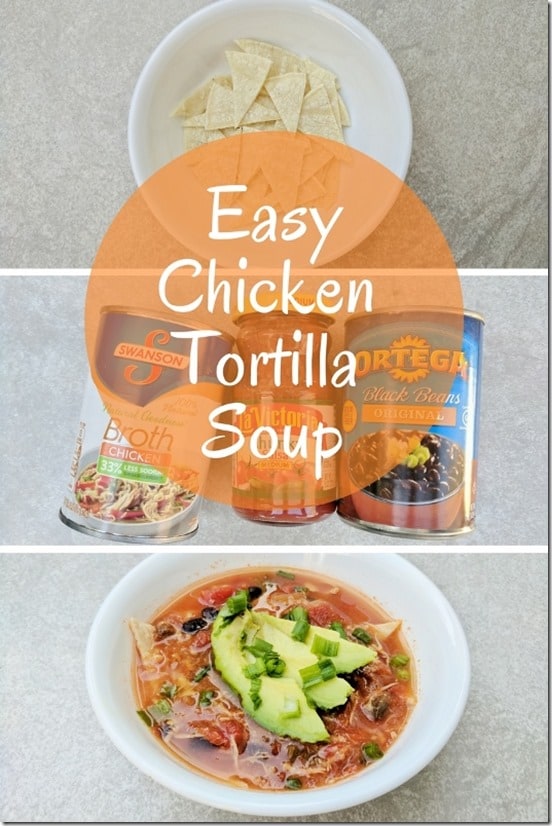 First – you need shredded chicken. You can shred a chicken breast you made at home, some rotisserie chicken or make chicken with salsa in the crock-pot.
–> Recipe for Salsa Chicken in the Crockpot *Note this post is a crazy blast from the past!*
I used the salsa chicken I made this weekend during meal prep. When I was portioning everything out I put 1 cup of the shredded chicken in a big glass bowl and added the other ingredients.
Then, I let it set overnight and heated it up the next day.
Chicken Tortilla Soup Recipe
1 cup shredded chicken (cooked)
1 can black beans
1 jar salsa
1 can chicken broth
1 can of corn
corn tortillas OR chips
shredded cheese
optional:   cilantro / avocado
Directions: Combine chicken, beans, salsa, corn and broth – heat thoroughly.
Place chips or tortillas (cut into strips) in a bowl. Serve soup over it.
Top with shredded cheese, avocado, cilantro…
Enjoy!