Hello! How's it going? I'm not going to make any jokes today because my abs are sore. I've been testing out the Ab Dolly (and I have a discount code for you!) and it definitely was challenging at first. I'm getting the hang of it and have a bunch of great workout moves that you can do with it – and they aren't just for your abs!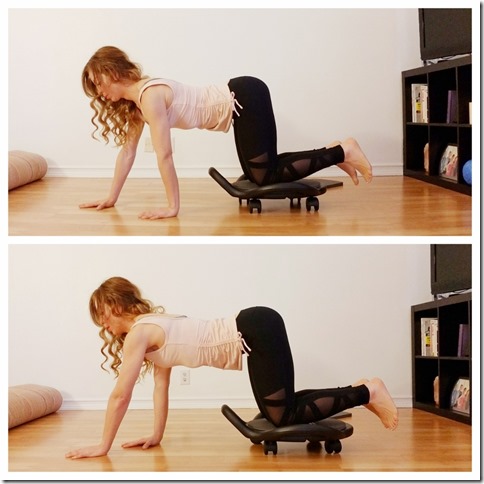 First… Vegas helped me open the box. He wants credit for that.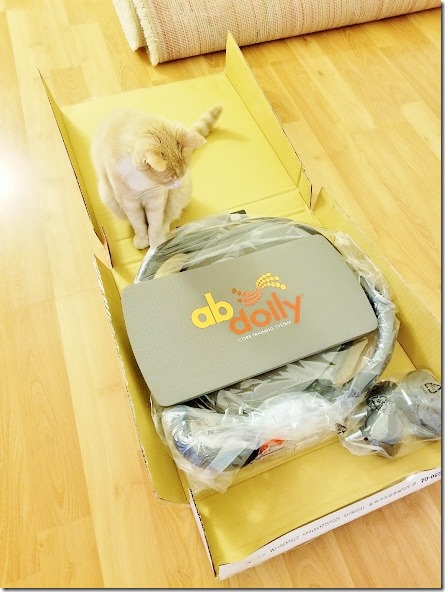 It was super easy to put together – just flip it over, pop the wheels in and start rolling. Done and done.
I've used ab roller type exercise equipment in the past AND I've used a bosu ball for ab work. So I know from experience that anything that really makes you use your abs and balance at the same time is a legit good way to really target your stomach. (And I knew I'd be sore!)
I wasn't familiar with the Ab Dolly but it comes with a booklet of instructions with pictures and a DVD. I don't have a DVD player but I checked out YouTube for workout ideas after I did a bunch of my own.
I started with the most common Ab Dolly move – knees on pad / forearms on dolly –> contract abs while going in and out. I've done similar moves on a bosu ball but there are so many more options with this because you can put your arms, hands, shins and feet on it.
My favorite move is to go from Plank to Pike. I don't think this is the 'real' name for this – it's just what I call it. I do this on the ground but on the Ab Dolly it's takes it to a completely different level (and I love that). There are so many full body exercises you can do with it – sliding lunges and stretches and more.
Get 20% off an Ab Dolly and FREE Shipping with coupon code: run20
My 6 Favorite Ab Dolly Workout Moves:
1. The OG forearms crunch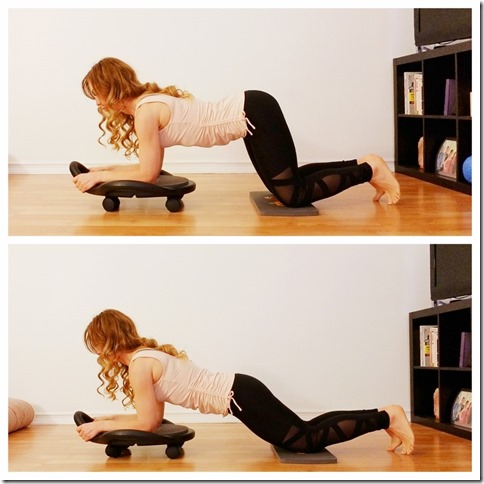 And you can take it up a level by going in a different direction – like toward your right shoulder and pulling back to center and repeating on the other side.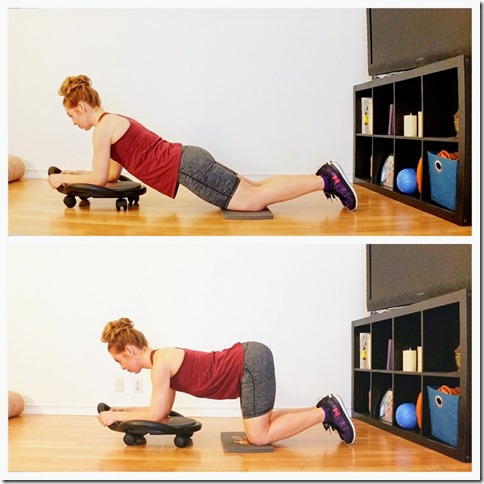 2. Pike to Plank…. I don't have a picture of my pike so you're going to have to trust me on this one. I usually do this going from downward dog to plank … back and forth for a minute. Doing this with the Ab Dolly was a lot more challenging.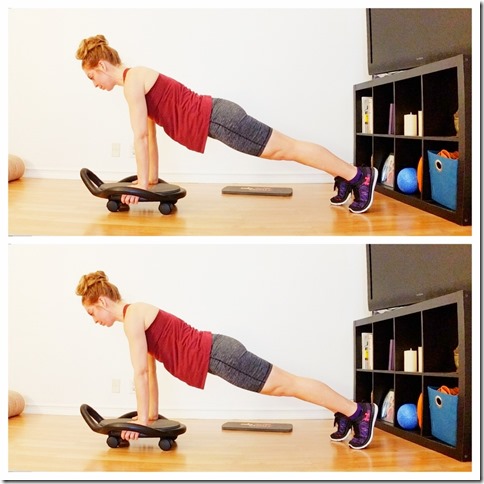 3. The back stretch. I love this because as a runner my neck and shoulders can get tight from the repetition of arm swing and this was so nice. Ahhhhh.
4. Side lunge slide. This is great for lower body but also targets your core because you have to balance and use your abs to help pull back.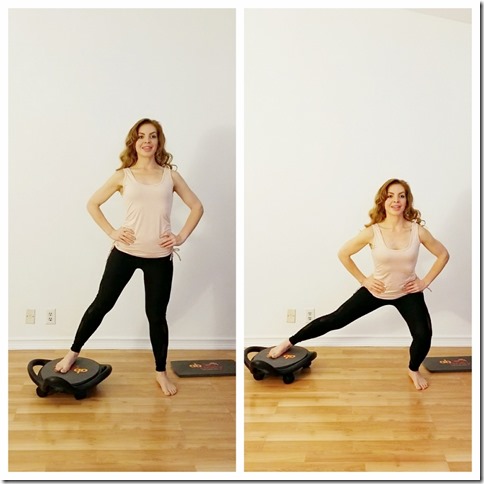 5. Reverse lunge. This is another great combination of workout plus balance exercise.
6. And when you have mastered the forearms on the Dolly move – you can put your shins on it. Then – you can take it up another level and place one hand farther away from you for a set and switch.
Click here for this link for more information on the Ab Dolly and  use code run20 for 20% off and FREE shipping!
Question: When was the last time you worked your abs?
The post is sponsored by Ab Dolly, LLC all opinions expressed on Run Eat Repeat and associated social media are in no way associated with it's sponsors.