Hello! How's it going? Today is National Sangria Day, so even if it's going not-so-good you can make it good with a lil wine and fruit. Boom.
You're welcome. I have a super easy Santa Sangria Recipe to share today.
Check it out and then sip it up! It's good for you. <- These statements have not been scientifically verified and are not approved by the FDA.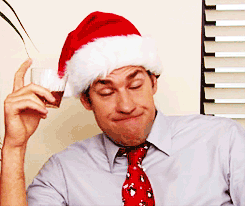 As I was mixing up the Sangria I realized something genius…
offering to bring Sangria to a party or potluck is awesome because everyone loves Sangria (by 'everyone' I mean 'me') AND it's super easy.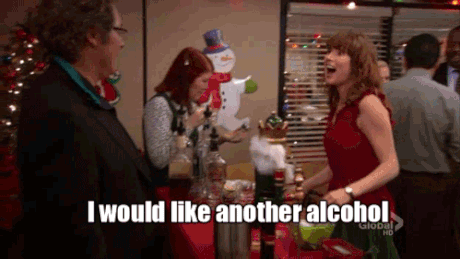 But it's not all lollipops and rainbows here… I have a major first world problem.
This peanut butter with protein is not my jam. It's a little grainy. I feel like it tastes  like the times I've made peanut butter with protein powder except not as sweet.
I have mixed PB and chocolate protein powder and it's sweeter than regular PB because the powder has flavor/sweetener.
This is unsweetened protein powder.
I hit up Trader Joe's for a few things yesterday and the sample was a great appetizer idea. This is another score for an easy potluck dish!
They put goat cheese on a dried apricot, drizzled honey on it and topped with pistachios. I am definitely making this for a lil wine and cheese night action.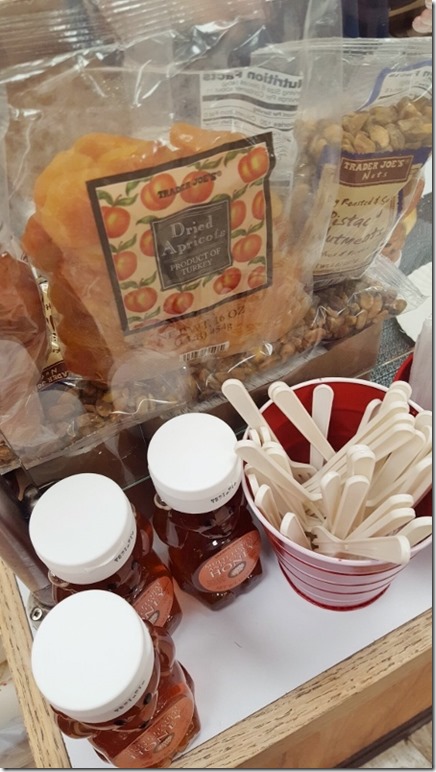 And I grabbed some TJ's sushi because I'm really feeling the lazy / no cook theme today. Weird.
It is never very impressive because there are so many amazing sushi restaurants around here. You can get super delicious sushi at decent prices so many places I feel like everyone I know has their fave.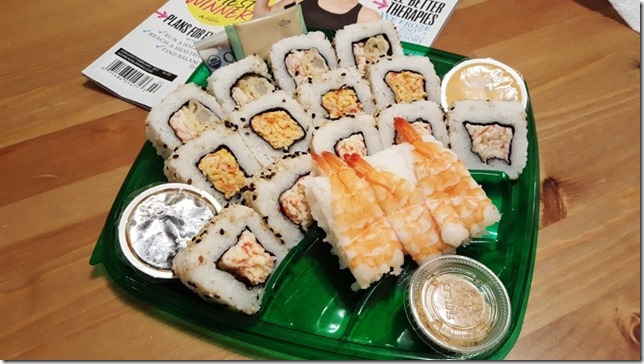 Easy Santa Sangria
I'm calling this Santa Sangria because it's red, white (wine) and green for the holidays.
And it's sweet – which I'm assuming Santa really likes since he usually lives on a diet of cookies and milk.
Santa Sangria Ingredients:
1 bottle of sweet white wine (like a Riesling or similar)
1 cup apple or caramel flavored vodka (less if you believe in moderation)
1 cup sparkling water or sparkling cider
2 cups chopped red and green apples
cinnamon sticks
Directions: Combine all ingredients in a pitcher or punch bowl.
Refrigerate for 1-2 hours.
Enjoy!
Question: Do you have any holiday parties this week?
Is Sangria for summer or does this work in the winter too?