Try this quick and easy Mexican Pizza Recipe topped with tons of delicious veggies, avocado, jalapenos and cheese. It's is a great weekday dinner that you can have ready in about 10 minutes. Beans, cheese and veggies on a tortilla shell pack tons of flavor, protein and fiber.
It's also vegetarian! (Remember my Mexican Meatless Monday series?) A vegetable packed pizza is a great way to get kids and adults who usually avoid veggies to actually enjoy them. And the cheese provides a good amount of protein to keep you full and satisfied.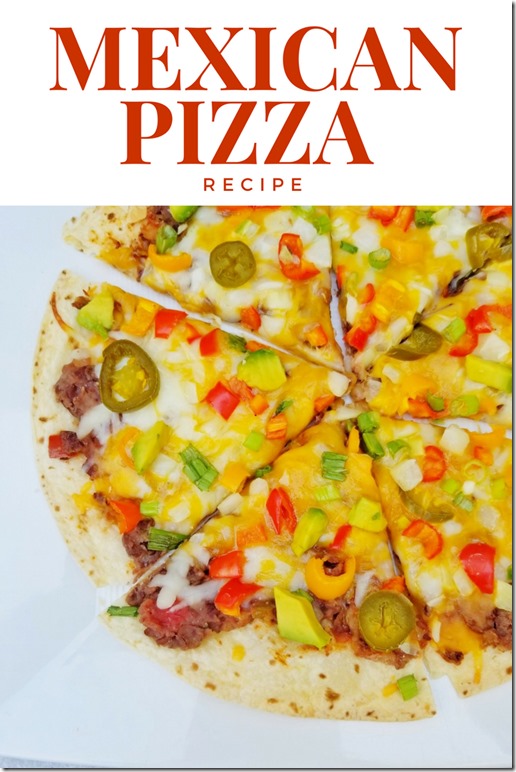 Tip:  I used a mix of Monterey Jack and Cheddar Cheese on this pizza – but you can use your favorite semi-hard cheese. Not sure if your fave cheese will melt well or how to cook with it?
You can check out a list of Types of Cheese and How to Use Them on the Real California Milk Site here.
Mexican Pizza Recipe
serves 2
Ingredients:
2 large flour tortillas (gluten free brown rice tortillas work too)

1 can black beans

1/2 cup salsa

1 cup shredded California Cheese (Monterrey Jack & Cheddar)

1 cup chopped bell peppers (I used mini sweet peppers)

1/4 cup chopped green onion

(optional) jalapenos

(optional)

1/2 cup chopped avocado
Directions: Pre-heat oven to 400 degrees. Place tortillas on baking sheet sprayed with non-stick spray and bake for 5 minutes. Flip and bake for another 5 minutes.
While tortilla bakes… drain and rinse black beans. Smash beans and mix with salsa.
When tortilla is done – divide bean mixture between the tortillas and spread on top. Then, layer cheese, bell peppers, green onions and jalapenos.
Place topped pizzas back in oven and  bake until cheese is melted through. Top with avocado before serving.
Note: I had really HUGE flour tortillas that are as big as small pizzas. If you have smaller tortillas you might want to divide the toppings between 3 or 4 mini-pizzas.
Since I'm from California and love all things ice cream, cereal and pizza… I'm super excited to partner with Real California Milk this year. I'll be sharing recipes, nutrition information, tips and more. Let me know if you have any questions or recipe requests!
Look for the "Real California Milk" seal when you're buying dairy. You can get more information on their website here – Real California Milk.
And I tried but can't resist a lil cheesy joke!
Question: Do you like cheesy jokes?
Me: I think they're grate!
This post is sponsored by Real California Milk. All opinions are my own.