I have a delicious and easy recipe for overnight STEEL CUT oats to share today!
A few weeks ago when I found the new Watermelon Chobani I also grabbed their new Chobani Greek Yogurt with oats. I was pretty excited about this since I love the nutty taste and chewy texture of steel cut oats. And the yogurt was good, but I wanted more oats. So, I decided to figure out how to make overnight oats with steel cut.
If you're not familiar – steel cut oats take a long time to cook – usually an hour.  I don't have the time for that so I rarely make them (usually only overnight in the crockpot!). I get my ideas for oats from Mornflake Oats recipes.
But the Chobani yogurt with oats got me craving some delcious overnight oats and after a few tries I figured it out.
Steel Cut Overnight Oats
1/4 cup steel cut oats
1/2 cup water
dash salt
1 6oz. container yogurt – flavor of your choice
toppings: sweetener, fruit, nuts, nutter butter…
1: Combine oats, water and salt. Microwave for 1 minute. Stir. Microwave for another 30 seconds stir and another 30 seconds, stir. (That is broken up in 30 seconds so it won't explode – keep an eye on it.)
2: Let oats sit and cool for about 20 minutes. They will continue to absorb the water and soften. But, they're not soft enough to eat (unless you like it crunchy).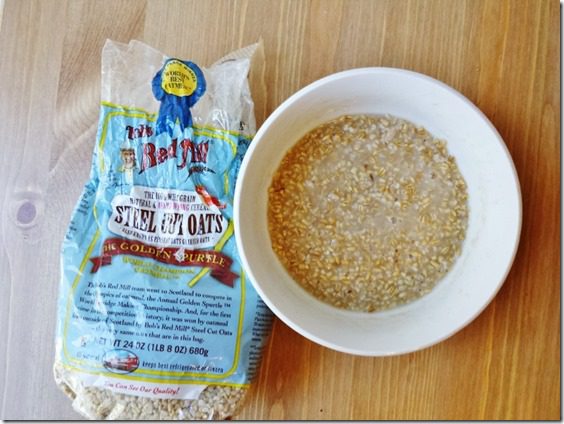 3. Combine oats with yogurt. Cover and refrigerate overnight/8 hours.
4. Top with your favorites and enjoy! I added some extra sweetener, berries and nut butter.
Question: Do you prefer regular oats or steel cut or oatmeal cookies?